Majority Approve of Trump's Handling of the Economy Despite Suffering Worst Decline in 12 Years: Poll
Most American voters approve of President Donald Trump's handling of the U.S. economy despite blows dealt by the coronavirus pandemic, according to a new poll.
The latest tracker survey from Navigator found that 51 percent of voters either "strongly" or "somewhat" approved of the president's handling of the economy.
By comparison, 46 percent of those polled disapproved of the job he was doing on the issue. A further 3 percent said they were "not sure" where they came down on the question.
The commander-in-chief's approval rating on the economy hovered at around 50 percent throughout April, according to Navigator data, but has not hit the 51 percent mark since April 8.
When the latest Navigator data was broken down by party, President Trump was found to have a 2 percent net approval rating among Independent voters, with 48 percent backing his efforts on the economy and 46 percent disapproving.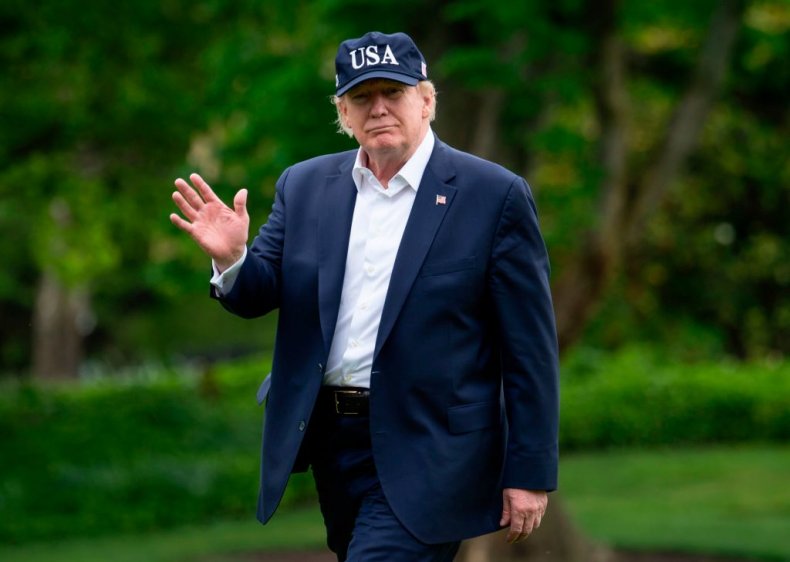 Unsurprisingly, more than nine-in-ten Republicans (91 percent) approved of his performance on the economy, while 78 percent of Democrats told pollsters they disapproved.
President Trump's economic approval rating contrasted with the view Americans took on the state of the economy amid the coronavirus pandemic.
Asked how they rated the U.S. economy as it stood today, more than three quarters of polled voters (76 percent) said it was in a "not so good" or "poor" state after taking a hit from nationwide lockdown measures.
Americans were also found to be split on how they felt about their personal financial situations. Forty-eight percent of those polled said they were either "very" or "somewhat" confident about their finances over the next few months, while 49 percent registered uneasiness.
More than eight-in-ten said they believed the economy was either already in a recession or headed towards one, while only 9 percent said the opposite.
But a majority of American voters were also optimistic about the economy's chances of recovery over the next year.
Almost two-thirds (63 percent) said they expected the U.S. economy to be in a better position a year from now, compared to 24 percent who said they thought it would be worse for wear.
The new Navigator tracker poll surveyed 1,022 American voters between April 28 and May 1. Its margin of error stands at 3.1 percentage points.
Pollsters conducted the survey as it was revealed that the U.S. economy had contracted at its fastest pace since the financial crash in the first quarter of 2020.
The Bureau of Economic Analysis reported that American GDP fell by 4.8 percent in the first three months of this year, with the bulk of damage being done in March as the country started to be put on lockdown.
U.S. jobless claim numbers also continued to climb at a once unprecedented rate last week, with the Department of Labor revealing that a further 3.8 million people filed initial jobless claims in the week ending April 25.
America is far from the only country to have been dealt an economic blow by the novel coronavirus pandemic.
Issuing a stark prediction last week, the International Monetary Fund Managing Director Kristalina Georgieva said: "It is already clear, however, that global growth will turn sharply negative in 2020, as you will see in our World Economic Outlook next week. In fact, we anticipate the worst economic fallout since the Great Depression."
Majority Approve of Trump's Handling of the Economy Despite Suffering Worst Decline in 12 Years: Poll | U.S.