Majority of Gen Z Americans Hold Negative Views of Capitalism: Poll
A majority of Gen Z Americans hold negative views of capitalism, as even the number of young Republicans holding positive views of capitalism has dropped by double digits, new polling shows.
The new survey data, which was conducted from June 11 to 15 and published Friday by Axios and Momentive, showed that 54 percent of Gen Z (ages 18 to 24) hold negative views of capitalism. Meanwhile, just 42 percent of the young generation view capitalism favorably.
Overall, the majority of Americans still hold favorable views of capitalism—coming in at 57 percent. Comparatively, just 36 percent had negative views of capitalism, while 7 percent said they were unsure.
Positive views of capitalism declined sharply among young Republicans. When a similar survey was conducted by Axios back in 2019, 81 percent of Republicans ages 18 to 34 said they had positive views of the prevailing economic system. However, that number fell by 15 percent in the latest survey to just 66 percent.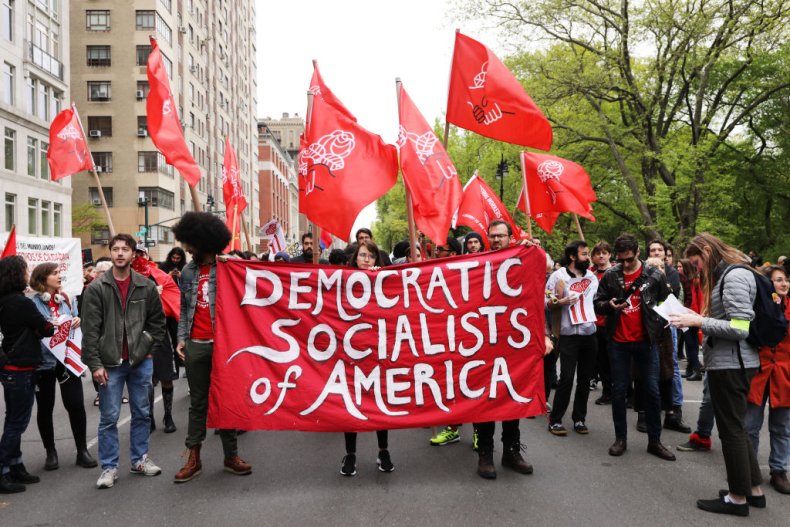 While positive views of capitalism appear to be dropping, favorable views of socialism have moved upward somewhat. Back in 2019, the similar poll found that 39 percent of respondents viewed socialism positively. The new survey showed that percent tick upward two points, to 41 percent.
The survey additionally found that two-thirds (66 percent) of Americans believe the government should pursue policies that address economic inequality and reduce the growing gap between the wealthy and the less well-off. That number ticked upward by four points compared to 2019, when it stood at 62 percent. A majority (56 percent) of young Republicans (18 to 34) said they believe the government should work to reduce the wealth gap as well.
The changes in public sentiment come as many progressive Democratic lawmakers have become increasingly vocal in their opposition to capitalism. Sen. Bernie Sanders, a Vermont independent, sought the Democratic Party's presidential nomination in 2016 and 2020 while identifying as a democratic socialist. Although Sanders' campaigns were unsuccessful, the senator drew substantial public support with his message aimed at addressing growing inequalities across the country.
Progressive Democratic Reps. Ilhan Omar of Minnesota, Rashida Tlaib of Michigan, Alexandria Ocasio-Cortez of New York, Cori Bush of Missouri, Jamaal Bowman of New York and Ayanna Pressley of Massachusetts regularly critique the prevailing economic system in the country. Bush, Bowman, Ocasio-Cortez and Tlaib are also members of Democratic Socialists of America political organization.
The rapid growth of billionaires' wealth and inequality across the nation grew particularly salient during the COVID-19 pandemic. As millions of Americans lost their jobs and struggled to have adequate food during the crisis, America's 722 billionaires saw their profits soar by some $1.2 trillion from January 2020 through April of this year.