Majority of African-Americans in Virginia Think Governor Northam Should Stay In Office, Poll Shows
The majority of African Americans in Virginia do not believe that their embattled Democratic Governor Ralph Northam should step down, according to a new poll.
Released on Saturday, the Washington Post-Schar School poll showed that Virginians overall are evenly split on whether Northam should resign in the wake of a scandalous photo from his 1984 medical school yearbook emerging. The controversial photo shows two men, one of whom is dressed in black face and the other in a Ku Klux Klan costume.
The governor initially apologized when the image was reported, admitting that he was in the photo. However, a day later, he backtracked saying he had since realized the image was not of him but that he had once donned blackface when he performed as Michael Jackson. Leading Democratic lawmakers and officials, as well as Virginia's black caucus, have called for Northam's ouster in the wake of the scandal.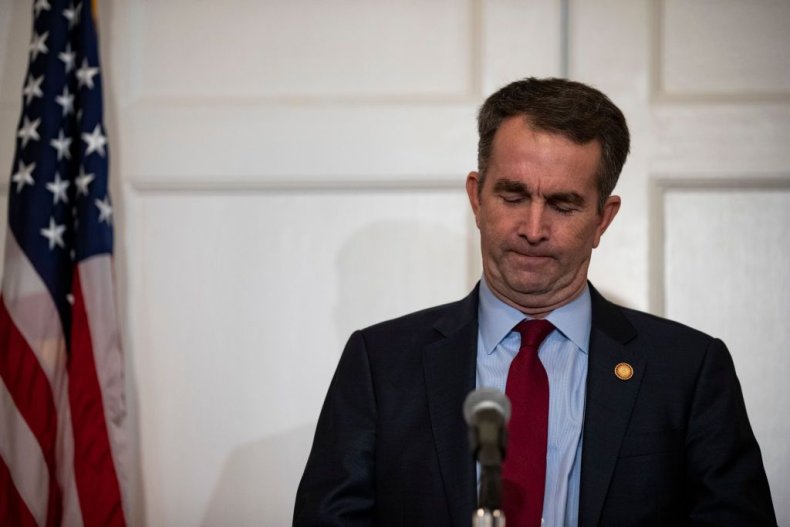 But according to the new poll, 47 percent of Virginians believe the governor should remain in office while and equal percentage believe he should step down. Among African-Americans, 58 percent believe he should remain governor, while just 37 percent say he should step aside. An additional 5 percent of African Americans had no opinion on the topic.
There is also a clear divide along party lines, with 57 percent of Democrats in the state still backing the governor. Conversely, 56 percent of Republicans believe he should step down.
For his part, Northam has refused to resign. He plans to launch a "reconciliation tour" in a bid to rebuild his image across the state.
"The things that I did back in medical school and - and - in San Antonio were insensitive and I have learned since that they were very offensive," he told The Washington Post in an interview published on Saturday. "We learn from our mistakes and I'm a stronger person."
Following the allegations against Northam, another scandal arose surrounding his Lieutenant Governor Justin Fairfax. Two women have accused Fairfax, who is African American, of sexually assaulting them years ago. Fairfax has denied the allegations and called for an FBI probe to determine the facts. At least one of the woman is prepared to testify against the lieutenant governor, according to her lawyer.
Increasing the controversy surrounding top Democrats in Virginia further, the state's Attorney General Mark Herring preemptively revealed that he had previously worn black face as a teenager when he dressed as a rapper for a party. He apologized for the hurt his actions could have caused and said he is now a different person, fully recognizing that the costume was offensive. With the top three Democrats all facing backlash, analysts have pointed out that under the Virginia constitution, Republican House Speaker Kirk Cox would be fourth in line to take over as governor if all of them were forced to resign.
President Donald Trump has weighed in on the controversy with several tweets. On Sunday he tweeted out : "African Americans are very angry at the double standard on full display in Virginia!"
While African American organizations and leaders have condemned the past actions of Northam, with many calling for his resignation, the recent poll suggests that the majority of African Americans in the state disagree.