The majority of Americans are more concerned about the death of George Floyd than protests that have turned violent in the wake of his death, new polling has shown.
By a margin of about two to one—or 59 percent to 27 percent—the new NBC News/Wall Street Journal poll shows that most voters are more concerned about the actions of police and the death of Floyd, a black man, than they are about the protests that have sometimes turned violent.
At the same time, 8 in 10 (or 80 percent) of voters believe the situation in the U.S. right now is "out of control." Only 15 percent said things are currently "under control," according to the polling data. The survey, which was conducted from May 28 to June 2 and interviewed 1,000 respondents, has a margin of error of plus or minus 3.1 percentage points.
Newsweek reached out to the White House for comment on the polling data, but they had not responded as of the time of publication.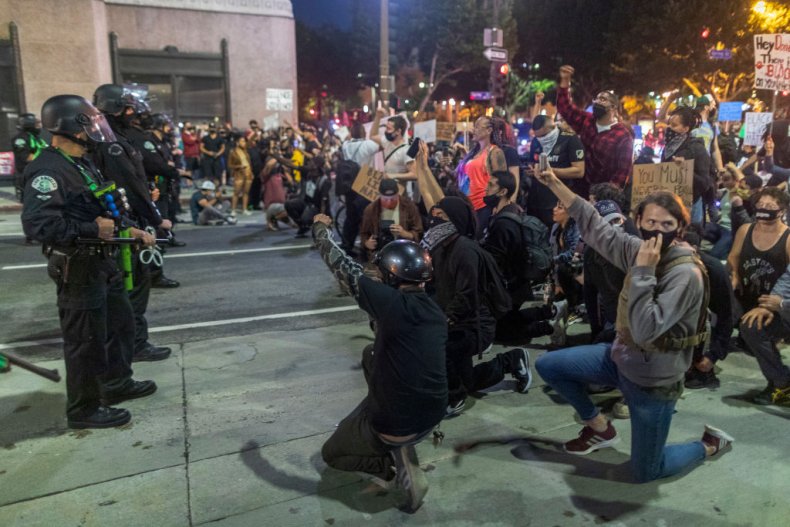 "Out of control—that's America in 2020," Democratic pollster Jeff Horwitt of Hart Research Associates, who helped conduct the poll with Republican colleagues, told NBC News.
"[It's] one of the few things Americans can agree upon, and the one finding that we can definitively state given the tumult and torment of the past 12 days," Horwitt said.
Floyd, a black man, died on May 25 after he was detained by police in Minneapolis for allegedly trying to use a counterfeit $20 bill. A video of Floyd's arrest went viral online, showing white police officer Derek Chauvin kneeling on Floyd's neck for nearly nine minutes—despite the victim repeatedly saying "I can't breathe"—as onlookers urged Chauving to stop. Floyd was pronounced dead at a nearby hospital shortly later.
Chauvin and three other officers involved in the incident have since been fired and criminally charged. The incident set off a wave of protests across the country, as activists have pointed to what many see as systemic racism in policing and the U.S. justice system. Although these demonstrations have been largely peaceful, some individuals have turned to vandalism and looting. Some police officers have responded violently to peaceful demonstrators.
The NBC News/WSJ survey showed that Democratic presidential nominee Joe Biden is still favored to beat President Donald Trump in the November election, but the margin was unchanged from last month. Biden was backed by 49 percent of voters while Trump was supported by just 42 percent.
Trump received higher marks than Biden for his perceived ability to cut the unemployment rate, deal with the economy overall, and confront China. But Biden was favored by more voters as competent and effective, as well as to deal with health care issues and the ability to bring the country together. Only 26 percent of voters believed Trump has the ability to unite the nation, while 51 percent said they believed Biden is capable of doing so.
Separate polling released last week by Reuters and Ipsos showed that the majority of Americans disapprove of Trump's response to the George Floyd protests. While 55 percent of respondents disapproved of the president's response, only one-third said they approved. Meanwhile, most national polls continue to show Biden significantly ahead of Trump, suggesting he is favored to win in the November presidential election.
Three recent national polls conducted by Monmouth University, Emerson College and The Washington Post/ABC News showed Biden with the support of more than 50 percent of voters. The current Real Clear Politics average of national polls shows Biden with the backing of about 49.6 percent of voters, whereas Trump is supported by just 42.4 percent, a difference of 7.2 percentage points