Majority of Voters Say Hunter Biden Probe 'Warranted' if GOP Wins House
A majority of voters believe that allegations surrounding President Joe Biden's son, Hunter Biden, should be investigated by Congress, according to a new USA TODAY/Suffolk University poll published Thursday.
While 75 percent of the poll's 1,000 likely midterm voters surveyed between October 19 and 24 said an investigation would happen if the GOP gains control of the House, 52 percent believe such a probe is "warranted." Eighty-four percent of Republicans and 22 percent of Democrats support a congressional probe.
An investigation into Hunter Biden was first launched in 2018 regarding suspected money laundering and violations of campaign finance, tax and foreign lobbying laws. The scope of the investigation expanded from his business activities in foreign countries like China.
He also worked for businesses and tycoons in Kazakhstan and Ukraine, the latter of which included a seat on the board of the gas company Burisma. He received $83,333 a month to sit on the board, invoices on his abandoned laptop show, according to the Kyiv Post, between 2014 and 2019, including when his father served as vice president.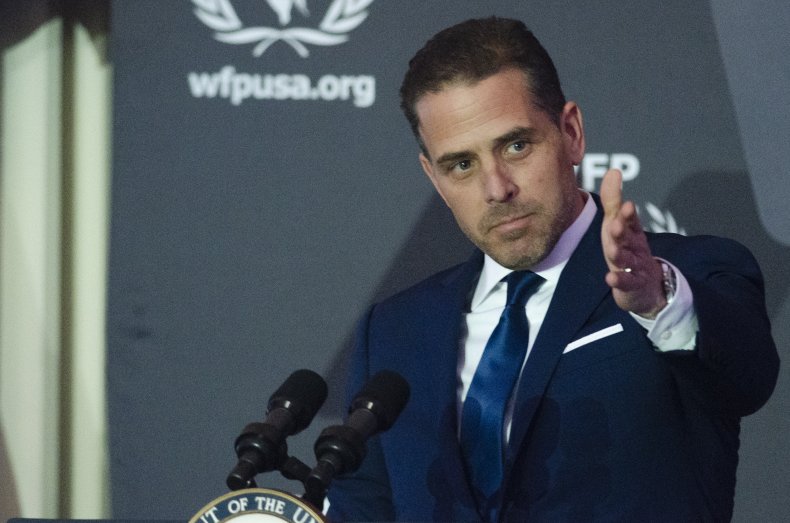 In July, federal investigators from the Department of Justice (DOJ) said that the probe had reached a "critical stage." No action has taken place since and likely will not prior to the midterm elections as prosecutors typically avoid major cases 60 days prior to voting and accusations of "meddling."
"The House Oversight Committee is going to be all over Hunter Biden," Representative James Comer, a Kentucky Republican who would likely become chair of the committee, told Politico in April.
During an appearance on Fox & Friends on October 7, Comer called Hunter Biden's impending indictment "a drop in the bucket" compared to what GOP officials might uncover as part of their own federal oversight.
"There's mounting evidence that Hunter Biden was peddling access to our adversaries all over the world," Comer said. "The reason we are investigating Hunter Biden is because we believe he is a national security threat. But we are also concerned that Hunter's shady business dealings have compromised Joe Biden....And the big question is: Was Joe involved? And more evidence shows he was involved."
Ohio Republican Jim Jordan, who is a member of the Oversight Committee and Judiciary Committee, has been vocal about finding out "what happened in 2020" regarding Hunter Biden, his laptop, and information potentially suppressed prior to the 2020 presidential election.
On September 23, Jordan and fellow Republicans Darrell Issa and Mike Johnson wrote a letter to former FBI agent Timothy Thibault regarding the preservation of documents associated with what they called the "politicization" of the DOJ and FBI.
"Whistleblowers have come to Congress alleging that you were part of a scheme to undermine and discredit allegations of criminal wrongdoing by members of the Biden family," the letter said. "Accordingly, we believe that you possess information relating to our investigation and we request your assistance with our inquiry."
Representative Ro Khanna, a California Democrat, told Axios this month that the GOP taking control of the House would lead to a Hunter Biden investigation and "an ugly, ugly two years."
"These debates are going to be about the Republicans interested in perpetuating a cultural war, where they are going to be targeting the most vulnerable in our societies, people who they think don't fit the mold of how they define a true American," Khanna said.
Prominent attorney Alan Dershowitz, a professor emeritus at Harvard Law School who was part of then-President Donald Trump's team during his first impeachment trial in 2020, said this month that the DOJ cannot "credibly" indict Trump unless it also indicts Hunter Biden.
The poll was more bullish on the idea of a GOP majority attempting to impeach President Joe Biden, with 50 percent of voters believing they won't attempt it while 42 percent said they would.
Newsweek reached out to House Speaker Nancy Pelosi, House Majority Leader Steny Hoyer and House Minority Leader Kevin McCarthy for comment.