Malawi Mouse Boys: Making a Noise in the World's Poorest Country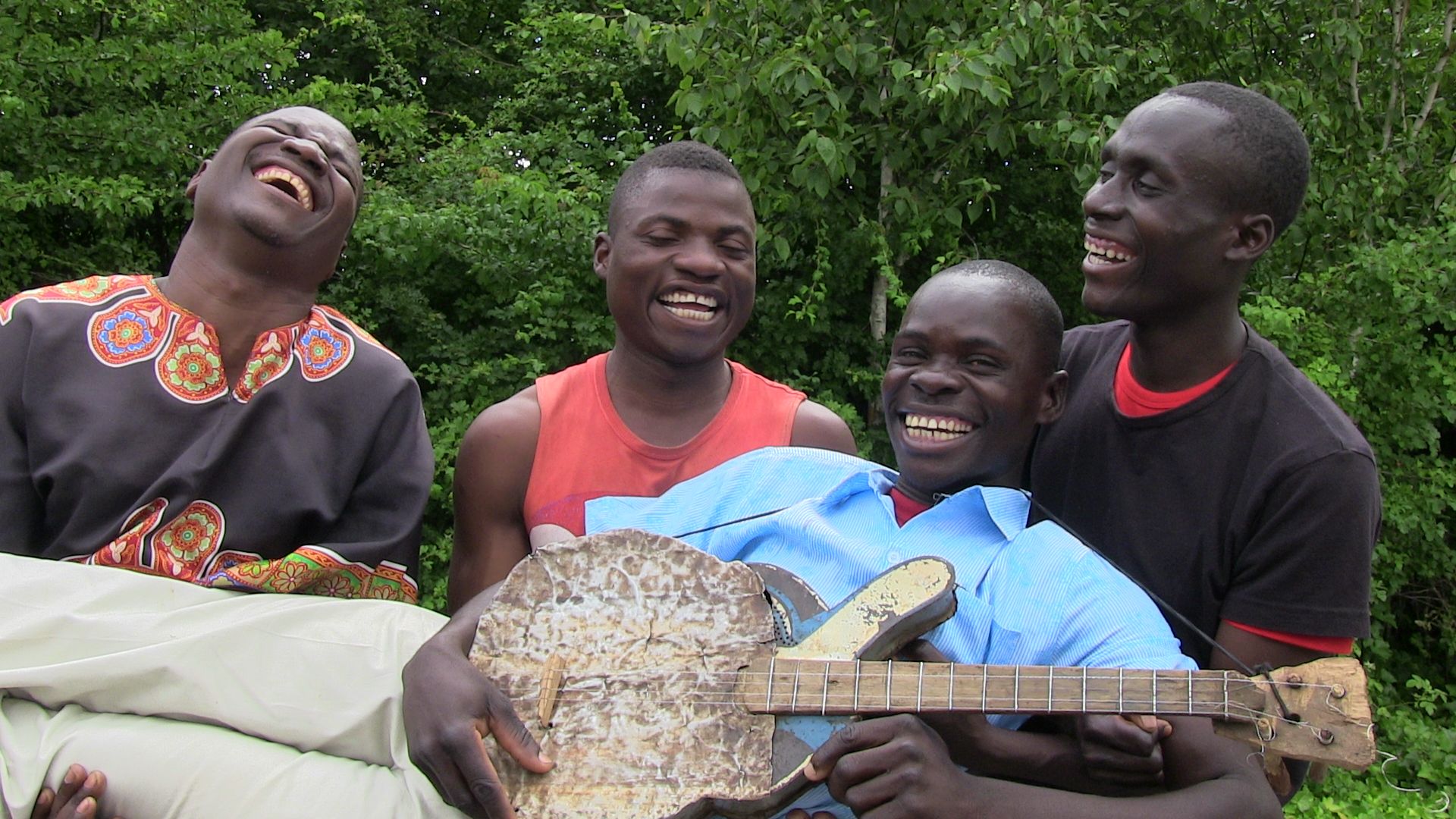 With an average GDP of $255 per year, Malawi is the poorest country in the world. Even for pop stars, life can be a struggle to make ends meet.
Joseph Nekwanka is the percussionist in the Malawi Mouse Boys, a roots quartet that gets its name from the profession of its members, who sell grilled mice kebabs by the side of a highway in the southeast African country. Since they were discovered in 2011 by U.S. producer Ian Brennan, the group have traveled across the world, including to the U.K. for the 2013 WOMAD Festival, where they played to a 10,000-strong audience.
As the boys release their third album Forever is 4 You, today, Nekwanka reveals that while the band may have enough money to send their children to school or pay for land on which to build a house, they are by no means a privileged class in Malawi. "It's a tough life here," says Nekwanka, 45, who lives in southern city of Balaka and works as an ambulance driver when not recording. "When we come back here, [the money] will help us for one or two months, then we are just working for another period.
What's more, Nekwanka says that the band's rural charm has failed to gain them many followers in their home country, despite garnering critical acclaim on the global stage. Their debut album, He Is #1 —recorded by the side of the road where Brennan found the Boys selling their delicacy—was the first ever in the Chichewa language to be released outside Malawi when it came out in 2012. It was described as "devout, robust African Gospel" by the New York Times and credited with capturing "a joy and inventiveness rarely experienced in contemporary Western music" by the Sunday Times. But Nekwanka says their use of homemade guitars and Coca Cola cans as percussion instruments has not impressed their countrymen. "Here in Malawi, many people don't like the bands that are using instruments like this...they all use electric guitars and the like. But we are Africans!" says Nekwankwa.
The new album consists of 15 tracks in the Chichewa language native to Malawi, embelished with a strong spiritual feel—English translation of the track names include "I Believe Jesus" and "The Ways of God." Many of the tracks are short, with some a little abrasive in tone; tracks such as "The Crying of the Mouse" and "The Wasp," in particular, seem to consist simply in the band members imitating the eponymous creatures. "It's more experimental [than their previous albums]," says Brennan. "It's still very stripped back and honest and direct but there's some pretty weird stuff on this record!"
The earthy rawness of the group's sound, however, is perhaps best expressed in "My Loneliness," a track composed by Nekwankwa in tribute to his late mother—who died when he was a child—the song closes with the sound of Nekwankwa sobbing as he mourns his unknown parent. "I'm trying to explain that...I don't know where you are and I'm trying to beg God so that he can help me and those people who helped me to grow up," says Nekwankwa.
According to Brennan, the purity of the band's voices is retained by virtue of the fact that they haven't heard of many of their competitors. "They're not corrupted by trying to sound like somebody else. They're not trying to sound like Bob Dylan or Bono, because they've never heard of Bob Dylan or Bono," says Brennan.
The group's achievements were somewhat overshadowed recently when another Malawian music group discovered by Brennan—The Zomba Prison Project, a 60-strong group of maximum security detainees in the southern city of Zomba— received the country's first ever Grammy nomination in the World Music category for their album I Have No Everything Here (they were eventually pipped to the award by Beninese songstress Angelique Kidjo). Nekwanka has been to visit the inmates with Brennan and says he hopes his group can emulate the Project's success. "Being nominated for a Grammy is a great thing because, all over the world, [people] can know a certain group like Malawi Mouse Boys or Zomba Prison Project. People decide to see them and hear what they are playing," says Nekwankwa.
Having performed in Australia, New York and Los Angeles in recent years, the Boys do not have plans to tour in 2016 due to prohibitive costs—Brennan says it would cost a minimum of $10,000 to get the four-piece out to the U.S. for another tour. But Nekwanka is keen to continue making musis, as he believes the band has a divine mission to complete. "This talent is from God and we can't say 'Ah, we are stopping here.' No, our desire is to continue," he says.
Forever is 4 You by the Malawi Mouse Boys is available for purchase or download from Friday April 8.