Malaysia Corruption Scandal: Disgraced Former Prime Minister Faces More Charges in Billion-Dollar Embezzlement Probe
Former Malaysian Prime Minister Najib Razak is facing yet more criminal charges relating to a billion-dollar investment scandal in which he was allegedly involved while in office.
This third round of serious charges is part of a shocking fall from grace for the Najib, 65, who in the space of a few months went from Malaysia's most powerful man to its most notorious alleged criminal.
Najib was charged with six counts of criminal breach of trust at a Kuala Lumpur court on Thursday. The indictments are related to the 1MDB corruption scandal, in which around $1.59 billion worth of government funds were allegedly used for illegal means.
Najib pleaded not guilty to all six charges, Reuters reported. Thursday's session brings to 38 the total number of charges against the former prime minister, who was ousted from office after a shocking election defeat in May. They relate to fraud, corruption and money laundering.
The 1MDB scandal has been described as the most significant corruption case in Malaysia's history. Prosecutors say billions of dollars of government funds—set aside for development purposes—were embezzled for luxury properties, yachts, jets, shopping sprees and even funding for Hollywood films.
While in power, Najib had cleared himself of all wrongdoing and blocked the probe. However, with his defeat in the May elections, the new government—led by 93-year-old Prime Minister Mahathir Mohamad—reopened the investigation and began ordering arrests.
Following the hearing, Najib told reporters, "Nothing in the charges show that any of the acts I undertook resulted in any benefit to me. There shouldn't be any belief that any of the monies stated in the charges were lost, or that there were any elements of self-interest." He was released after agreeing to pay a 1 million ringgit bail fee (around $240,000).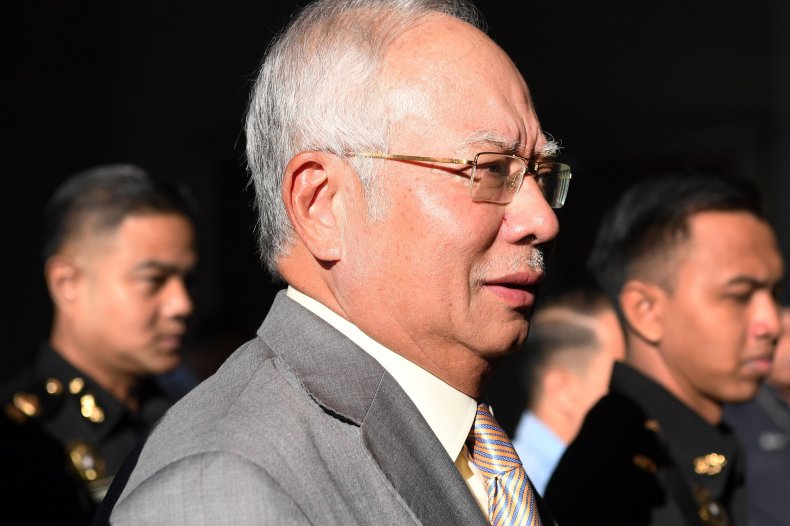 Shafee Abdullah, the lawyer representing Najib, said his team was "delighted" to hear the "atrocious" charges. "We are looking forward to defending him," he added.
Former Treasury Secretary general Irwan Serigar was charged jointly with Najib on Thursday and also pleaded not guilty on all counts. Each charge carries a jail term of up to 20 years, a fine and a whipping sentence, though being over the age of 50 means neither man would be whipped if found guilty.
Last month, Najib was hit with 25 other charges related to the deposit of $681 million into his personal bank account, allegedly from the 1MDB fund. His wife, Rosmah Mansour, is facing 17 money laundering charges related to the scandal. She has pleaded not guilty.
Even before Thursday's court appearance, Najib was already facing more than 200 years in jail and tens of millions in fines if found guilty of the long list of allegations, The Guardian noted. His trial appearances are set to begin in February 2019.