A male passenger was arrested after allegedly exposing himself and masturbating four separate times during a Southwest flight from Seattle to Phoenix on April 2.
Antonio Sherrodd McGarity was arrested and is accused of touching himself inappropriately for an hour while in view of a female passenger, according to a criminal complaint obtained by The Daily Beast. In fact, in one month this year alone, the FAA had to deal with 500 unruly passenger complaints, which came after a January 13 order by the FAA to implement a "stricter legal enforcement policy" amid an ongoing series of "troubling" passenger incidents.
"McGarity was seated in seat 11F and the female witness was seated in seat 11E," the criminal complaint states. "Shortly after taking off, and while the aircraft was in the air, McGarity exposed his penis by pulling down his pants and shorts and began masturbating."
The female passenger was able to capture photo evidence of McGarity's actions and alerted the flight crew when McGarity fell asleep after masturbating four times in that first hour of the flight, according to the complaint.
The woman was moved to another seat and was interviewed by Phoenix Police after the plane landed. She alleged she saw McGarity "[lick] a white substance from his fingers."
FBI agents interviewed McGarity who admitted to masturbating during the flight and said he knew the female passenger was aware and could see his penis. He also said he was aware that the woman took a photo of him.
McGarity claimed he asked the woman "if she minded if he masturbates" and that she allegedly "put her hands in the air" and replied that it "really doesn't matter."
He told the authorities that he did not think the woman was uncomfortable and that he thought it was "kind of kinky."
McGarity now faces federal charges for lewd, indecent, or obscene acts, according to court documents.
A spokesperson for Southwest Airlines told Newsweek that McGarity was placed on the No-Fly List which results in a lifetime ban from traveling with Southwest Airlines.
"On April 2, crewmembers received a report of inappropriate behavior during a flight from Seattle to Phoenix. Upon learning of the event, the crew immediately responded to the incident and re-seated the reporting passenger for the remainder of the flight," the airline said.
"The captain also requested that law enforcement meet the aircraft upon arrival. We immediately placed the passenger who exhibited the lewd behavior on our No-Fly List, resulting in a lifetime ban from traveling on Southwest Airlines."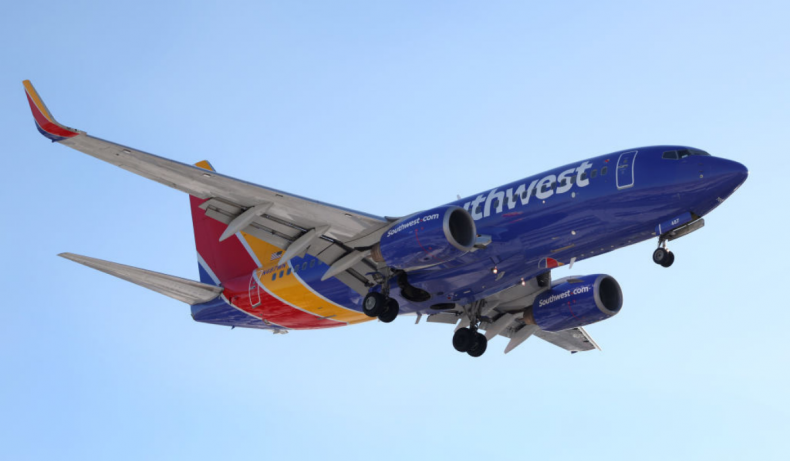 As of March 28, the Federal Aviation Administration has received 1,035 reports of unruly passengers, 668 of which were related to facemasks.
Others, though, included a plan having to be grounded in Oklahoma after both the flight attendant and the Air Marshall were assaulted mid-flight. One man even tried to open the aircraft door mid-flight.
In 2021, the FAA received nearly 6,000 complaints and initiated more than 1,100 investigations.
The FAA has taken action against unruly passengers, including proposing up to $5 million in fines against unruly passengers in 2021 and introducing a Zero Tolerance Policy.
Instead of issuing warnings, the Zero Tolerance Policy allows law enforcement to detain any individual who assaults or threatens airline staff, even if they are first-time offenders.
Unruly passengers can face fines up to $37,000 per violation and one incident can result in multiple violations and fines.