Man Arrested for Allegedly Selling $10 Duct-Taped Iguanas Smuggled From Florida
A man who reportedly smuggled nearly two dozen iguanas from Florida and attempted to sell the duct-taped animals for $10 each has been arrested, local law enforcement reported.
According to a report from WSB-TV, Dayniel Del Toro Mendez allegedly was caught selling the captured reptiles, bound by tape in his vehicle in Georgia in late June.
"The iguanas were tied up," Hildeshi Valle with Gwinnett County Police told the outlet. "Their legs were tied with duct tape in a non-ventilated area, which could cause them to die."
Sgt. Jennifer Richter of the Gwinnett County Police also confirmed with Newsweek the 22 accounted iguanas "were found duct-taped by their legs."
According to the incident report obtained by Newsweek, the Gwinnett Police Department found Mendez in a parking lot with the iguanas upon receiving a call from a concerned citizen about potential animal abuse.
"The trunk door of his vehicle was open and I noticed multiple iguanas laying in his trunk tied around their legs and bodies with duct tape," the report said. "I asked Mendez if he had a license or permit to be selling the animals to which he stated he did not. He also stated he was not part of a shop or business."
Gwinnett Animal Control was later dispatched to the scene, where officers took possession of the 22 iguanas bound with tape in the vehicle.
Responding police officers then "placed Mendez under arrest for cruelty to animals...[and] obtained 22 warrants on Mendez for cruelty to animals [one count per iguana]. Mendez was also cited for multiple offenses relating this incident by animal control."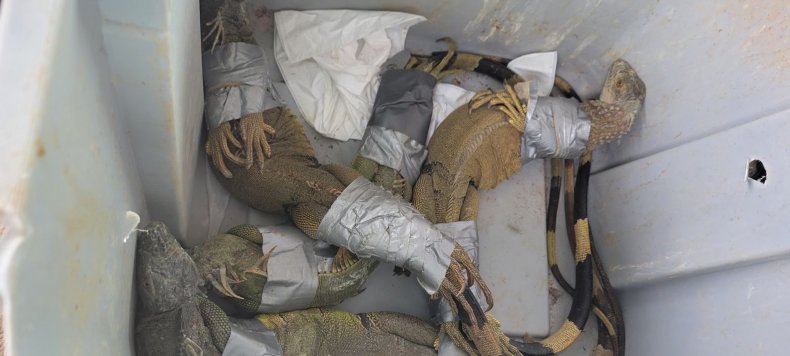 Although the iguanas were being traded in Georgia, the police records obtained by Newsweek report Mendez allegedly captured the iguanas while in Miami and brought them back to Gwinnett County "to sell and make some money." Iguanas are listed as an invasive species by the Florida Fish and Wildlife Conservation Commission, and trading these animals is illegal in the state.
"Green iguanas are not native to Florida and are considered an invasive species due to their impacts to native wildlife," the commission website reported. "Like all nonnative reptile species, green iguanas are not protected in Florida except by anti-cruelty law and can be humanely killed on private property with landowner permission."
As of April 2021, the Florida Fish and Wildlife Conservation Commission also deemed it illegal to sell, own or breed invasive species like the iguana in Florida.
In Georgia, the state's Department of Natural Resources Wildlife Resources Division deems lizards, of which iguanas are a subspecies, are considered an "exotic species regulated under Georgia Law." Iguana owners must have a license to possess them.
According to the list of businesses registered under the Georgia Secretary of State's Office, Mendez reportedly runs a pet store, known as Del Toro Pet Shop in Gwinnett County, Georgia. The online report claims the pet and pet supply store was registered for retail trade in July 2020. According to the incident report obtained by Newsweek, however, his business and residency are the same address.
WSB-TV reported Mendez has since been released on bond. Richter also confirmed with Newsweek the 22 iguanas were in stable condition and have since been adopted.
"Animal Control took possession of them and they were rescued out," she said.
Newsweek reached out to Gwinnett Animal Welfare regarding the situation, but they declined to comment at this time.
Also in June, a Massachusetts man was arrested in connection with animal cruelty charges he allegedly had a cache of internet searches related to ways to torture cats. In Florida, a woman was slammed online for attempting use her foot to kick an alligator out of a busy Louisiana street.