Man Arrested After Breaking Into Tiger Enclosure to See How Would It React
A man who tried to break into a tiger enclosure at a Boston zoo to see how the predator would react has been arrested by Massachusetts State Police.
Matthew Abraham, 24, was spotted in a non-public area of Franklin Park Zoo trying to climb over a gate into the tiger exhibit on the morning of February 21.
A state police report said the man must have climbed multiple fences and ignored several warning signs to get to the area.
When zoo officials began to approach the man, Abraham quickly climbed back over the gate and exited the area. He was arrested and detained in South Boston.
A medical evaluation following the incident determined that Abraham was mentally competent. He refused other medical care, NBC Boston reported.
The zoo's resident tiger Anala, who was in the enclosure, is an endangered Bengal mix and has lived at the zoo since 2006. She was kept illegally in neglectful conditions by her previous owners before the U.S. Fish and Wildlife Service rescued her.
Abraham told NewsCenter 5: "I was there as a spectator of the zoo. I didn't mean to harm anybody. I wasn't looking to harm the tiger. I wasn't looking to harm myself neither... My plan was just to go see what is a tiger. How would a tiger react to a human being?"
He said he had no intention of getting close to the tiger or inside its enclosure. He said he was about 20 yards away, and there was a fence between him and the animal.
Abraham told NBC Boston the tiger had growled at him after he had entered the non-public area. He said he thought he could be in danger but said he had no intention of getting inside the enclosure.
Because of their immense physical strength, tigers can be extremely dangerous. They usually avoid people but have been known to attack if they are provoked or feel their territory is threatened.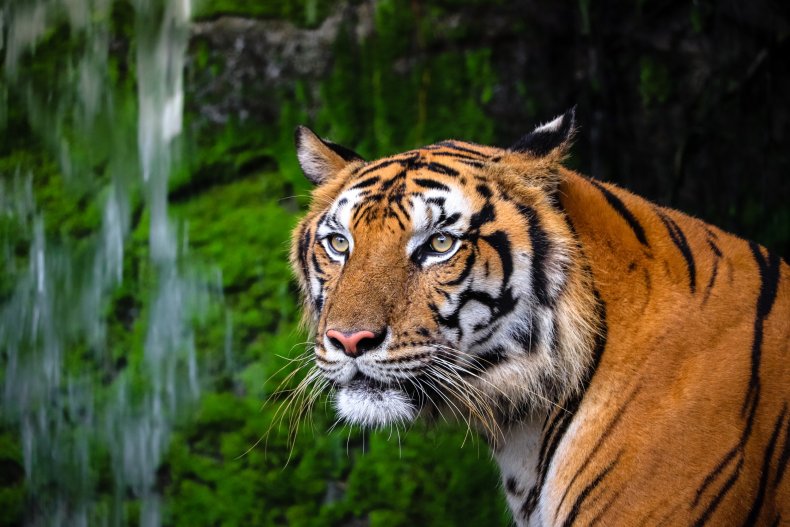 Massachusetts State Police said Abraham now faces charges of disorderly conduct and trespassing. Abraham told NewsCenter 5 he did not realize the zoo was shut a the time of the incident. Abraham will appear at Dorchester District Court for arraignment on a future date.
Newsweek has contacted Massachusetts State Police and Franklin Park Zoo for a comment.
A local, Kaitlin Noe, told NBC Boston: "People should be more respectful of wildlife and understand rules are in place for a reason."
Vermont resident Lucinda Donohue told NBC Boston: "There's only so much that anybody who runs a zoo can do if somebody's just going to do something like climb into an animal enclosure."
Other incidents where humans have come into contact with captive tigers have been near-fatal. In December, a man who had jumped the fence to the tiger enclosure at Naples Zoo, Florida, nearly had his arm torn off by the resident tiger. The attack could have been deadly if officers had not shot the animal dead.