One-Eyed Tiger at Louisville Zoo Dies After Blood Cancer Diagnosis: 'He Had So Much Trust in People'
Tributes have been paid to a one-eyed tiger at a Kentucky zoo, who has died after being diagnosed with blood cancer.
The tiger, named Heran, was suffering from B-cell lymphoma and leukemia when vets at Louisville Zoo decided to euthanize him.
The zoo said in a press release that it faced a tough scenario, as they would lose both a beloved animal and an important genetic line in the Sumatran tiger population if they euthanized Heran.
Sumatran tigers are native to Indonesia and classified as critically endangered. There are only 75 Sumatran tigers in zoological parks across North America, and about 400 to 600 left in the wild.
In a video, zookeepers paid tribute to the beloved tiger. Clips in the video showed him playing with a ball and bathing in the water.
Keeper Linsey Spann said he was a "playful cat" who loved to use his toys.
Another keeper, Mark Mlynek said that he was always "cool and collected".
Keeper Stacey Wren was close to tears as she said Heran had "so much trust in people."
Heran arrived at Louisville Zoo in 2017 as part of the Sumatran Tiger Species Survival Plan.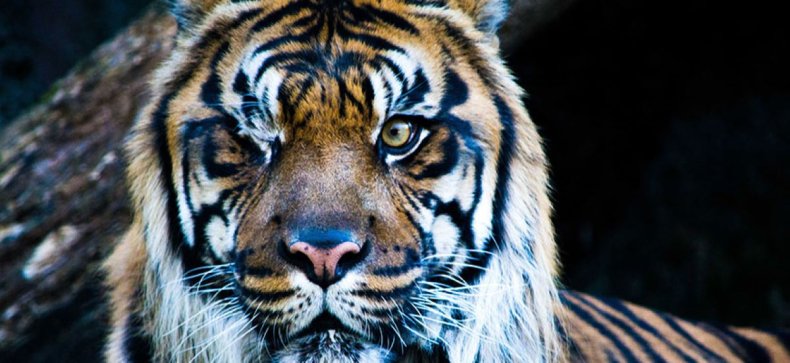 He was easily recognizable to guests due to his missing eye. When he first arrived at the zoo, he was found to be suffering from a mature cataract and glaucoma in his right eye. To ease his pain, his eye was removed and replaced with a silicone orbital implant. He quickly recovered and acclimatized to his new home.
Despite attempted pairings Heran did not sire any cubs, but the zoo collected a semen sample from him before he died.
"The priority is to do right by the animal in providing compassionate end-of-life care," senior staff veterinarian Zoli Gyimesi said in the press release. "But if we can also do what is right for the population that Heran represented as an ambassador, that's our responsibility as well. We hope that the samples we collected will let Heran sire cubs in the future."
Tissue collected from the tiger after euthanasia were given to two veterinary universities. One university will use the tissue to research cancers across zoo species, while the other will use it to research stem cell therapies for living tigers.
B-cell lymphoma and leukemia in big cats can be treated with chemotherapy, however the survival rate is low depending on how severe the condition is. Exposure to the feline leukemia virus can greatly increase a cat's chances of developing lymphoma.
In the press release, zoo director Dan Maloney said: "With every sad loss we try to maximize what can be learned to benefit future generations of animals."