A man has been charged after he allegedly requested $30,000 to shoot police officers in Louisville, Kentucky while brandishing a gun in a Facebook Live video, authorities said.
Cortez Lamont Edwards, of Louisville, went live on Facebook on September 23 while in possession of an AR variant pistol, according to the criminal complaint.
Protests broke out that night after a grand jury brought no charges against police officers for Breonna Taylor's death.
In the video, Edwards, 29, said he was requesting the money to shoot officers with the Louisville Metro Police Department (LMPD) who were in the street in front of his residence during a disturbance, according to a news release from the U.S. Attorney's Office for the Western District of Kentucky.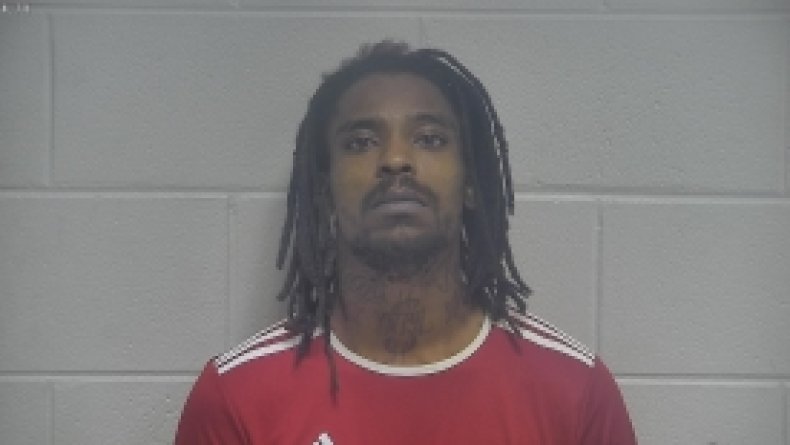 An investigation revealed Edwards is a convicted felon and he was charged with being a felon in possession of a firearm, the U.S. Attorney's Office said.
Agents with the Bureau of Alcohol, Tobacco, Firearms and Explosives (ATF), Homeland Security Investigations (HSI), United States Marshal Service, Federal Protective Service as well as officers and detectives from the LMPD executed a search warrant on Edwards' home on Sunday.
They found him sleeping on a couch in the living room, U.S. Attorney Russell Coleman's office said. They also found a gun on that couch, and a toddler in a playpen.
"Louisville needs healing and safety for its citizens, not armed felons seeking bids to shoot police," Coleman said in a statement. "Federal law enforcement here will continue to respond as one to swiftly mitigate threats to our city."
After Edwards' arrest was announced, the LMPD thanked authorities on Twitter.
"Thanks so much for your support. The actions of this person were unacceptable!" The department said.
"Threats against law enforcement are unacceptable," added Special Agent in Charge R. Shawn Morrow of the ATF's Louisville Field Division. "When you threaten police and brandish firearms, you can expect the attention of ATF."
If convicted, Edwards could face up to 10 years in prison, a $250,000 fine and three years of supervised release.
Two LMPD officers were shot and injured on the night of September 23 after Kentucky Attorney General Daniel Cameron said a grand jury investigation found the use of force in Taylor's death was justified.
Taylor, a 26-year-old Black emergency medical worker, died after she was shot multiple times by white police officers who entered her apartment during a narcotics investigation in March.
One officer involved in the incident, Brett Hankison, was charged with three felony counts of wanton endangerment for bullets that were fired into the apartment of Taylor's neighbors. The other two officers were not charged.