The internet has slammed a fan for calling his wife "ridiculous" for crying over a can of soup in a new viral post on social media.
Published to Reddit's popular r/AmITheA**hole forum, a man under the username u/Practical-Grand-6104 shared his story to get the opinions of the "AITA" community. The viral post has over 6,000 upvotes and 1,000 comments.
The Redditor began his story by explaining that his wife is four months pregnant with their fifth child. The couple has been in the process of adding on bedrooms to their house, so they look out a loan. The original poster (OP) said that child care is expensive and that money is tight, but they aren't struggling. His wife is staying home with the kids as her car broke down, so they are relying on the OPs.
The conflict began when his wife asked him to pick her up a certain kind of soup she was craving. Agreeing, he brought the food home for her. She put it on the counter and told him she will have it once she puts the kids to bed.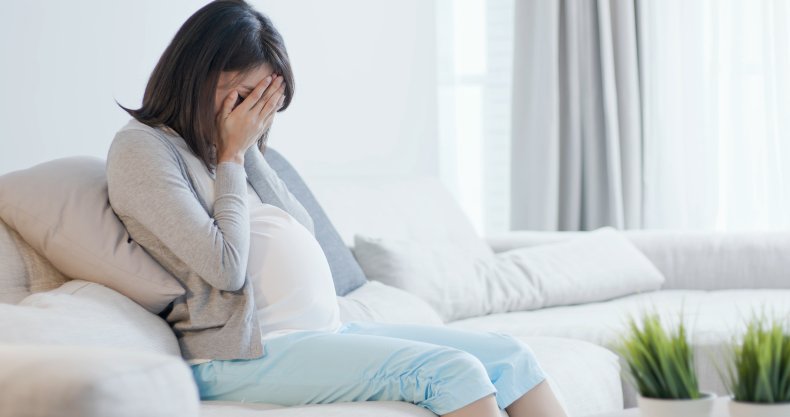 The OP's father typically goes over to their house to see if he needs any help building the rooms. That night, he mentioned to the Reddit user that he was hungry. He offered him anything in the kitchen as they just made dinner.
He wrote, "Well he ended up leaving to go home and my wife came downstairs then I heard her frantically searching for something. I asked what she was doing and she was looking for the soup she left out. I told her I haven't seen it and that my dad came over but he usually doesn't eat canned foods. I called him and he admitted he did in fact take it and that he was sorry because he was unaware she was saving it.
"When I told her this she started sobbing and saying 'she can never have one thing in this house and how bad she was craving it and wanting it so bad' she cried for almost an hour over it. Later I told her that she was being ridiculous and that she was an adult and crying over something as stupid as a can of soup was for children. She told me I didn't understand and she's feeling very emotional lately and stressed," he continued.
When speaking to his mother about the situation, she explained to him that his words were very "a-holeish."
In recent edits made to the post, the OP said that he would apologize and go buy more soup. He also wrote that he got the scariest shark movie he could find, since his wife loves Jaws.
What are pregnancy cravings? When do they begin?
Pregnancy cravings are when people crave certain food combinations while pregnant. Cravings typically begin within the first trimester, peaking during the second trimester and declining in the third, via Healthline.
According to research done by Frontiers in Psychology, it is estimated that 50 to 90 percent of women in the United States will have specific cravings while they are pregnant.
Per Doylestown Women's Health Center, the most popular foods pregnant people crave are ice, potato chips, chocolate, lemons, spicy food, ice cream, red meat, cheese, pickles and peanut butter.
Newsweek has published several articles about pregnancy including a pregnant woman who was praised for banning her mother from visiting the baby and how a woman was slammed for taking $1,000 worth of pastries and blaming it on "cravings."
Redditor Response
"It's not about the soup, dude," u/TheDrunkScientist admitted, receiving the top comment with over 19,000 upvotes.
"[You're the a**hole] She's pregnant. She's been touched, grabbed, screamed at, followed, questioned, etc all day by four little tyrants. She feels unattractive and she had a craving for some soup, as a comfort and probably because she didn't get to finish a meal all day," u/traffic_cone_love said, "What you did was mean. Don't invalidate people's feelings."
"[You're the a**hole] You let someone take away the food that you knew your pregnant wife was craving. Then when she got upset about it, you lectured her and insulted her by calling her ridiculous and childish," u/flyin_high_flyin_bi wrote. "And you want to know if [you're the a**hole]?"
"[You're the a**hole]. Dude, she's pregnant. Pregnancy hormones really screw with your brain," u/TinyRascalSaurus exclaimed.
U/ButItSaysOnline commented,"[You're the a**hole] You have no idea how hard it is to raise a child let alone raise four of them while pregnant with another one. That can of soup may seem stupid to you but to her it was probably the only thing she had to look forward to all day. She needs a break."