Man Claims Lemonade From Chipotle Got Him DUI in Video Viewed 1.4 Million Times
A Las Vegas-area man claims he was given a DUI after an "open container" was found in his car—the only problem, however, was that the open container didn't actually contain any alcohol.
According to TikToker @shamansaucy, all he had been drinking that day was a Hibiscus Lemonade from the fast-casual chain, Chipotle—and his post about the incident has since gone viral, racking up 1.4 million views and counting.
"This is how I got my first DUI," the TikToker wrote in the video's on-screen captions. Meanwhile, he shows a drink dispenser filled with the beverage in question, containing hibiscus, lemon, and turmeric. As the TikToker pans around the Chipotle location, the captions read: "He said my 'open container' tested positive for alcohol."
For reference, the drink, as advertised by Chipotle, is not alcoholic. "Tart hibiscus flower and fresh citrus join forces in this riff on a classic," reads their website's description of the menu item, which is sourced from Tractor Beverages. "Kinda fruity. Kinda lemon-y."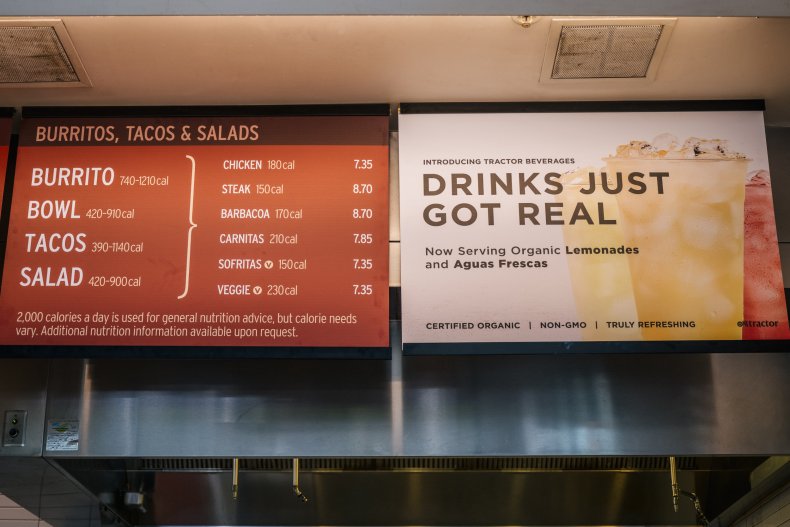 In a statement to Newsweek, Laurie Schalow, Chipotle's Chief Corporate Affairs and Food Safety Officer, noted: "We take these allegations very seriously and have asked the guest to contact us with additional details. Additionally, our beverage vendor has provided a statement outlining the unlikelihood of this occurrence."
While the claims made in the video remain unverified, hundreds of viewers rushed to the comments section to debate how and why the lemonade may have yielded a positive test result.
"I think it's because the tea is fermented," wrote one commenter.
Another, who claimed to be a former Panera Bread employee, echoed that point, noting that "one time we forgot to change the teas for a few days and it legit turned into alcohol."
In the comments section, @shamansaucy also provided additional information that bolstered the fermentation theory, noting that the drink "was like a day old."
Given that sugary fruit juice will ferment in warm, conducive environments—though the rates of fermentation vary wildly—the theory is not entirely implausible.
Not everyone who saw the video, however, believed @shamansaucy's claims. "I work there, I fill them up actually since I'm the cashier," wrote one commenter. "There's NO WAY, it's literally concentrate and WATER!!"
Others, meanwhile, argued that "open container tests aren't really accurate" to begin with.
Newsweek has reached out to @shamansaucy for further comment.
This incident is just the latest fast food secret stumping audiences nationwide. On TikTok, a Five Guys employee shocked viewers after revealing that the chain's signature fries are actually made from scratch using fresh Idaho potatoes—a surprisingly wholesome revelation in an industry known for its use of pre-made food.
On a less appetizing note, a viral video last month claimed that the chain Wendy's knowingly serves its customers expired meat. The clip racked up well over two million views at the time of writing.