Man Creates Fake Dating Resume in Hilarious Hinge Exchange
The internet has applauded a man who created a hilarious, fake dating resume in a bid to impress a woman he met on Hinge.
Posting to TikTok last week under the username Blonde Broke & Bougie, the man's date shared a screenshot of his "resume," along with screenshots of the rest of their exchange, writing: "Moral of the story is always commit to the bit." The video has amassed more than 2.8 million views and thousands of comments from charmed viewers.
"So I have a prompt on my profile that says I have a boat," the woman explained at the beginning of her now-viral clip. "[he responded] to that saying, 'What do I need to do to get on this boat?'"
The woman told the man to "present [his] qualifications," so he asked for the woman's email, telling her that he'd "pass [his] resume along" later that night. The following day, the woman checked her email and was "surprised" to discover that the man had "totally committed to the bit" by sending a resume.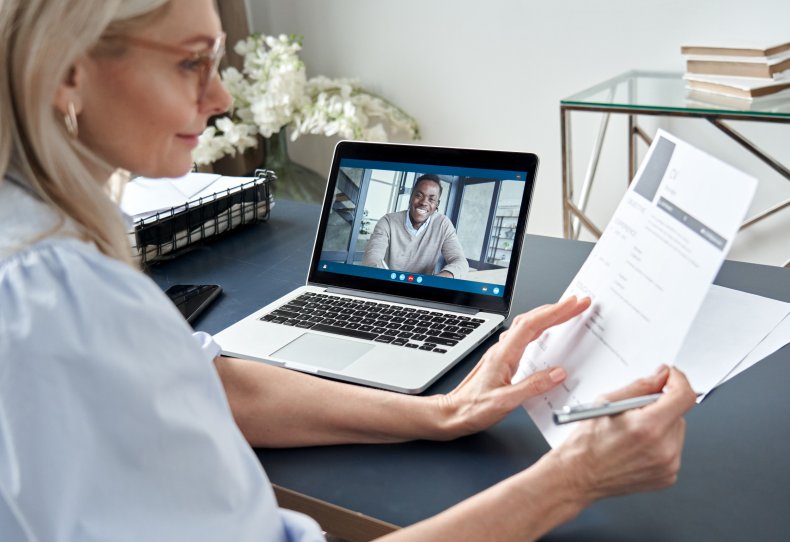 According to the man's mission statement, he is a "highly motivated individual seeking the ultimate companion/dance partner/dinner date/weekend getaway partner."
He went on to say that he has a "great sense of humor," is a "superb conversationalist" and that he is "excellent" at planning dates. The woman, impressed by his "qualifications" decided to keep the bit going, and sent the man a response via email.
"At this point, I'm like, oh okay, we are committing to the bit," said the woman, "So I sent a lengthy email back and I invited him to his first-round interview."
The man responded via email, and once the two had settled on a date, time and location for their "interview," the woman sent a Google calendar invite, solidifying their plans.
"This is SO CHARMING," commented Ged. "I love when people commit to the bit."
"THIS IS THE DEFINITION OF 'IF HE WANTED TO, HE WOULD,'" said Meredith.
"We love him," said Hannah Stella.
"SEND HIM THE OFFER!!!" Caite added.
When it comes to online dating, psychologists have said that honesty and authenticity are two traits that may increase an individual's chance of finding love.
"Once you are clear about what you want and what your expectations are, and you are brave enough to communicate them, you will have a much better chance of finding a partner," Adele D'Ari, a clinical psychologist, told The Washington Post.
Jelena Kecmanovic, also a clinical psychologist, added that "highlighting rare or unusual interests leads to greater online dating success."
"So, ask your friends and relatives to describe your qualities and quirks, put it together with a frank self-assessment and create an authentic profile," Kecmanovic advised.
From the information Blonde Broke & Bougie shared with viewers, it appears that both she and her date were forthcoming about their expectations and led their conversations with their unique sense of humor. So, commenters wanted to know—was the date a success?
"He did pass the criteria for a second-round interview," the woman joked in a follow-up video, adding that several more interviews are needed before she can make him an offer.
Newsweek has reached out to Blonde Broke & Bougie for comment.
Unfortunately, not every viral online dating story is as cute as Blonde Broke & Bougie's. For example, a woman went viral on TikTok last month for sharing a message from a Hinge match that read: "Every tattoo on a woman is a bad tattoo."
Other dating horror stories include a woman who was called an "easy lay" by a Bumble match and a man who was stood up by a woman, who said he was "too fat."