Man Finds Moose in His Garage in Wild Video: 'It's Bigger Than That Truck'
A video appearing to show the moment an Alaska resident discovered a young moose sniffing around his garage has been racking up views on social media.
Footage of the animal exploring the contents of the man's backyard was first shared to TikTok by Sharing Alaska. The account is linked to a tourism website of the same name set up by local residents eager to "enjoy and appreciate the beauty, wonder, and nature in our backyard."
At the time of writing, the video had been viewed over 6 million times. It can be watched here.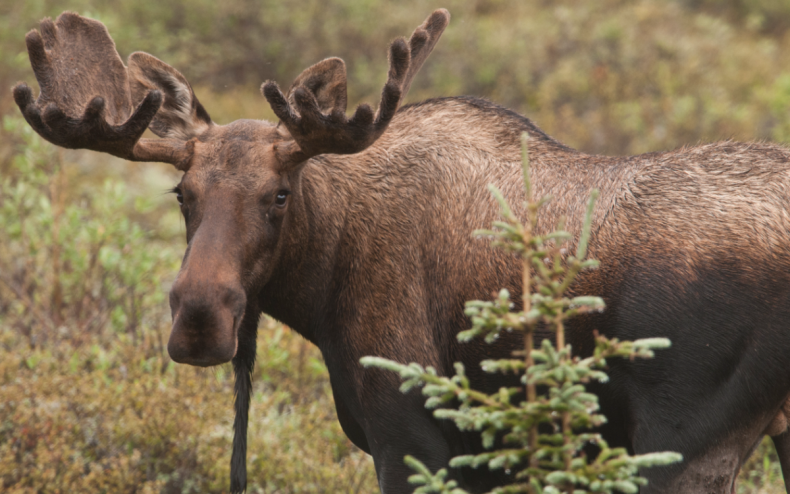 The clip also found its way on to Reddit, where it has already garnered 78,000 upvotes from similarly stunned viewers.
Much of the reaction has centered on the shock of seeing a moose at such close quarters, with many viewers astonished at the sheer size of the animal.
According to the Alaska Department of Fish and Game, adult moose can vary from 800 pounds for a small female up to 1,600 pounds for a large male and can grow close to 6 feet in height.
Fortunately, in this instance, the man filming the clip took a cautious approach. In the event of a moose encounter, the National Park Service always recommends nature lovers "view moose from a distance."
In the event of an encounter, they suggest "if it hasn't detected you yet, keep it that way," and if the moose does notice you, "talk to it softly and move away slowly."
"Don't be aggressive," they warn. "You want to convince the moose that you aren't a threat."
The individual filming this particular encounter remains inconspicuous, filming the beast as it explores several plastic containers and fishing rods before making its way past the resident's car.
The sight of the moose standing alongside the vehicle gives an even clearer indication of how big the moose is and why the person filming was wise to keep a distance.
The sheer size of the animal was a surprise to many watching online.
On Reddit, super_cheeky wrote: "I never realized how large moose really are. Holy moly."
RaZer_Moose replied: "That's not even a big one. Most people think of Moose as big deer, but in reality they're more like small elephants."
On TikTok, meanwhile, Cassidy Avila wrote: "my mind isn't comprehending that it's bigger than that truck," with ProductionA-85 noting: "That's considered to be a young buck, he's not fully grown." Aluvsbs also summed up the sentiment of many of those commenting on the post, writing that the video was "scary but so cute."
Elsewhere, back on Reddit, users were also sharing their own experiences living near moose. Drafen commented: "I was walking my dog down at the river and this moose moved its head outta the bushes right by the trail a couple feet from me and I swear to god I thought it was a dinosaur, like that scene from Jurassic Park."
Pojodan added: "Living in Alaska is quite the experience when it comes to moose. You just simply do not bother them, both because it's illegal to hunt them without a permit, and because, well, look at it. 'Moose in driveway' is a perfectly valid excuse for being late to work."
Newsweek has contacted Sharing Alaska for comment.
Do you have funny and adorable videos or pictures of your pet you want to share? We want to see the best ones! Send them in to life@newsweek.com and they could appear on our site.