Florida Man Caught After Attempting to Outrun Police on Lawnmower
A Florida man reportedly took "cut and run" to a whole new level by cutting the grass in his getaway vehicle, police say—by fleeing from officers on a lawnmower.
According to the Okaloosa County Sheriff's Office, Dusty Mobley, 40, was arrested on Saturday after a bizarre police chase. Deputies added that this arrest came just seven months after Mobley had jumped into a swamp to escape deputies who were looking to serve warrants on him.
The sheriff's department said deputies went to a home at 9:30 a.m. on Sunday on Pasco Broxson Circle in Holt, Florida to arrest Mobley on an outstanding warrant. But Mobley allegedly tried to escape by speeding away as fast as a John Deere ride-on lawnmower would carry him, until officers caught up and used a stun gun to capture him. It's unclear if the officers gave chase on foot or were in their patrol car.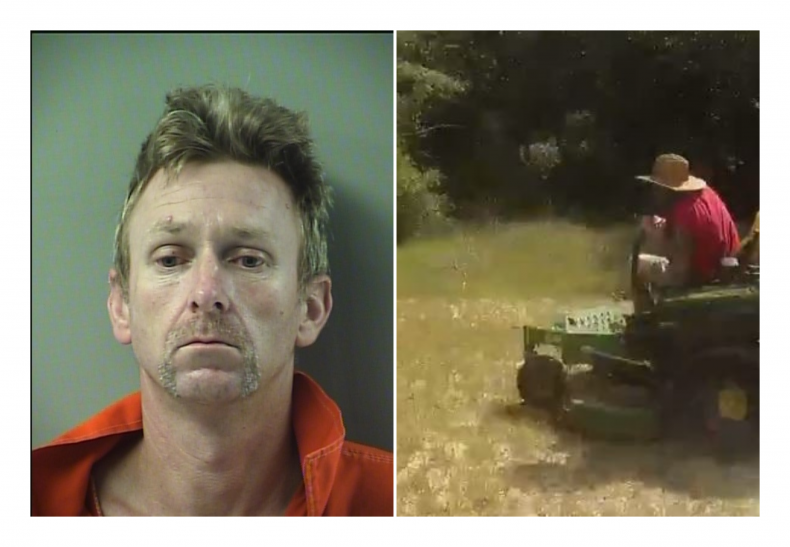 Mobley was wanted by police in connection with the alleged theft of a $40,000 boat, which deputies said was stolen by a suspect who reportedly used heavy machinery to cut a hole in the side of a metal building to gain access to a business off Highway 4 in Baker, Florida back in January. Deputies said they found Mobley on the boat that month and tried to arrest him, but he jumped into a swamp along the Yellow River and got away.
Mobley was charged with a string of offenses, including grand theft, grand theft of a vehicle, felony criminal mischief, two counts of resisting an officer, possession of a concealed weapon by a felon, carrying a concealed handcuff key, and possession of drug paraphernalia. According to deputies, Mobley also had a pipe containing what appeared to be methamphetamine residue and a revolver on him when he was taken into custody.
A statement on the sheriff's department's Facebook page sparked much amusement among locals after police posted on Sunday that: "A Holt man who jumped into a swamp to avoid Okaloosa County Sheriff's Office deputies trying to serve him warrants last January was not as successful yesterday when he put a John Deere riding lawnmower into high gear and tried to outrun pursuing deputies. 40-year old Dusty Mobley was tased by deputies chasing him while he tried to make a getaway on the lawnmower around 9:30 Saturday morning."
One local wrote: "What I would give to see the video of him on the lawn mower getting tazed, played to Benny hill theme." While another added: "If he would have outran them on that mower, it would have been a good commercial for John Deere."
After his arrest at the weekend, Mobley was booked into Okaloosa County Jail in Crestview without bond.
Newsweek has reached out to Okaloosa County Sheriff's Office for further information.
It's not the first time cops have caught a Florida man using a lawnmower as a vehicle. Back in August 2020, police body camera footage captured an inebriated suspect being pulled over for driving his lawnmower in the middle of a highway. Paul Burke was nabbed on Highway 316 in Fort McCoy and told the surprised officer, "Just take me to jail."
A report in September 2020 revealed that lawnmowers kill more people than bears, sharks or alligators each year.