Clip of Man Literally Going Head-To-Head With Goat Has Internet Cracking Up
A strength competition between a man and a goat has gone viral on TikTok, drawing laughs from all corners of the internet.
The video was shared by an account for the Bare Knuckle Fighting Championship (BKFC), a bare-knuckle boxing promotion based in Philadelphia. It has racked up seven million views in two days.
In the clip, a man is seen standing on the ground when he literally went head-to-head with a goat identified as "Pancho" who met him from on top of a rock.
"Oh, he's pushing!" exclaimed an enthralled spectator off-camera as the man and goat used their heads to push the other one. "Oh damn, Pancho's really trying!"
The fighter growled and strained throughout the match, muttering, "Come on, Pancho, come on, Pancho, I ain't never gonna give up."
But eventually, he did give up when Pancho pushed him back and won the fight.
The video quickly attracted a barrage of jokes, including from professional sports teams.
"Pancho had the high ground," said an account for the Pittsburgh Steelers.
"Need Pancho in the trenches," added the San Francisco 49ers.
Several viewers also pointed out that the goat appeared to be smiling at his weaker opponent, although animal behaviorists are split on whether goat "smiles" represent just involuntary muscle movements or if they indicate an emotional response.
"Even the goat was laughing," quipped one viewer.
Headbutting is normal behavior for goats—among each other as well as against other animals, trees and humans. Younger goats butt heads as a form of play, while older goats do it to establish dominance.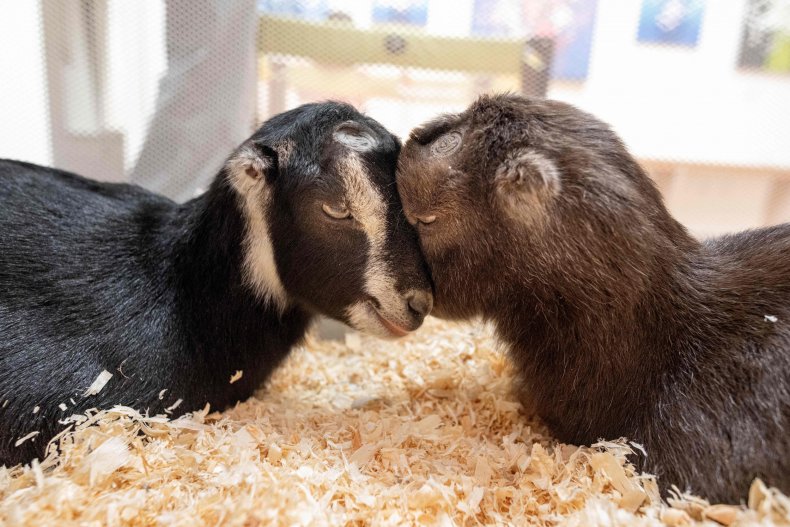 Although goat attacks on humans are rare, they can happen in the wild. In 2010, a 370-pound mountain goat fatally gored a hiker at Olympic National Park in Washington. Mountain goats do not have the same "flight" response to humans as many other animals, according to the national park website, and they are drawn to salt, which they can sense in human sweat and urine.
Rich Harris, Wildlife Biologist with the Washington Department of Fish and Wildlife, advised on the park's website to never feed mountain goats while hiking in their terrain. People should also avoid allowing mountain goats to lick salt off their body, clothing or belongings. Urinating off a hiking trail can also keep it from attracting the animals.
In the summer, Harris recommended standing your ground against an insistent goat and attempting to shoo it away. But in the fall, he said, give a male goat as much space as possible—it could see you as a rival for mates.