Man Gorilla Glues Cup to His Face, Ends up in ER—'I Thought I Could Lick It Off'
A man glued a paper cup to his face in what he said was a bid to show that heavy-duty adhesive Gorilla Glue was not as sticky as a recent viral video suggests.
Len Martin had seen the TikTok clip in which fellow-Louisianian Tessica Brown had told how she was hospitalized and had her hair stuck in the same style for a month after using the product, which is used mainly for crafting projects.
Martin said he "thought she was just playing around" and "didn't think it was that serious."
He has now joined Brown and Gorilla Glue's makers in warning others not to use it on their bodies, after doctors had to graft off part of his upper lip to remove the cup.
"I was trying to show people that it wasn't as serious as she [Brown] was making it to be, you know," he said when asked why he did it by local TV station KLFY.
"I thought I could lick it off, kind of, to moisten it and pull it right off, but that didn't work though." He added: "It went backwards, you know."
Doctors performed what he described as a "painful peeling" to free the cup.
He later posted a video on Facebook of him appearing to glue the cup alongside a photograph of him in a hospital bed with the cup over his mouth.
He will need to keep the area covered for up to three weeks, doctors told him. If it does not heal, he could face surgery to remove the tip of his lip, he said.
Martin, who is a rapper, denied the stunt and accompanying video were a bid to gain attention. "I would never want to stick no Gorilla Glue to my lip and have it stuck there," he said when the suggestion was put to him.
While his Facebook post included the #gorillagluechallenge hashtag, Martin acknowledged that his stunt had not been part of an existing social media craze, but said such acts are "just a part of social media" and he "didn't think it was going to go this far."
He added: "But if it helps, it helps and if it doesn't, it doesn't—but that's not what I did it for. I don't want to be sitting up here like this. You've got Valentine's Day coming up; I can't even kiss my own lip."
Newsweek has contacted Martin and Gorilla Glue representatives for comment.
A video in which Brown explains her own situation has now been watched more than 27 million times on Tiktok.
In it, she explained she likes to use a glue spray product called göt2b on her hair style "just to keep it in place." She tried Gorilla Glue after she ran out of her favored adhesive—a move she said proved to be a "bad, bad, bad idea."
She has begun hospital treatment and is reportedly considering plastic surgery.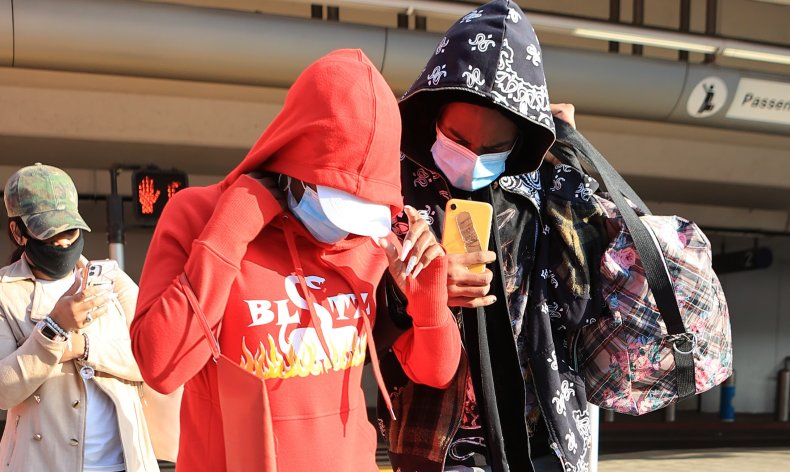 Gorilla Glue is urging people not to use its products in their hair.
On Monday, the glue-maker said it was "a unique situation because this product is not indicated for use in or on hair" because "it is considered permanent," it said.
It added that it was "sorry to hear about the unfortunate incident" and was glad Brown had sought medical treatment.