Man Insists Gay Co-Worker Take Paternity Test After His Wife Gives Birth
Online commenters criticized a man named Robert who accused his gay co-worker of having an affair with his wife, Danielle.
Robert's co-worker further explained that he was asked to take a paternity test to prove he wasn't the father of Robert and Danielle's daughter, Chelsea. Posting in Reddit's "True Off My Chest" forum under the username u/McGhostShadow, the post has garnered more than 14,000 upvotes and over 1,600 comments from Redditors, many of whom called Robert an "idiot."
"I don't know whether to laugh or cry over this entire situation that's unfolded in the past six weeks," the co-worker began. "Robert just had his first daughter Chelsea after four boys. The boys are dang near carbon copies of him; bleach-blond straight hair, freckle-less skin, and I swear to god they were just born with tans."
Chelsea, on the other hand, looks like Danielle, "a tightly curled redhead with freckles for days, and burns like there's no tomorrow."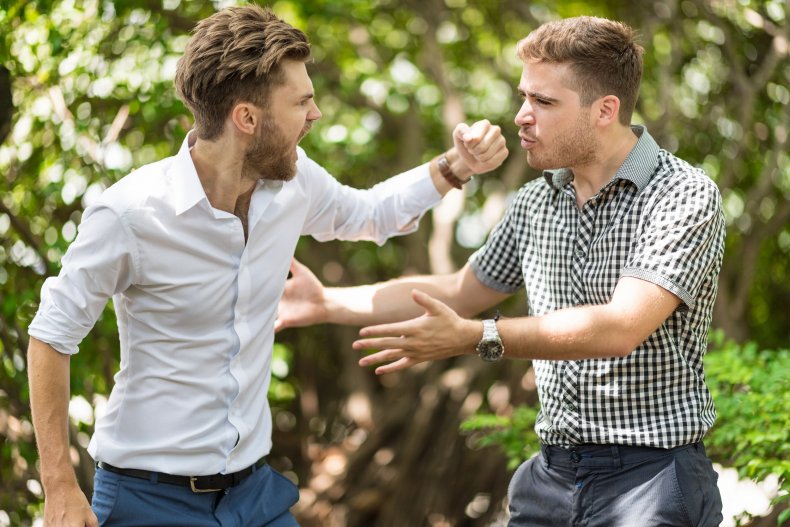 "When I got to meet [Chelsea]...I (a fellow redhead myself here with long curly red hair) gasped and said something along the lines of, 'Omg it finally happened! The red is alive!'" the co-worker exclaimed.
Robert insisted his genes would kick in, the man said, but they never did. Chelsea, now two-months-old, still has red hair.
"For three weeks...Robert would [complain] about how little of himself he sees in his daughter, how much of a 'stranger' she is...that somedays he thinks he's looking at another person's baby," the co-worker said. "After the fifth day in a row, I started trying to explain how genetics work."
How Is Red Hair Passed Down?
According to Insider, a baby needs "two copies of the red hair gene (a mutation of the MC1R gene)" in order to be a redhead, stating that the gene is "recessive."
"This means if neither parent is ginger, they both need to carry the gene and pass it on—and even then they will have just a 25 percent chance of the child turning out to be a redhead," Insider explained. "If one parent is a natural redhead, and the other carries the gene, that gives them a 50 percent chance of their child being ginger."
Insider further explained that in some cases, the red hair gene is passed down from generation to generation without the birth of a single red-haired child.
But Alas...
Robert either didn't know or didn't care to know anything about genetics. Instead, he convinced himself that Danielle cheated on him with the co-worker.
"Three days ago, Robert came into work just itching for an argument with everyone," the co-worker explained. "He blew up saying he knows Chelsea isn't his...[and] then looks over at me and points at me and yells at me to get my a** outside."
When he asked why, Robert demanded that his co-worker take a paternity test.
The OP said that he and Danielle have been friends outside of work, which is why he was accused of having the affair with Robert's wife.
"He's not necessarily wrong," he said, "but she's a part of the girlfriend group I'm [a part] of, there's five of us in total and [we] do artsy stuff, try new places, just hang out and do whatever but never stuff like THAT."
Robert's co-worker refused the paternity test and then texted Danielle about the incident.
The following day, the co-worker said his own fiancé received numerous texts and calls from Robert, saying he'd been kicked out of his home and accusing his co-worker of ruining his marriage.
The co-worker added that, while his friends know he's not Chelsea's father, they said he was wrong to tell Danielle about the paternity test, arguing that he should've taken it to assuage Robert's insecurities.
He concluded the post by saying he agreed to take the paternity test and looked "and told him he may as well quit his job and just vanish after this because it's gonna be real embarrassing when I walk in with the paperwork and wave it around saying I'm not the daddy to his red headed child and he has to explain to everyone including his own children what an absolute idiot he is."
Redditor Reactions
Redditors, however, strongly disagreed and slammed Robert and the co-worker's friends for their behavior.
"Everyone is trash except you, your fiancé, and Danielle. Do you live in trashville?" asked u/Final-Dot4168.
"[Robert] is an absolute idiot," said u/TeamAggravating8043. "I wouldn't worry too much, everyone's just feeling bad for the guy cause his life has been uprooted, but he did that himself."
"WTF your 'friends' are incredibly stupid saying you got him kicked out. His ridiculous accusations got himself kicked out. Why would you get a paternity test if you have never had sex with his wife?" asked u/Majestic-Post-1684. "I would be petty and report him to HR, sue him for harassment/slander. Idk but he's incredibly stupid & deserves to be exposed to everyone."
Newsweek has reached out to u/McGhostShadow for comment.
Other posters from "True Off My Chest" to go viral in recent months include a spouse who said they divorced their wife because she's always late, a woman who said her husband demanded they have an open relationship until she loses weight, and a woman who said she caught her husband sexting their nurse after having surgery.