'I Was At My End': Man Kicks Brother Out of Home For Fat-Shaming His Wife
A man is receiving support after kicking his newly-divorced brother out of his home after he allegedly made repeated cracks about his wife's weight.
The man told the backstory as part of an anonymous post published under a throwaway account on Reddit's "Am I The A**hole" forum. It has over 13,000 upvotes and over 1,000 comments.
It was explained that the man and his wife, a former sports model, have been married about a year and that her previous "job required her to meet a very rigid beauty standard and look a certain way."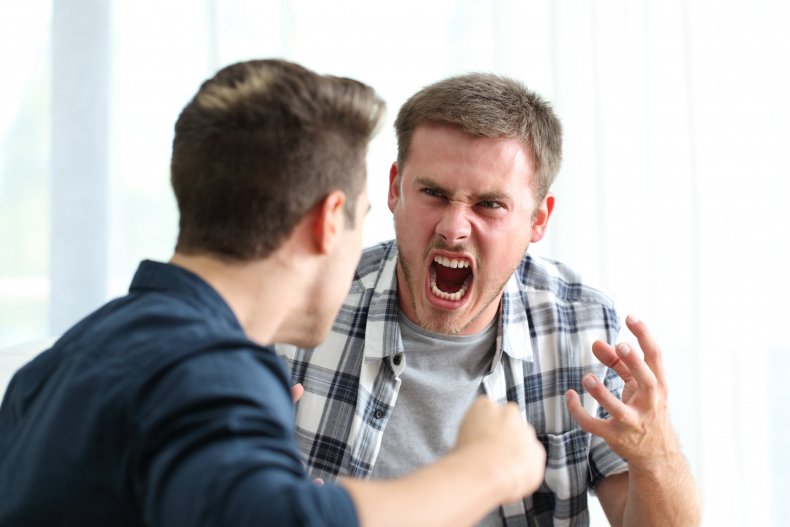 "She was always on a strict diet and was severely underweight," he said, adding that she has since "gained a healthy amount of weight and muscle and is much happier."
Healthline reported on a study of 6,157 participants who were not obese but experienced weight discrimination, finding they were 2.5 times more likely to develop obesity over the next few years.
That is where the man's brother comes in. Described as "extremely happy" and content regarding his social status, he just completed a "nasty divorce" and was invited to spend a few weeks at his brother's house while he gains his bearings.
But the brother, who was said to always have "a type" of woman in mind regarding looks and weight, soon caused verbal chaos.
"Any woman who doesn't fit his preference is automatically ugly and unlovable," the poster said of his sibling. "He wants all women to conform to his standards, hell or high water."
'Let Herself Go'
The first of numerous incidents involved the divorced man finding old magazine covers with his brother's wife on the cover, making reference to her body type then and comparing it to her body now–even allegedly going as far as to say "she's let herself go."
'Flabby Bits'
Another day, when the woman was getting set to go for a run, he instructed her to "run fast enough to lose all the flabby bits." The woman only rolled her eyes and laughed it off, but her husband became perturbed.
The following day he made another comment when his brother's wife was headed to the gym, saying she has to "make sure to return to her old figure." When asked if she was bothered by the comments, the woman told her husband she's used to them.
'Tummy Tuck'
The final straw came when the man's wife served her brother dinner and he made a "joke" about paying for her tummy tuck–so she could be the version of the woman his brother married.
"That comment set me off," the poster said. "I told him that his wife married the wrong version of him and to pack his s**t and leave my house. He did not take kindly to this, and complained about how insensitive I was to his situation and how I made a low blow."
The brother did leave. When the man asked his wife if he went too far, she replied that his brother could have been kicked out without reference to his divorce.
Redditor Reactions
Even with the comment, which some deemed as a "low blow," Redditors empathized with the man and his wife.
"But given the revolting nature of his comments and the fact that he explicitly insulted your wife–while you are putting a roof over his head–makes it understandable," one person commented. "You are only human. You were far more polite than I would have been."
Another user said the poster's wife's responses to the insults were "likely a coping mechanism from many years of prejudice and sexual discrimination," adding that the poster had "a right and responsibility as a spouse to be upset."
One user even suggested that perhaps the brother made all those insensitive comments because he was flirting with her and potentially even wanted her for himself.
Divorce Data
The U.S. divorce rate in 2020, per data provided by the Centers for Disease Control and Prevention, showed 630,505 divorces or annulments in 2020—the most recent year data was collected. It represented a divorce rate of 2.3 per 1,000 population and was down about 115,000 compared to the previous year.
Since 2016, the divorce rate per 1,000 total population has been below 3. In the years 2000 and 2001, that number was at 4.
Marriage has become a generational tradition, according to a 2020 Pew Research Center study.
Most millennials at that time were not married, with many of the 44 percent of those who were choosing to wait later in life to get hitched. That compared to 53 percent of Gen Xers and 61 percent of baby boomers.
Newsweek reached out to the Reddit poster for comment, but it's not the first time someone's been fat-shamed.
One wife was fat-shamed by her husband for reaching a weight of 145 pounds during the pandemic.
A Twitch streamer said people who are obese should be publicly shamed, which sparked outrage.
And a woman said she was fat-shamed for wearing a sports bra to the gym and was told to leave.