Anger at Man Leaving Wife and Kids but Living in Their Home: 'Kick Him Out'
A husband who declared he wants to leave his wife and children but continues to live in their family home, when not out on one of his "numerous hotel stays," has received a wave of backlash from users on Mumsnet.
According to a post shared by his wife (under the username JnAb23) on the online forum, the husband claimed the couple "had grown apart" and that he didn't want "family life" and would be "better on his own."
His "devastated" wife said that "since saying what he did, he has remained in the family home and just continued to make me feel awful," coming home late from work every night and not helping to look after their two young children.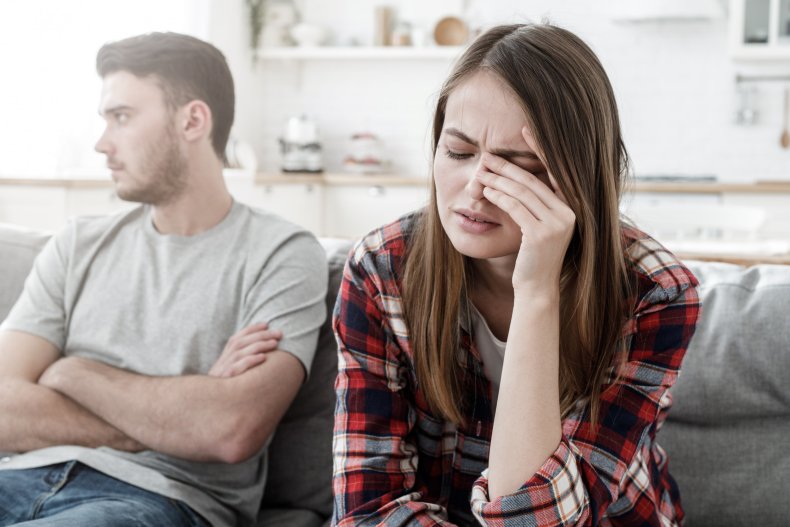 According to his wife, the husband also has had "numerous hotel stays on his own" and "doesn't really engage in conversation" with her. He allegedly never wants to do anything as a family and also sleeps in a separate bed. "I am utterly broken by it," the wife said.
The wife said the pair share a home and the husband claimed he has no money to stay anywhere else. "I just feel like I'm stuck in a house with a man I'm desperate to love me but is clearly never going to and it's destroying me...where do I stand? What can I do to move forward?," the wife asked.
According to a Danish study published in July 2019 in the peer-reviewed Journal of Sex & Marital Therapy, "growing apart" was among the most frequently cited motives for divorce, in addition to a lack of love and intimacy, communication problems, as well as a lack of sympathy, respect and trust.
"The results support global trends regarding an increased importance of emotional and psychological aspects of relationships," the study said.
Several users advised the woman in the latest Mumsnet post to consult with a lawyer for legal advice, noting the husband is "using" her and that there is likely "another woman" in the picture.
BackToTheTop suggested she have a discussion with lawyers on what her options are, stating "he's using you, coming and going as he pleases and treating you like utter s**t. Take control, it will honestly make you feel better in the long run."
User motogirl said if the wife owns her house, she needs to sell it and then "go your separate ways," noting they both are "under no obligation to move out," but "for financial reasons many stay living in the same house until the financial consent order is finalized and the house is sold."
Snowflakes1122 wrote: "Numerous hotel stays on his own? Sorry, but sounds like he has another woman," while PetersRabbitt said: "Definitely another woman, no doubt about that at all!"
User Amid agreed: "There is another [woman] here somewhere," noting: "You need to see a solicitor and get out of this relationship asap before your mental health deteriorates further."
Several users also said the original poster needs to stop looking after her husband, such as dickiedavisthunderthighs who said "he's got it made," being able to "nip off to a nice hotel with his other woman" and then come back home to "a hot meal" and a wife desperate to make him love her. "You need to boot his a** out from here...," the user urged.
Other users urged the wife to throw the man out of the home. SingingInParadise claimed the husband is "waiting for you to kick him out," and user stayingpositiveifpossible agreed, stating: "He is EITHER waiting for you to kick him out, OR he is hoping to crush your mental health sufficiently that you will be the one who will choose to leave (without the kids)."
User layladomino agreed, saying: "He has told you and shown you he doesn't want to be part of the family, so that means no washing and ironing for him, no cooking meals for him..."
User layladomino also urged the wife to speak to a lawyer to initiate divorce proceedings, noting the husband "can't expect to throw that bomb in to your life" and start "his new single life but without formalizing it. He's being totally selfish and unfair on you and your children..."
If you have a similar family dilemma, let us know via life@newsweek.com. We can ask experts for advice, and your story could be featured on Newsweek.