Man Planning Mass Shooting Arrested After Ex-Girlfriend Alerts Cops: Police
A former Marine who allegedly threatened to carry out a mass shooting on the Las Vegas Strip has been arrested after his ex-girlfriend alerted the authorities, according to police.
Jeremy Schumacher, 41, was detained last week and charged with making a threat, after his former girlfriend contacted police on November 28, according to CBS affiliate KCTV.
A police report, obtained by the network, said Schumacher had threatened to "shoot up" and "kill all the employees" at the Fashion Show Mall, where the woman worked, before killing himself.
At his home, officers "located an AR-style rifle, a massive cache of armor-piercing bullets, high-capacity magazines, a grenade launcher and military-style flash bangs, distracts, smoke generators and other items," police added.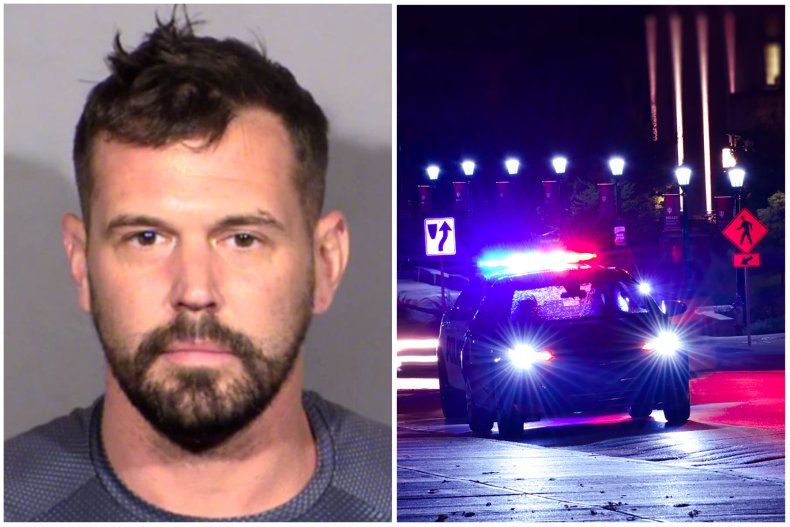 Schumacher's ex-girlfriend also told police that he had been abusing alcohol and cocaine and had recently reported suicidal feelings.
The Gun Violence Archive, a database that collects information from across the country, says there have been 622 mass shootings in the U.S. since January 1.
It classifies a mass shooting as "four or more shot or killed, not including the shooter." According to the GVA, there have been three mass shootings in Las Vegas this year. These include an incident at a hookah lounge in February, when 14 people were shot and one person died.
Multiple law enforcement agencies were involved in the operation to detain Schumacher, who had served in Afghanistan, and search at his Las Vegas condo.
The police report obtained by KCTV said he had the ability to carry out a mass shooting and had shown indicators of planning an attack.
A judge has ordered that Schumacher be held on a $1 million bond.
Newsweek has contacted the Las Vegas Metropolitan Police Department for comment.
Las Vegas was the location of the deadliest mass shooting in modern U.S. history, where 58 people were killed and 800 were injured.
Stephen Paddock opened fire into a crowd of some 22,000 country music fans from a hotel room at the Mandalay Bay casino in 2017. He took his own life before police could reach him.
Paddock's motives are still unknown. A 2019 FBI report did not identify a reason for his attack, which was launched from his 32nd-floor hotel suite. Police found at least 23 firearms in the room and questions remain about how Paddock was able to get so many weapons into the suite.
If you have thoughts of suicide, confidential help is available for free at the National Suicide Prevention Lifeline. Call 1-800-273-8255. The line is available 24 hours every day.