Man Praised for Getting Aunt and Uncle Kicked Out: 'Kids End Up Homeless'
Commenters praised a man who got his aunt, uncle, and their children kicked out of their home after they wouldn't let him share a bed with his husband.
The Original Poster (OP), known as u/throwawaytexasboy1, posted about the incident in Reddit's popular "Am I The A**hole" forum where it received more than 13,200 upvotes and 1,400 comments. The post can be found here.
The OP stated that while he's from "a small town in Texas, a super conservative Catholic area", he and his father moved to Manhattan when he was 15. He and his husband now live in Vermont.
Views on Same-Sex Marriage
According to Gallup, 71 percent of American adults support same-sex marriage, a new record high.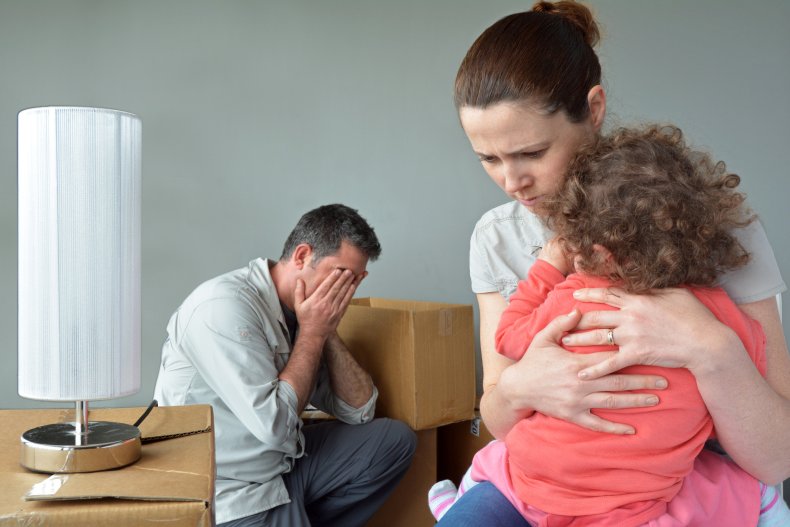 "When Gallup first polled about same-sex marriage in 1996, barely a quarter of the public (27%) supported legalizing such unions," wrote Gallup writer Justin McCarthy. "It would take another 15 years, until 2011, for support to reach the majority level. Then in 2015, just one month before the U.S. Supreme Court's Obergefell v. Hodges decision, public support for legalizing gay marriage cracked the 60% level, and last year it reached the 70% mark for the first time."
But while opinions have shifted in the past 20 years, Statista's 2021 data shows 40 percent of Americans 55 years and older do not believe gay marriage should be recognized as "valid" in the United States.
The 2021 survey also found that 84 percent of Americans between the ages of 18 and 34 believe the law should recognize same-sex marriage as valid.
Another survey conducted by Statistica in 2021 found that 30 percent of respondents believed same-sex marriage was morally wrong.
'AITA?'
In the post titled "AITA for getting my aunt and uncle kicked out of their house for not letting my husband and I sleep together?" the 27-year-old man said he married his husband, 28, in 2018.
The OP said he only dated women before he met his husband and realized he was bisexual. While his brother and dad were supportive when he came out, his mother needed "some time to accept" and the rest of the family "reacted poorly."
And some of that family still lived at his childhood home.
"My parents didn't sell our house in TX, they allowed our aunt & uncle who just had their 3rd child to move in while charging them a small rent," the post read. "During visits we stayed with my aunt and uncle at my old house, but because we weren't married we weren't allowed to share a bed."
During visits, the OP and his husband opted to stay at motels rather than at the house due to his uncle and aunt's rule.
'A Bad Influence'
Recently, the OP's family invited him and his husband to visit his hometown for two weeks.
"I wanted a motel again but my aunt & uncle insisted my brother, husband and I stay with them," the post read. "The 1st night sleeping situation was being discussed after my cousins went to bed. My aunt & uncle wanted me and bro to take the spare bedroom, husband on couch. All 3 of us took issue with that."
The OP said his aunt and uncle "snapped" and told him they were "not really married" because they are gay and that it would be a "bad influence" on their kids.
"This hurt my husband's feelings and he started crying & ran out of the room," the post read. "When my husband ran out, my uncle had the audacity to start laughing. That's when I saw red."
The OP began cursing at them and said if they didn't apologize to his husband then he would tell his dad and ensure they get kicked out of the house that his parents owned.
"My bro seconded everything that I was saying," the post read. "They started backtracking and saying that we were still welcome in 'their' house but that we had to follow their rules, I responded that it wasn't really THEIR house. I told them they were going to be homeless if I had my way."
The kids came downstairs and heard the conversation which caused them to cry. That's when the OP and his family left the house.
"To say that my dad was angry would be an understatement. He served them a notice of eviction for 60 days," the post read. "I have been getting calls and texts and Facebook messages from my family calling me AH. I want to know AITA for allowing my young cousins to end up homeless? Is it fair that they have to pay for what my aunt and uncle said to me and my husband?"
Redditor Reactions
More than 1,400 users commented on the post, many criticizing the OP's family for being "homophobic."
"Besides being married, you are adults and they are not the gatekeepers of your morality!" one user commented. "They are homophobic and this has cost them their housing. Kudos to your dad for standing up for you too!"
"NTA. I love your Dad," another commented.
"They insisted a hotel was not needed and then decided to disregard your marriage," another user commented. "The whole 'not married so separate rooms' thing was clearly an excuse before as well."
"NTA—they played a cruel and stupid game and won a stupid prize," another wrote. "They insisted you and hubby stay exactly so they could do this, you told your father and he acted as he wanted. Any family that doesn't want them homeless can take them in."
"I'm assuming your aunt and uncle sleep in separate beds since there are children in the house right?" one user commented. "They insisted on you staying but had the audacity to insult their guests and separate a married couple."
Newsweek reached out to u/throwawaytexasboy1 for comment.
In another viral Reddit post, a man was criticized for asking for a divorce after his husband's "successful" battle with cancer.
Another man was criticized for refusing to attend a pride event with his bisexual wife.
One woman was branded as "homophobic" after she uninvited her gay brother from her wedding due to a rainbow tuxedo.