Man Proposes at Canucks Game Immediately Following Couple's Fake Proposal
While the kiss cam at sporting events will occasionally catch a proposal, what happened on Saturday at a Vancouver Canucks hockey game caught the audience completely off-guard.
In a clip posted by the official Canucks Twitter, the kiss cam captures a couple where the man gets down on one knee—only to bend over, pick up a beer and chug it, while the man's ostensible girlfriend looks annoyed.
This cuts to another couple watching the jumbotron with delight—but while the woman in the couple is distracted by the comedy, she doesn't notice her boyfriend shifting in his seat. He soon stands up, and she looks over at him, surprised, only for him to reach under his shirt and pull out a ring case and get down on one knee.
But this time, the proposal seems legit, as the woman mouths, "Are you serious?" only for the smiling man to nod. She agrees, and the two go in for a big hug—and finally, the show of affection the kiss cam is named for.
The video has gone viral on multiple platforms—racking up nearly 72,000 views on Twitter, with a separate upload of the video to Reddit's popular r/MadeMeSmile board getting another 32,000 upvotes and over 400 comments.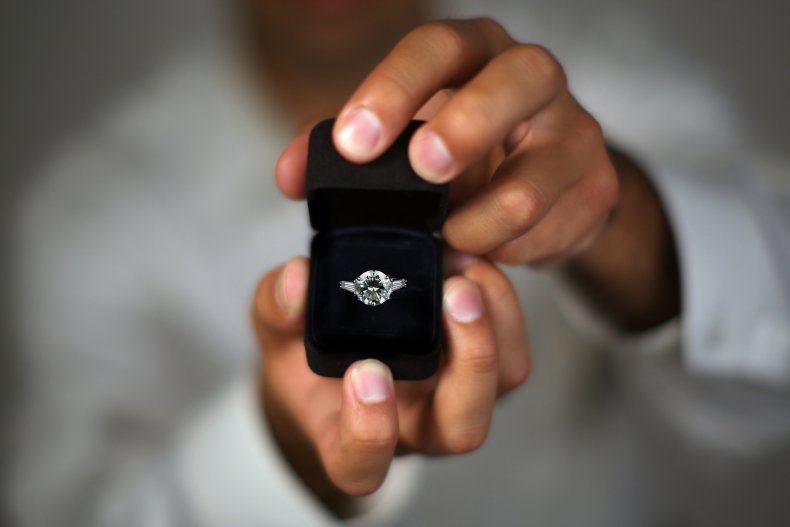 The proposal was apparently good luck for the Canucks, who won the game against the San Jose Sharks, 4-2. The game was also eventful for goalie Thatcher Demko, who with 35 saves, became the first Vancouver goalie to break the 30-win record since 2012, according to The Canadian Press. The win also puts them within four points of grabbing a wild-card slot in the upcoming playoffs, the outlet reported.
Amusingly, this is not the first time in the last month for a couple on the Canucks' Kiss Cam to go viral. At the St. Patrick's Day game, a couple kiss, only for the video to cut back to them after a few other kisses, and a different man sits next to the woman. The twist? The man and woman who kissed in this clip look very similar to be the people in the beer-chugging preamble to the real proposal in the Saturday video.
One Twitter user replied to a comment pointing out the similarity.
"Those 2 are the same people from the kiss cam a couple weeks ago. They're just paid actors," @RF2994 wrote, though Newsweek could not independently confirm that the people are the same.
Newsweek reached out to the Canucks for comment.