Man Proposes Immediately After Firefighters Save Engagement Ring From Blaze
Crews with Tennessee's Williamson Fire-Rescue extinguished a vehicle fire on Monday and managed to recover something important to the driver—the engagement ring he planned to propose to his partner with.
A Facebook post published by the fire department noted that firefighters looked through the scorched vehicle after it was extinguished and recovered the engagement ring. Immediately after the ring was found, the man got down on one knee and proposed to his partner.
Captain Stephen Homrich told Newsweek that the cause of the fire was likely a mechanical failure.
According to research from Statista, there were about 173,000 highway vehicle fires reported in 2020 across the country.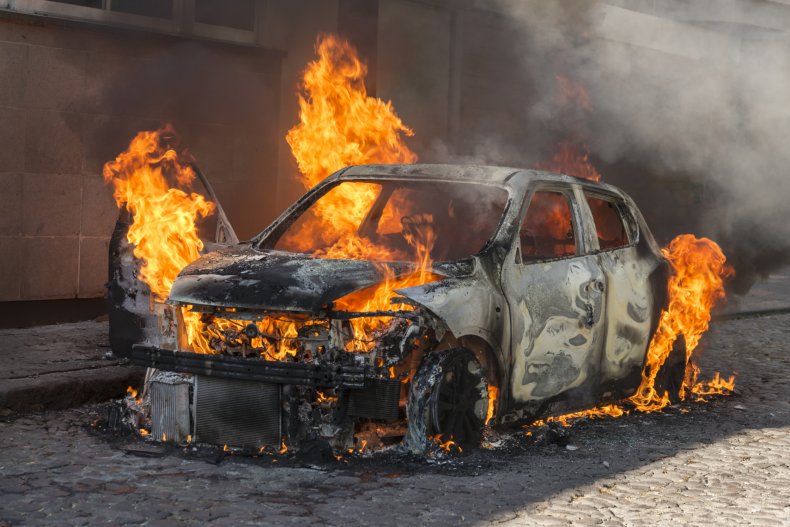 Homrich said there are about two to three reports of vehicle fires each month that departments throughout the municipality respond to. The most common cause behind these fires is mechanical failure.
He said the occupants heard a loud bang while they were driving on Monday, and when they pulled over, they noticed the flames.
When crews first arrived, they found that the car was 80 percent consumed by flames. All three occupants were out of the vehicle and a safe distance away.
"Within 30 seconds we had water on the fire," Homrich said.
After it was safe to approach the vehicle, he said firefighters were asked if anything might be salvageable. They were then asked to check under one of the seats to see if the ring survived the fire.
"We started digging with tools and dug away some melted parts," Homrich said. "We found a charred ring box and pulled it out."
The seats were completely melted and the ring box was scorched, but Homrich said the ring itself was undamaged.
It was then that the driver said he wanted to propose, and a firefighter offered to record the moment.
"He bought the ring about two weeks ago and was getting ready to propose," Homrich said.
In the video, the driver walked up to his partner before he dropped to one knee and proposed as the sound of passing cars could be heard in the background.
The two embraced before he replaced her promise ring with the engagement ring.
Because of the damage to the vehicle, he did not expect the ring to come out unscathed but said it was a special moment to witness.
"Among all the ashes, here comes a diamond ring," Homrich said. "It was a surprise for everybody."
To prevent a car fire, the National Fire Protection Association recommends regular car maintenance, not parking where flammables touch the catalytic converter and transporting just a small amount of gasoline in a certified and sealed gas container when necessary.
Some of the danger signs drivers should be mindful of include fluid leaks, loose wiring and an oil cap that is not on properly.
Firefighters have gone to great lengths to make some incredible saves, including crews from Manotick—a suburb of Ottawa, Canada—that cut through a couch to rescue a cat whose leg was trapped inside of it.
A cat that was stuck inside the walls of a British home was rescued by firefighters who dismantled some tiles and plasterboard.
A video clip that resurfaced and went viral on Reddit shows a firefighter catching a woman who jumped from a building.