One man's now-viral story of the time an entire flight "fell in love" with a passenger named Paul has delighted the internet.
The story was posted to TikTok on Sunday by Bryan Minerly. It has amassed more than 1 million views and over 183,000 likes while highlighting a relatively common phenomenon within the air travel industry—overselling.
"This is a story about how an entire Southwest flight fell in love with a man named Paul," Minerly said at the beginning of his video.
At the time, said Minerly, the flight was experiencing some delays.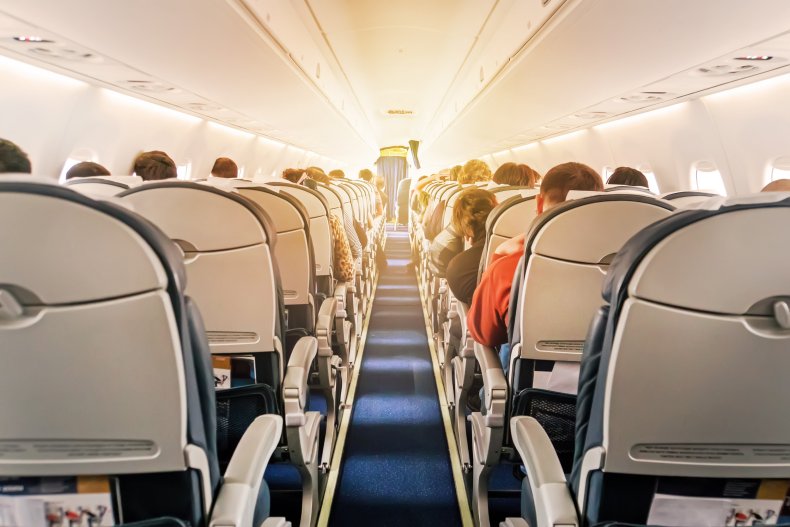 "They had us board about half an hour late, and that happens, that's to be expected," Minerly explained. "But what we did not expect is that once we got on the plane, they'd keep us at the gate for two hours."
It was during this time that the plane's passengers were introduced to Paul—a father whose two toddlers were "not handling the delay well."
Paul told his fellow passengers that he was supposed to be traveling with his wife, their toddlers and their newborn baby, but their original flight was oversold. As a result, the family was separated.
"The entire plane was on Paul's team," said Minerly, adding that everyone offered to help Paul with the kids.
According to Britannica, "overselling" is the practice of selling "more spots on the aircraft than there are seats."
"The reported reason why airlines routinely oversell their seats is to recover costs the airline incurs for seat cancellations and for travelers who do not show up to take the flight," Britannica explained.
"Empty seats are not profitable, so overbooking allows the airline to ensure that every seat on the airplane is making money for them," Britannica continued. "The 'no-show rate,' which helps airlines determine how many extra tickets to sell, is determined by data from past flights connecting the same points."
The U.S. Department of Transportation said that in most cases, airlines "correctly predict 'no-shows.'" Still, things happen, and passengers are sometimes "bumped" as a result of the practice.
Minerly said that he and the rest of the plane's passengers were annoyed that Paul and his family had been bumped from their original flight. So, when Paul was asked to leave Minerly's flight due to weight issues, three men volunteered to leave in Paul's place. However, Paul was still asked to leave the plane.
Of course, this only further upset the plane's passengers, but their anger was quelled immediately after the flight attendant explained that Paul was being reunited with his wife on a different flight.
"The whole plane's like, 'Victory!'" Minerly said.
Newsweek reached out to Minerly for comment.
Commenters were charmed by the story and hopeful that the video would somehow reach Paul.
"Please let this story find Paul and let him know there are thousands of people who are ready to riot at his call," wrote David Bergman.
"I'm invested in this story now! Hope you find Paul!" exclaimed Sandra Moss.
Ren added: "I need to know that Paul and his family got home safe and sound. I AM IN AUSTRALIA BUT I STILL NEED TO KNOW."
Minerly's video isn't the first of its kind to go viral. Last week, a Spirit Airlines passenger grabbed the internet's attention after claiming in a now-viral TikTok that her flight left early without warning.
In other airline-related news, a video of a young girl thanking a pair of pilots after her flight amassed more than 3.4 million views on TikTok last week. And on Monday, footage of the Northern Lights captured from an airplane made headlines.