Spirit Passengers Allegedly Notified of Flight Change After it Already Left
A Spirit Airlines passenger alleged in a now-viral video that she was left stranded at the Las Vegas airport because her plane departed early without warning.
The video was posted to TikTok on Monday by Kaley Reed, who said she hadn't been made aware of the departure change until after the plane had already left.
The post has amassed more than 3.7 million views and thousands of comments from viewers who vented frustrations about Spirit Airlines.
"If you needed one more f***ing reason to never fly Spirit, here it is," Reed said at the beginning of her video.
"We showed up for our 4:00 p.m. flight at 2:45 p.m.," she continued. "Well, we go to check-in, and they [tell us], 'The plane's already left.'"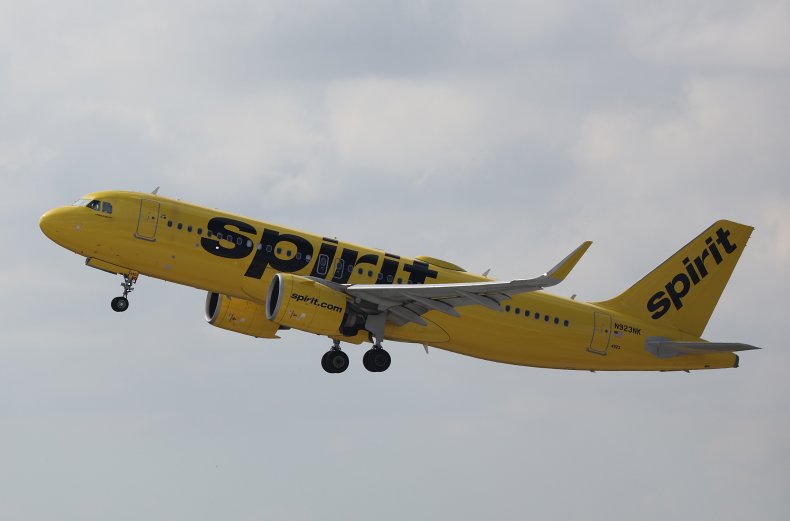 Reed went back and forth with a Spirit employee until finally, the employee told her to check her email.
"So, I check my email, and at 3:02 p.m....they sent us an email saying the flight time had been changed to 3:00 p.m.," she said, adding that she wasn't issued a refund.
Newsweek reached out to Spirit Airlines for further information but did not hear back in time for publication.
Of course, Reed wouldn't be the first passenger to lodge a complaint against Spirit Airlines.
Data from the U.S. Department of Transportation previously revealed that Spirit Airlines experienced 13.25 complaints per 100,000 passengers from January through September of last year, Newsweek previously relayed. Additionally, the company "tied with Frontier [Airlines] in the American Customer Satisfaction Index of the industry's worst customer satisfaction ratings."
And last August, amid widespread cancellations due to "system outages, poor weather and staffing shortages," stranded Spirit customers were left frustrated by the airline's "lack of communication."
Some of Reed's viewers expressed shock at the fact that Spirit is still in business. Many also said they've had similar experiences with the airline.
"The fact that Spirit is still an operating business baffles me," wrote Kelly Bowman.
"Waited 7 hours at the airport yesterday, delayed 4 times, and then canceled... thanks Spirit," commented Caserpants.
"Literally stuck in Cancun right now because Spirit canceled the flight. Can't get home for another 2 days. At least I have margs," said nbuser08.
Kassidy added: "They did this to my husband and me twice in one trip. We had to stay in Florida for two days extra and pay 1K for another airline home."
Meanwhile, Dorothy Zbornak said they'd "ride on Heelys across the country" before flying Spirit.