Fury as Man Fails to Pay Future Sister-in-Law Back $620 for Engagement Ring
A soon-to-be-married man has come in for criticism after it was revealed he purchased an engagement ring with money loaned to him by his fiancee's sister, but that he had yet to pay her back.
In a post shared to Mumsnet by CanStopWillStop, his future sister-in-law vented her frustrations, explaining that he had originally borrowed the money with the promise he would "pay back after he popped the question."
However, more than a month had passed and he "hasn't mentioned repayment once since they've been engaged." It's a situation that has left the sibling regretting her decision to help out her sister's partner.
Whether or not the boyfriend can afford to pay her back remains to be seen, although he wouldn't be the first to spend beyond his means on a wedding.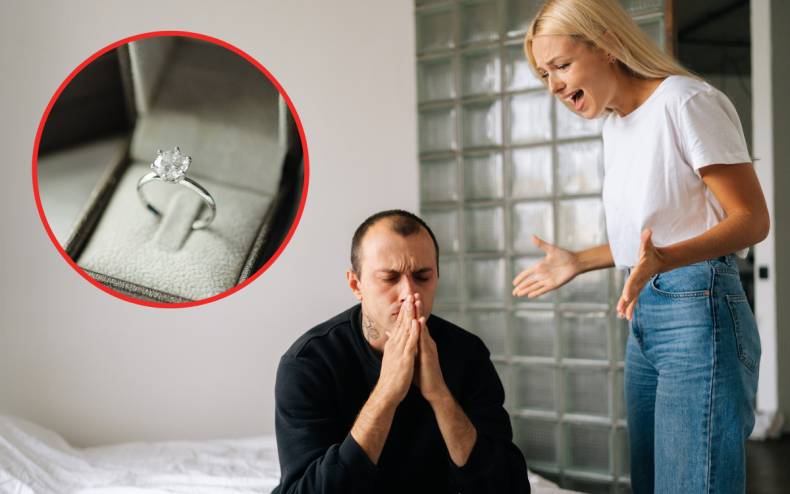 According to the findings of a 2021 study conducted by Investopedia, one in 5 U.S. couples planned to use loans or investments to fund their nuptials. The study also found 41 percent intended to use credit cards to cover wedding purchases, with an average $8,000 paid for with plastic.
Despite this trend, Jessica Bishop, founder of The Budget Savvy Bride, told Newsweek that in her experience it's always preferable for couples to "plan a wedding within their financial means."
"Debt can be a big source of stress, and financial strain is one of the top cited reasons for divorce," she said. "Avoid starting your marriage with the added and avoidable stress of wedding debt by planning a wedding you can actually afford."
Bishop is also wary of borrowing money from relatives.
"Debt in any format can be a burden, whether taking out a wedding loan or borrowing money from a family member," she said. Even so, she understands why that might be a preferable option as "a family loan may come without added interest."
According to the Mumsnet post, written by a woman from the UK, her future brother-in-law had asked for £500 ($620) so his purchase of the ring "would go undetected" as he shares a joint bank account with a sister.
While the proposal went off without a hitch, the sister has become increasingly agitated by the fact he has yet to pay her back. "I'm not desperate for the money...and things are tight for them," she wrote. "However I would like it back soon and was hoping he would be more proactive in trying to repay me."
The situation has left her feeling regret at failing to "set clear enough boundaries" as she assumed he would want to pay her back "as soon as possible." She added: "If I owed someone a large amount of money I would at least want to explain when/how I will pay that person back."
Those commenting on social media were inclined to agree with the sister.
Fancyacuppatea proposed an ultimatum, writing: "Tell him if he doesn't pay you back, you'll tell your sister that you paid for her engagement ring."
SliceOfCakeCupOfTea, meanwhile, said it was simply down to communication. "Speak to him," they suggested. "Ask him if he has the money now, if not give him a date you need it by such as the day after his next pay day."
Cherchez, by contrast, suggested something less face-to-face. "These situations are so awkward," they said. "I would send him a text and just ask for the money. I'm pretty sure your sister would be horrified if she knew that you had paid for her ring and wasn't paid back."
While many raged online, Bishop said it's essential to "outline expectations and terms clearly" before borrowing from a friend or family member. "Define how you will spend the funds and your anticipated repayment method and timeline," she said. "And then, of course, be a good borrower and pay it back in full and on time."
Newsweek wasn't able to verify the details of the case.
If you have a personal dilemma, let us know via life@newsweek.com. We can ask experts for advice on relationships, family, friends, money and work and your story could be featured on Newsweek's "What Should I Do? section.