Man Robbed at Gunpoint in Own Driveway While Getting Child From Car: Police
Police in Palo Alto, California, say that a man was robbed by two suspects wielding handguns on Friday while in the driveway of his home with a child in the car.
Around 6:30 p.m., the victim, who was in his 30s, had just parked his car in the driveway and "had opened the rear door of his vehicle to get his young relative out of the backseat" when the suspects' vehicle pulled up nearby, according to the Palo Alto Police Department in a press release.
A suspect, who got out of the vehicle, then pointed a pistol at the man and "demanded his property." The victim gave the suspect his wristwatch. Police said the man saw the other suspect remain in the car while pointing a gun at him.
"The suspects then drove away. The child remained in the vehicle during the crime and was not addressed by the suspects," the police department said.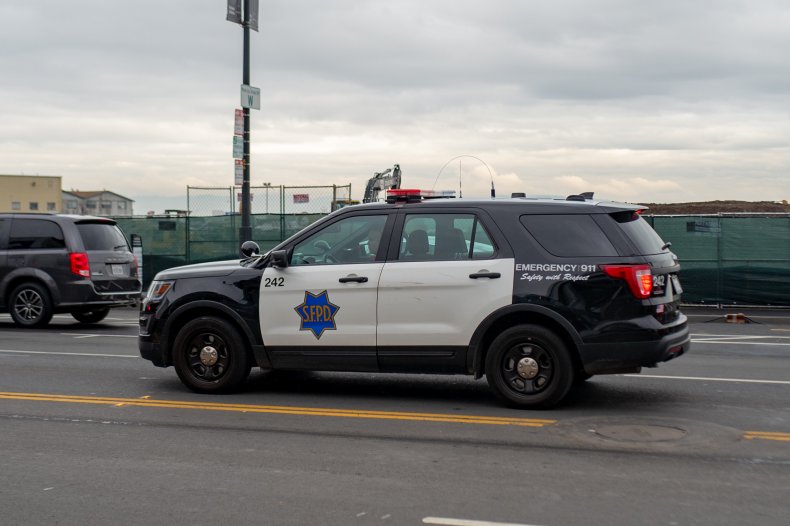 Police said they investigated a separate incident earlier in the day that likely involves the same pair of suspects. Staff at a Patagonia store called police about two men, who had been sitting in "a black two-door Honda Accord with tinted windows" in front of the store, "for an extended length of time." When one of the suspects opened the car door, he made eye contact with a security guard, at which point the pair drove away.
"The security guard recorded the license plate on the car, and police learned that license plate had been reported stolen out of Oakland and did not belong on a Honda," the police department wrote.
In response to a request for comment from Newsweek, a spokesperson for the Palo Alto Police Department said: "At this point, the Department does not have any additional information to provide."
In a separate incident in San Francisco in December, a robber broke into a vehicle and stole multiple items while two children were in the backseat.
In January, an 11-year-old boy in Chicago was arrested in connection with a robbery and carjacking that also took place in a driveway and was caught on camera. During the incident, a mother and her adult daughter were removing what appeared to be groceries from the trunk, all while two armed teens approached them. The 11-year-old, who was also accused of being involved with the incident, was arraigned on multiple charges. The robbers allegedly stole the victims' SUV, purses, and phones.