Video Shows Man Rush Buffalo Shooter During Sentencing
A video captured the moment the Buffalo mass shooter was rushed by an individual during his sentencing hearing on Wednesday.
Payton Gendron, 19, appeared in court for his sentencing hearing for fatally shooting 10 people at a Tops supermarket in Buffalo, New York last May.
In a video posted to Twitter by journalist Philip Lewis, a woman can be heard delivering her victim impact statement toward Gendron. As the woman—identified as Barbara Massey, whose sister was killed in the shooter—continues speaking, a man wearing a gray sweatshirt lunges out from behind her and rushes toward Gendron. The man is stopped by several law enforcement officials as Gendron is escorted out of the courtroom.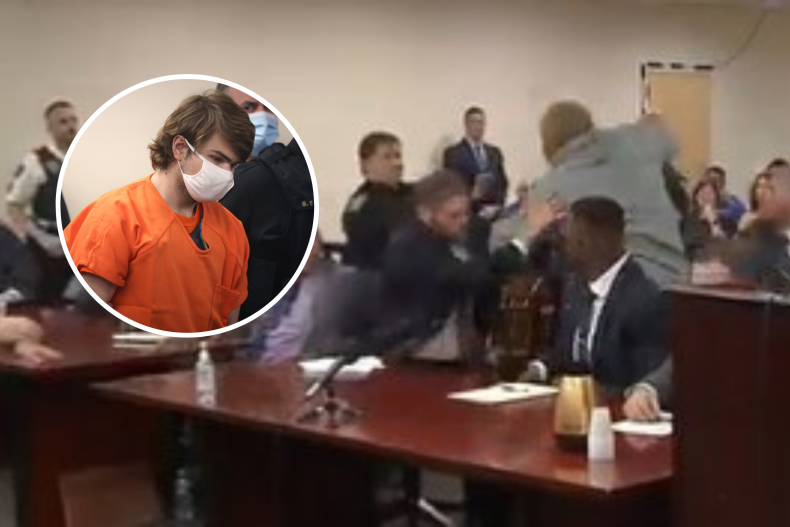 Erie County Court Judge Susan Eagan resumed the hearing shortly after Gendron was returned to the courtroom, according to CNN.
"We cannot have that in the courtroom...We must conduct ourselves appropriately because we are all better than that," the judge said.
In November, Gendron pleaded guilty to several charges including 10 counts of murder in the first degree, murder as a hate crime and criminal possession of a weapon.
Gendron was arrested shortly after the mass shooting at the Buffalo grocery store on May 14, 2022. Following his arrest, new details about Gendron were revealed including a lengthy document that he penned describing himself as a "white supremacist."
Buffalo Mayor Byron Brown said in May that Gendron arrived at the Tops supermarket with plans to take "as many Black lives as possible." While speaking to ABC News following Gendron's arrest, Buffalo Police Commissioner Joseph Gramaglia said that law enforcement discovered a plan by Gendron if he successfully escaped the supermarket.
"He had plans to continue his attack. He had plans to continue driving down Jefferson Avenue to shoot more Black people...possibly go to another store [or] location," Gramaglia said.
Gendron was sentenced to life in prison without parole on Wednesday afternoon during the hearing. The Associated Press reported that Gendron received life prison sentences for each charge, which will run concurrently.
"There was nothing hasty or thoughtless about your conduct. There are no mitigating factors to be considered," Judge Eagan said during the hearing, according to the AP.
Prior to the sentencing, a number of individuals provided victim impact statements, including Wayne Jones Sr., whose mother was killed in the shooting.
"You've been brainwashed...You don't even know Black people that much to hate them. You learned this on the internet, and it was a big mistake," Jones said.