Man Saves Poisonous 10-Foot Cobra Using Straw to Blow Air in Its Mouth
A man took his own life in his hands when he allegedly saved a deadly 10-foot cobra using only a drinking straw.
Video has surfaced in which it appears that an apparent animal lover used a spare straw to help get a snake's breathing to normalize after it was found inside a home in India.
According to a report from News 18 India, a man known only as Snehashish was called in after the enormous snake slithered its way into a local household in the Malkangiri district of the Indian state Odisha. The snake was estimated to be between eight and 10 feet in length, and was later identified to be a deadly Indian cobra.
According to the outlet, Snehashish responded to the residents' panicked call with his own rescue team to remove the cobra. Once it was brought into an open space, however, he realized that the snake was having trouble breathing. It was not immediately evident what caused the issue.
The viral video obtained by News 18 India shows how Snehashish sat on the ground, opened the snake's jaw and used a drinking straw to help the cobra breathe correctly.
Snehashish spent over one minute alternating between breathing through the straw into the cobra and pausing to check if the snake was breathing correctly on its own again. After the first break in which the cobra showed no apparent improvement, he placed the straw into its mouth once again to pump additional air into its lungs.
Fortunately for the cobra, Snehashish appeared to save its life, as it began moving again after the CPR-like exercise was performed. News 18 India noted that had the cobra felt it was being threatened by Snehashish, it could have easily killed him.
Indeed, a report from Newsweek noted that a bite from an Indian cobra leads to paralysis in mild cases, and more forceful bites can lead to cardiac arrest, respiratory failure and death within 15 minutes.
Viewers commended Snehashish for his brave actions, calling him a "selfless hero."
"If the government decides to honor someone, it would be better if they take care of nature lovers like Snehashish. My salute to this person who spared life even to poisonous animals like [the] cobra," one commenter said.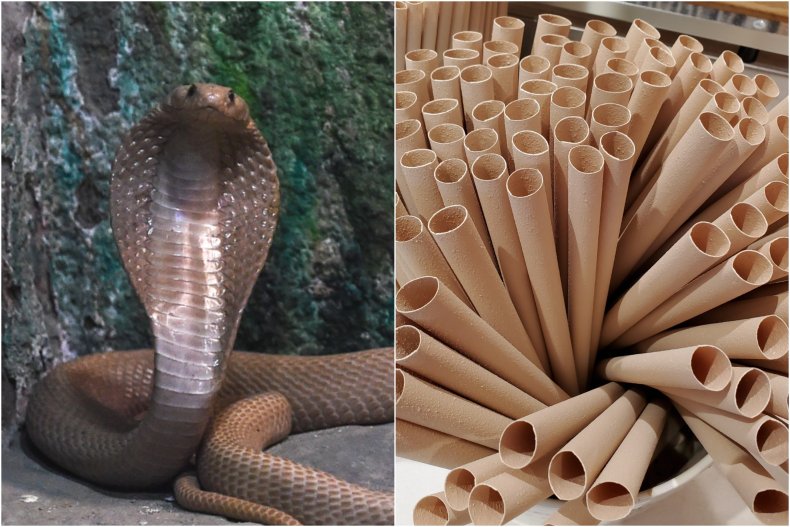 Newsweek was unable to independently verify the claims made in the News 18 India report. It was not immediately clear where the resuscitated cobra was taken after the video ended.
Last month, a woman went viral for a video in which she fearlessly played and performed tricks with a cobra without sustaining serious injury. Another man who came into contact with a cobra was not nearly as lucky. While fighting his second bout of COVID-19 in November 2020, a cobra bite left him paralyzed and blinded.