Man Who Says He Posed as 'Conservative Christian' for Job Divides Internet
A video has gone viral on TikTok after a man shared footage from an interview where he claims he pretended "to be a conservative Christian to get a job."
TikToker @firelordnick, posted the video along with the caption, "gotta chase the bag."
"I would love to ask supporters to donate to the conservative non-profit Christian organizations," he said in the video now viewed over 500,000 times.
The TikToker seemed to have captured the footage of his taped response as part of a job application.
"Actually, I'm wearing my cross right now, um, that my grandmother gave me," he said, pulling out a necklace from under his turtleneck sweater. "My faith is very important to me, so this would be an amazing fit."
According to the U.S. Equal Employment Opportunity Commission, the law protects employees and applicants from being discriminated against based on religion.
"The law forbids discrimination when it comes to any aspect of employment, including hiring, firing, pay, job assignments, promotions, layoff, training, fringe benefits, and any other term or condition of employment," according to the commission's website.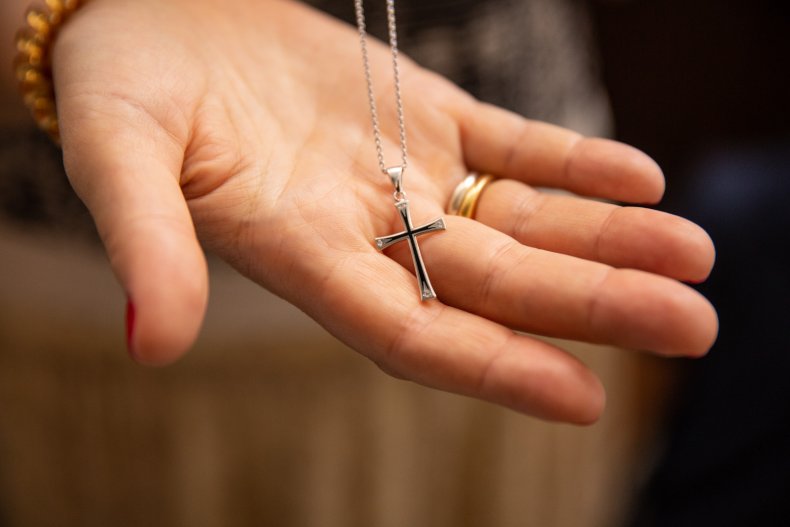 Despite the law, there is an exception in place for employers deemed "religious organizations" or "religious educational institutions," according to the Society for Human Resource Management.
"Under the exception, religious organizations are permitted to give employment preference to adherents of the same religion," according to SHRM's website. "This applies only to those institutions whose 'purpose and character are primarily religious.'"
Organizations under this exemption may not however discriminate based on other factors including race, national origin, sex, age or disability.
It is not made clear which company the alleged interview was for but commenters had mixed reactions to the clip of @firelordnick's "pretending."
Many applauded the man's move, finding it funny, while others questioned why he'd want to work for a company where he have to disguise his beliefs. Others went as far as to call the move "disrespectful."
"[T]his is Oscar worthy," one person wrote in a comment that was liked 19,000 times.
"Chase the bag by any means," wrote another.
Another commenter wondered why he wants this particular job in the first place.
"[B]estie are you sure you want to be in an environment like this," they wrote.
Another commenter simply asked: "Is it worth it..."
Not everyone found the video funny or lighthearted, though, with some finding it offensive.
"This is so wrong and disrespectful of people's religion," one commenter wrote. " [L]ike I'm all for getting the coin but the cross and everything was unnecessary."
"How is disrespecting Christianity funny," wrote another.
Newsweek contacted @firelordnick for comment.