Man Shares 'Insane' Rules in Takeover of Trailer Park by 'Bigwig' Company
A man expressed his concern with new rules he claimed were imposed on his trailer park community in a video viewed more than one million times on TikTok, but a representative from the company who took over the park says his take on the matter isn't quite right.
Cody Kinn, otherwise known as @siriuslycody on the video-sharing platform, said Havenpark Communities "came in and they're changing all the rules," making it difficult to afford to live in the community that is located in Billings, Montana.
According to a piece published for Mobile Home Living, one of the main advantages of living in a mobile home community is the affordability aspect.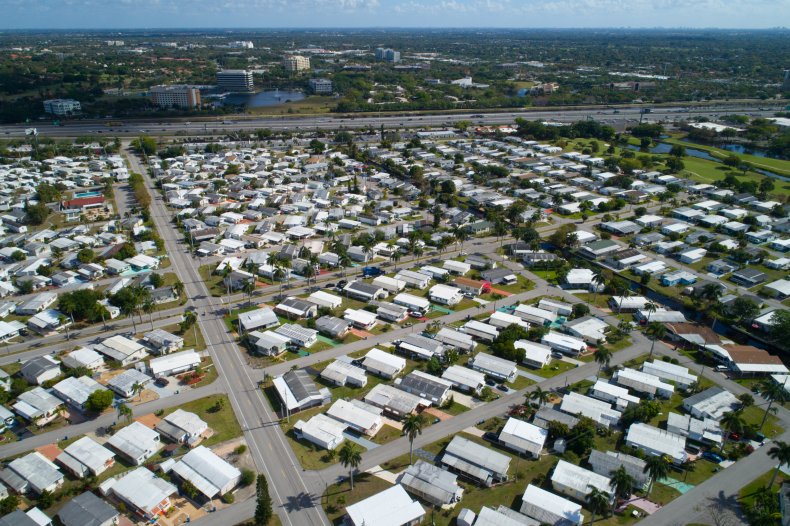 "You get to enjoy the perks of homeownership without the burden of paying a property tax or having to maintain the land and utilities," the piece stated.
In addition to the cost, the outlet reported that minimal maintenance is required, parks are located in convenient locations and pets are typically allowed.
However, Kinn said there were a number of new expectations for residents.
He said that while trailers cannot be older than 20 years and they must have vinyl siding, his is older and has aluminum siding.
"How am I going to f**king afford to put vinyl siding on this?" he asked. "Do you think I can? F**k no."
Kinn also said residences must have a shingled roof, strict restrictions were placed on signs on properties and they cannot take their own trailer away without the company's permission.
"If we own our trailer, we can't hook up to it and leave without written permission from Havenpark," he said. "That seems f**king illegal."
Kinn surmised these new rules will harm current residents.
"They're making it so the people who live here can't afford to follow their f**king rules and they're going to get evicted," he said.
Kinn continued his video, reiterating his concerns.
"It's just bigwig f**king people coming in and destroying these f**king small-town communities, kicking all of us people that can't afford anything out so they can f**king bring in more f**king people with more money," he said.
Kinn wrote to Newsweek that the new rules were sent out to residents in April and said one of the first changes he experienced was that lot rent increased.
Many viewers were sympathetic to Kinn, as expressed in the comments section.
"It's intentional, they want to tear the park down for houses development," a viewer commented.
Alleged another, "It's class warfare."
"It's the laws allowing these companies to do things like this," one viewer wrote. "It's horrible that people have to go through this."
However, a representative from Havenpark Communities told Newsweek in an email that much of what was brought up by Kinn in his video does not affect current residents.
Instead, those looking to become new community members are expected to abide by the rules as they pertained to the age of the homes and the siding on the home.
When it comes to signs, the representative said for sale and political signs are permitted but they must not exceed a certain size. There is also a limit to the number of signs placed on the property, which the representative said is done to protect the aesthetics of the community.
And, homeowners who wish to remove their home from the property must alert management of when it is removed by a licensed and certified mover.
The representative said that is in place to ensure the home is safely moved.
Kinn said he previously reached out to corporate about issues he's had with water but said he hasn't heard from them, though he did hear from the company after he shared his video.
"So apparently they only get back to you if it's in their interests," Kinn said. "I have not called them back."
He said in addition to the community he lives in, other communities that were bought by Havenpark Communities expressed their anger with the rules.
"Everybody is feeling really helpless right now," he said.
Kinn said the residents are "great," but the new rules and expectations may lead to him leaving the community.
And, while he is unsure whether the residents want to live in that particular location to begin with, he knows most cannot afford to live anywhere else.
"I know there is going to be some things we can't control or get our way with, but at the end of the day my goal is to make sure everybody in this community can keep their homes," he said.
Housing has been widely discussed, and some people have taken their experiences to social media, including a woman who went viral after sharing that she learned her rent increased by $855 per month.
Zillow released data in 2021 listing the least affordable places to rent in the United States, which included Tampa, Florida, Boston, Massachusetts, and Ventura, California.
The median price for a home was reported to grow, with houses in the Midwest seeing the highest growth in sales.
Unfortunately, for 2022, experts say, "As economic uncertainty lingers, the housing market will maintain significant unpredictability."