Man Shares Shocking Aftermath of 'Crazy' Collision With Turkey at 65mph
The shocking aftermath of a car and a wild turkey colliding at 65 miles per hour (mph) has shaken up the internet this week after gaining viral attention.
​​It is estimated that anywhere between 89 and 340 million birds die annually following vehicle collisions on U.S. roads. High bird mortality caused by vehicle collisions is even thought to contribute to local population declines in some species of birds.
Cole, who asked to be identified just by his first name, posted the picture of his car following the run-in with a bird on Reddit's r/WellThatSucks forum on Friday. It has since received over 13,000 upvotes and hundreds of comments.
Sharing the story, Cole, who is from the Midwest, posted a picture of his car's smashed windscreen after the incident, alongside the caption: "I got hit by a turkey at 65 mph."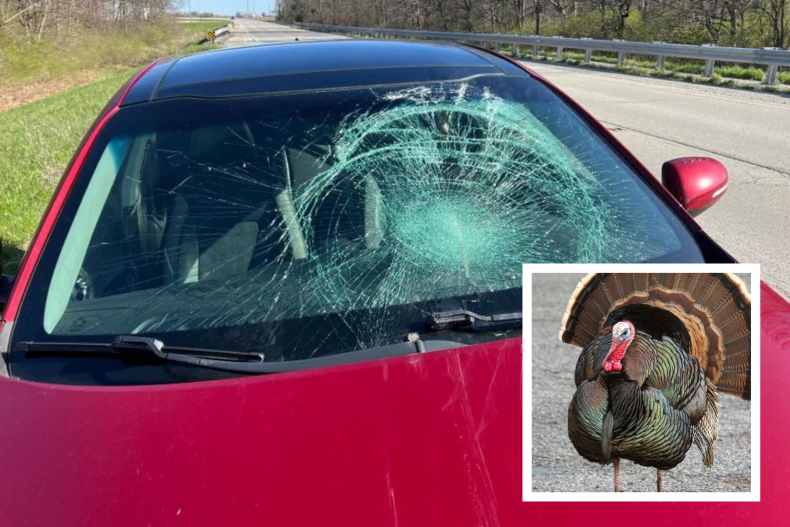 It's no surprise that the car was damaged. Wild turkeys are large birds—the average adult male (gobbler or tom) stands 3 to 3½ feet tall and weighs 18 to 24 pounds. Females (hens) are smaller, typically 2½ to 3 feet tall and weighing 8 to 12 pounds, according to Wildlife Illinois. There are six to seven million wild turkeys in the U.S., and they are found in every state except Alaska.
Driving advice site Defensivedriving.org offers some basic advice for if you hit an animal while on the road. After hitting an animal with your car, it is normal to be upset or concerned. Defensive Driving state that you should stop driving, pull over somewhere safe to check on the animal, and assess the scene.
Being aware of your surroundings is essential, turn on emergency lights and always be mindful of other vehicles on the road. While some animals may die on impact, others can survive if they get the right help quickly—call a vet to see what they would advise for the situation.
It is also important to take pictures of the scene, documenting what happened for both a police report and your insurance company.
Report the accident to the appropriate authority. In some countries, you will be required to report to the police—particularly if you hit a certain kind of animal, often including dogs, livestock, or horses. It is also essential to consider any potential hazard left on the road and ensure the right people are aware to keep everyone safe.
If your vehicle has sustained damage, contact your insurance company with as much information and evidence as possible.
Cole told Newsweek: "This actually happened earlier this spring, I just never posted it until now. I was on my way to get my hair cut in a small town and went through a pass that I've been through hundreds of times in my life without issue. I was just past the bridge when I saw a massive brown blur appear in the corner, and by that point, it was too late."
On impact, the large bird had cracked the car's windshield and Cole quickly slammed on his brakes: "Thankfully no one was immediately behind me," he explained: "My instant reaction? Shock. Followed by laughter. It's all I could do!"
When he got out of the vehicle to inspect the damage, he looked all over for the bird but could not find it anywhere.
"I had a couple of people slow down and ask if I'm ok," he said: "Thankfully the glass held. If not... could be different."
In the Reddit comments, viewers of the image rushed to react and leave some well-placed jokes.
"I'm willing to bet that this situation was met with some fowl language," said one commenter. "What kind of turkey can fly at 65mph?" joked another reply.
After the incident, Cole's father came out and helped him get the car home: "Nothing like that had ever happened [to me] before," he said: "The only other accident I've been in is when I got rear-ended at a Steak 'n Shake drive through..."
Once he had the windshield on the car replaced, Cole says the damage really wasn't too bad. "The whole situation was crazy," said Cole: "But at least it gave me a great story to tell."
A commenter on the now-viral Reddit post was quick to point out that all was not lost and said: "Glad you're alright and it's just an insurance case. Remember, next Thanksgiving you'll get your revenge."
Another reply pointed out: "At least it wasn't frozen," while one commenter said: "I'll bet that turkey is telling his friends you 'just came out of nowhere.'"