Man Slammed For Refusing to Replace Groomsman Who Cheated on Bridesmaid
Members of a popular internet forum were flabbergasted after one man refused to take accountability for his groomsman's unfaithful malfeasance.
In a viral Reddit post published on r/AmITheA**hole, Redditor u/gooutwithamange (otherwise referred to as the original poster, or OP) said one of his groomsmen cheated on one his fiancée's bridesmaids and detailed the fallout of his decision not to find a substitute.
Titled, "[Am I the a**hole] for not replacing one of my groomsmen after he cheated on a bridesmaid?" the post has received more than 7,000 upvotes and 3,000 comments in the last seven hours.
"I have 4 groomsmen including my brother, cousin, a close childhood friend and a close college buddy," OP began. "My fiancée's best friend was in a long term relationship with [my college buddy], but unfortunately for her, he got exposed as a cheater."
Continuing to explain that he had no knowledge of the infidelity before it came to light, the original poster said he feels the situation is none of his business and has proceeded accordingly.
His fiancée, however, feels differently and has taken a firm stance against the "toxic presence" that is the original poster's cheating groomsman.
"She now hates him and is demanding that I replace him," OP wrote. "This guy is one of my closest friends...I want him to be a groomsman.
"I said that they both can go and just set aside their beef for one day," OP continued. "After all, the day isn't about them...it's about us and their relationship is none of our business.
"[My fiancée] said she was putting her foot down on this and that my friend wouldn't be in her wedding," OP added. "If it's that big of a deal, she can drop his ex from the wedding and...if she doesn't want that, then we can go along with the initial plan."
For friends and family members of engaged couples, being named a groomsman or bridesmaid is a major honor—and a major responsibility.
Members of both sides of the wedding party are the ones closest to the couple from the initial planning stages to the final moments of their dream reception and take on many roles, ranging from confidant to emergency tailor, as a result.
Taking proximity into consideration, Brides magazine suggests that bridesmaids and groomsmen are selected intentionally and with a fair amount of foresight.
"While you may not need your bridesmaids or groomsmen to participate too much in planning your wedding, there will be moments when you'll need to know you can count on them," former Brides editor Jamie Mackey asserted in an article published last year.
Additionally, Mackey noted that while a potential bridesmaid or groomsmen may check most boxes, there are certain character traits that should disqualify individuals from making the cut.
"If one person on your list has a stronger—or even abrasive—personality and tends to rub people the wrong way, that's potential drama you'll want to avoid if you can," Mackey wrote.
Cheating also tends to rub people the wrong way. And in the case of the viral Reddit post, the drama is alive and well.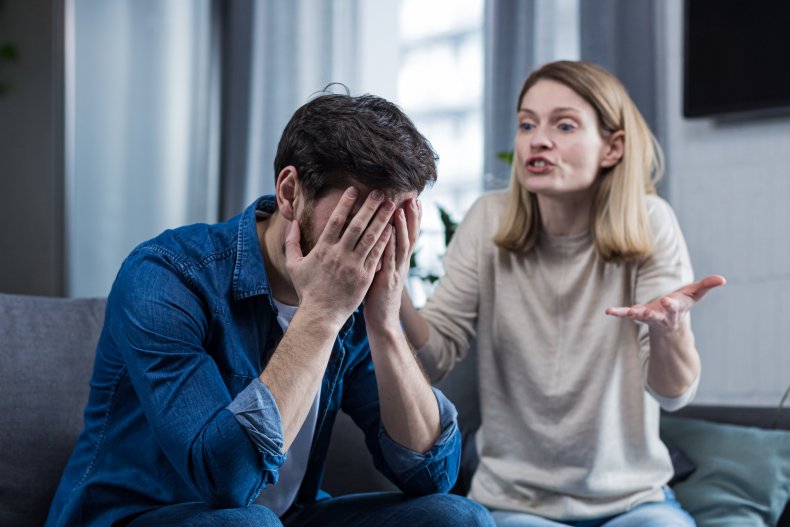 Throughout the viral post's comment section, Redditors acknowledged that the original poster was not the one accused of infidelity but were fervent in calling out his ambivalence and refusal to hold his unfaithful groomsman responsible.
"I think you're incredibly naive to think they can just 'set aside their beef for one day' because the wedding is about you and your fiancée," Redditor u/witcher_rat wrote in the post's top comment, which has received nearly 23,000 upvotes.
"Let's be clear: it's your friend's fault," they continued. "So if someone has to be kicked out of the wedding, it should be him [and] not the bridesmaid."
Redditor u/Common-Record, whose comment has received more than 13,000 upvotes, questioned the original poster's motive for keeping his group of groomsmen completely intact.
"Why do you want someone who doesn't believe in being faithful standing by your side while you vow to be faithful?" they commented.
"The irony of saying his vows to be faithful whilst having his cheating friend up there for...support?" Redditor u/InsensitiveBrown echoed, receiving more than 4,000 upvotes.
In a separate comment, which has received more than 3,000 upvotes, Redditor u/whibbam offered a piece of cautious advice for how the original poster should move forward as his wedding approaches.
"If it isn't about them, then tell the cheater he has to sit this one out," they wrote. "You really think your fiancée is going to tell her best friend to sit out so the man who cheated on her can attend the wedding?
"Good luck," they added.
In an edit to the original post, u/gooutwithamange said he was following the subreddit's advice.
"Fine I f**king get it. I'll kick one of my best friends out to prove I'm not a cheater," he wrote.
Newsweek reached out to u/gooutwithamange for comment.