Internet Rallies Around Man 'Stuck' in Strange City in Tinder Misadventure
A woman shared in a now-viral post that she matched with a Florida man on Tinder named Bobby, who claimed he was temporarily "stuck" in Washington, D.C., following a dating mishap.
Posting to Reddit's "Tinder" forum on Wednesday under the username u/GladRx, the woman shared a screenshot of an in-app message she received from Bobby, revealing that he'd traveled to D.C. to meet up with a woman, who ultimately abandoned him to be with her ex-boyfriend.
The post has garnered more than 19,000 upvotes and over 500 comments from charmed Redditors, some of whom offered to take Bobby out.
As it turns out, reuniting with an ex is a rather common dating phenomenon. One study from 2009 found that a staggering 40-50 percent of people reunite with their exes to start a new relationship, according to Psychology Today.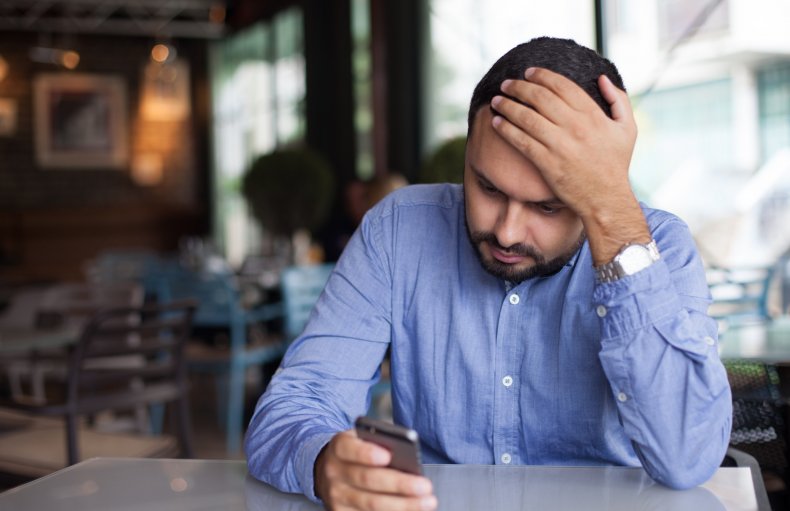 The website went on to explain that loneliness, regret and familiarity are a few of the top reasons why many couples decide to give their relationships a second chance. However, evidence suggests that "on-again" relationships are often of "lower quality" than "only-on" relationships, Psychology Today said.
In Bobby's case, the woman he'd traveled with allegedly reunited with her ex because of lingering feelings. Though the experience didn't end as he'd hoped, Bobby appeared to have a good outlook on the situation.
"So I live in Orlando," Bobby's message to u/GladRx began.
"I met a girl on Tinder and we chatted for a bit but never met up," he continued. "On Sunday she says, 'Hey any chance you want to go to D.C. for the week, I have a work thing and I want a travel buddy.'
"Seemed insane to me but I work remote and it sounded like a fun adventure," he said.
So Bobby flew to D.C. to meet the woman, but after only one night together, she flew back to Florida to be with her ex.
"Well my flight isn't until Friday and there isn't any earlier one that works for me," he explained. "So I'm stuck in the hotel room her company paid for, in a city I know no one until Friday."
He reiterated that he knew the trip had a chance of going awry.
"I envisioned a lot of outcomes that made the trip an insane idea but didn't come up with the ex boyfriend angle lol."
The text ended with, "At least I got a story out of it."
In the comments section of her post, u/GladRx said she was too busy to grab a drink with Bobby, but she shared his story in the hopes that someone else would take him out.
"Ladies in D.C., please invite this poor guy for a drink," she wrote.
Shockingly enough, a few commenters expressed interest.
"D.C. is a really fun city! Lmk about drinks," commented u/AngelPeachPorn.
"My cousin is in D.C. right now and they are down to take him out lol," said u/lapinatanegra.
"Real talk I'm available tomorrow for lunch lol! I'm flying back home Friday but will be free tomorrow," offered u/theslutnextd00r.
Redditor u/Dat_Dank_Dough added: "I'd go have a bro drink with Bobby."
Newsweek has reached out to u/GladRx for comment.
Bobby's dating story isn't the first to gain online attention in recent months. Other viral dating stories include a woman who mistook her date for a catfish, a man who was stood up for being "too fat" and a woman who shut down a rather "presumptuous" man on their first date.