Man Uninvited from Wedding Hosted at His Own House Because He Dated the Bride
This alleged wedding drama is leaving one guest out in the cold, despite the fact that he offered to host the celebration at his house.
A man claims that after he offered to host a friend's wedding at his house, he was promptly uninvited to the ceremony because of his past with the bride.
An anonymous Redditor known only as u/weddingproperty shared the story with members of the r/AmITheA*****e forum, a page dedicated to airing personal drama with strangers to get unbiased feedback on how well the situation was handled. According to him, he decided to help out friends Carla and Rick as they planned their outdoor wedding by offering his property for the ceremony and reception.
"[The wedding is] only meant to be a small backyard type of wedding but they've been planning it for a few months now and originally it was supposed to be on my property," he claimed. "They wanted it because it's private, has lots of open space for the reception, a nice view and the house could be used for them to get ready and stuff."
However, the anonymous poster admitted that he and Carla have had a romantic past, having dated "on and off in college" but maintained a strong friendship when they realized they were not meant for our each other romantically.
While the Redditor maintained that his wife was aware and accepting of his past with Carla, Rick was not told until recently.
"I never knew if Rick was told or not, it's not my relationship therefore not my business to say anything so I never did," he claimed. "Rick found out recently and not in the best way. Not sure how but from what I heard from friends is that one mutual friend told him ... Not only that but apparently Carla said a couple years ago she was still in love with me when she was already dating Rick. Don't have actual confirmation if that's exactly what he was told."
Rick reportedly reacted angrily to the news. The Redditor claimed that the couple started counseling to work through the disagreement and while the wedding is still on, Rick does not want him to attend.
"Then I asked the obvious question, where are they going to hold the wedding then? To my surprise she said they still want it at our place," he alleged.
"In my mind I'm going 'he doesn't want the guy who dated his fiancée years ago at the wedding, but still wants the wedding at his house,'" the Redditor claimed. "My wife and I are expected to just...not be at our home that weekend."
The former wedding guest alleged that he put his foot down and told the couple that if he was not invited, they could not host their big day at his house.
"They're going to have to find some place else since we're not going to simply leave our home to them for the weekend," he claimed. "Not only for safety reasons but it just doesn't make sense. Rick doesn't want me around because he's not comfortable but is comfortable enough to have their wedding at my house?"
The Redditor claimed that friends and the couple have called the act "petty" and that he is "sabotaging their wedding," noting that "Rick believes it's the least I can do after everything."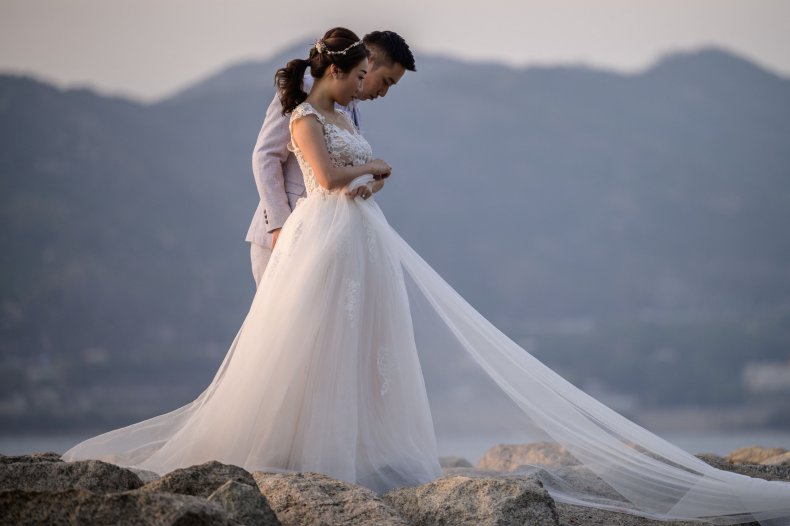 The post, which has been upvoted over 36,000 times, resonated with readers. A majority of commenters defended the Redditor, who they felt was in the right in this situation.
"OP [original poster] has nothing to do with the fact that Carla didn't tell Rick," one viewer shared. "Besides, OP was letting Rick and Carla use his property for free as a friend. If he isn't invited to the wedding, he apparently isn't that much of a friend so why would he let them use the property."
"Imagine cancelling your wedding because your dude found out you used to date another dude. These people have way bigger problems than where they can have their wedding," another added. "You're [not the a*****e]. If it were me, I'd pull my house off the table as a venue permanently, even if they decided to invite me back. You don't need that kind of drama at your home."
Others also took issue with Rick still wanting to host the wedding at the house of a guest he holds resentment against. "It's ok to not want the guy at the wedding, but Rick should insist on the wedding being held elsewhere, not demand to use the guy's house for free," one said. "This is a huge red flag and I hope a wake up call for Carla," another chimed in.
Some did point out that if the Redditor was feeling generous, he could still allow the couple to host their wedding at his house — but for a price.
"If they still want to do it at your property, charge them for venue booking, labour cost for setting up and also cleaning. Charge different cost for the use of your house for getting ready and toilet use for guests," one suggested. "And lock the doors. You want your wedding in my backyard? Okay, here's my backyard. That doesn't mean you can cook in my kitchen or that your guests can walk all over my house looking for the bathroom," another added.
Newsweek was unable to verify the claims made in the Reddit post.
Similarly, one conflicted Redditor shared her experience being kicked out of her sister's bridal party after she told the couple they could not honeymoon in her house. Another shared her wedding season woes to the platform after the bride told her to leave her husband at home because he was "too short" to come to the wedding.