Man Uses Bear Spray to Ward Off 'Curious' Black Bear in Gut-Wrenching Video
A man showed himself using bear spray in a now-viral Reddit video after he said a black bear followed him for more than five minutes.
Curtis Matwishyn posted the video to the Reddit forum "That's Insane" under his username u/BertieTheBeaver. The heart-pounding clip amassed more than 65,000 votes since it was shared on Wednesday.
For most of the three-minute video, Matwishyn filmed himself walking backward while holding out the container of bear spray pointed at the bear.
Matwishyn told Newsweek in an email that this took place just outside of Waskesiu Lake in Prince Albert National Park, Saskatchewan, Canada.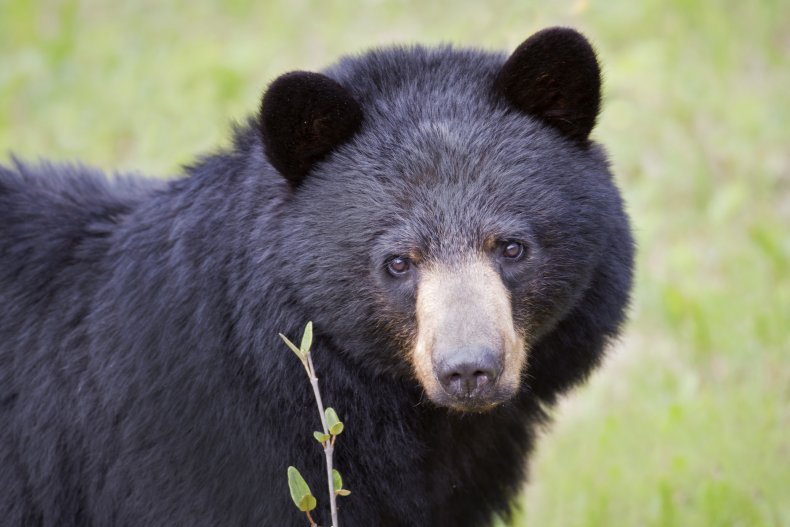 What To Do If You See A Bear
According to the National Park Service, there are a few steps one can take to prevent a situation from escalating after coming into contact with a bear.
The agency recommended that one identifies themself by speaking calmly and standing their ground while slowly waving their arms.
Additionally, those who come into contact with a bear are encouraged to remain calm, hike in groups and avoid running or climbing a tree.
"Bears may bluff their way out of an encounter by charging and then turning away at the last second," the agency reported. "Bears may also react defensively by woofing, yawning, salivating, growling, snapping their jaws and laying their ears back."
If someone screams or moves suddenly, they may inadvertently trigger an attack.
The National Park Service noted that bear pepper spray is used to stop an aggressive, charging or attacking bear.
"It is not a repellant so do not apply to your body or equipment," the agency stated.
Caught On Camera
In a comment, Matwishyn noted that he saw the bear while he was shooting photos.
"It was coming down a trail so I stepped off the trail in the forest and it started following me," he said. "That's when I started to yell and [wave] my arms but it wasn't phased by that at all. So then I just settled in to retreating calmly and being ready to use my spray if it charged."
He walked backward and spoke in a low and even tone of voice.
"Hey bear, it's OK, bear," Matwishyn said. "Hey bear, get out of here. It's OK, I'm leaving."
He continued to slowly walk backward, but the bear was not far behind as it continued to trot after him.
The bear climbed a few trees halfway before abandoning them to follow Matwishyn.
Finally, he let out a puff of the bear spray, which immediately resulted in the bear turning and running in the opposite direction.
Redditor Reactions
Viewers rushed to the comments section to discuss the tense video.
Some suggested that Matwishyn was speaking to the bear in a tone that was too comforting and not assertive enough.
A commenter wrote that they use an airhorn before using bear spray.
"It is usually effective in deterring black bears," they commented. "I don't usually hike in brown bear country."
Another commended Matwishyn for staying calm during the encounter, noting that they were surprised that the bear followed him as long as it did.
One said they "appreciated" the video and the post.
"You saved yourself, the bear, and the experience so the rest of us can learn," they commented.
Matwishyn said he has encountered many bears as part of his hobby as a nature photographer and his job as a wildland firefighter.
Although he tries to carry his bear spray with him when he is in bear territory, he never had to use it apart from when he discharged it during training.
Matwishyn said the bear seemed curious and timid, but it continued to approach him. He theorized that the bear may have been pushed away from its mother and received food as a reward, either intentionally or accidentally.
"I believe this one had been given food rewards by humans, either by intentional feeding or by campers leaving out garbage/food, etc.," Matwishyn wrote in a response on Reddit. "Explains the curious but also timid nature."
When the wind was in his favor and would blow the bear spray toward the young bear, Matwishyn used it.
Looking back on the incident, he said he should have stood his ground and given the bear a small spray when waving and shouting didn't scare it away. But, he said this was a good learning experience and it had a positive outcome.
"I shared the video in hopes of educating people to be responsible hikers and campers by securing food and garbage, not feeding wildlife and buying, learning how to use and carrying bear spray while in bear country," he said.
Other content involving bears has gone viral, including a tweet published by the Oklahoma Department of Wildlife Conservation that warned of the differences between bear spray and bug spray.
One viral video shows a black bear that crashed a wedding, while another clip captured a high five between a driver and a bear that walked out into traffic.