Man Who Filmed Ahmaud Arbery's Death Arrested on Murder, False Imprisonment Charges
William Roddy Bryan, the 50-year-old man who filmed the viral video of 25-year-old jogger Ahmaud Arbery being shot to death, has been arrested on charges of felony murder and criminal attempt to commit false imprisonment in connection with Arbery's slaying.
Bryan has been booked into the Glynn County Jail and his case is being investigated in partnership with District Attorney Joyette Holmes of the Cobb County District Attorney's Office, according to a press release from the Georgia Bureau of Investigation.
Bryan's arrest follows a recent public plea by the slain man's mother, Wanda Cooper-Jones, asking why Bryan didn't try to help stop her son's murder.
"Why would you videotape it? Why didn't he do anything to help? Why didn't he reach out right after the shooting? Why did he only come forward after the video was leaked?" Cooper-Jones asked in a May 11 interview.
Bryan has previously told CBS News he was trying to be a "good Samaritan" by recording the incident and says he has been "complete shock" since witnessing Arbery's alleged murder.
"I had nothing to do with it," Bryan said. "I am trying to get my life back to normal, and it's been smeared for the last week. I was told I was a witness and I am not sure what I am."
Lee Merritt, an attorney working with Cooper-Jones, called Bryan "a liar" and claimed that he has since tried to clear his name in the public sphere.
"If he was a good Samaritan, he would have honked his horn," Merritt said. "It's worth noting that on the video, he doesn't even flinch. He doesn't gasp. Shot after shot. He simply takes it all in."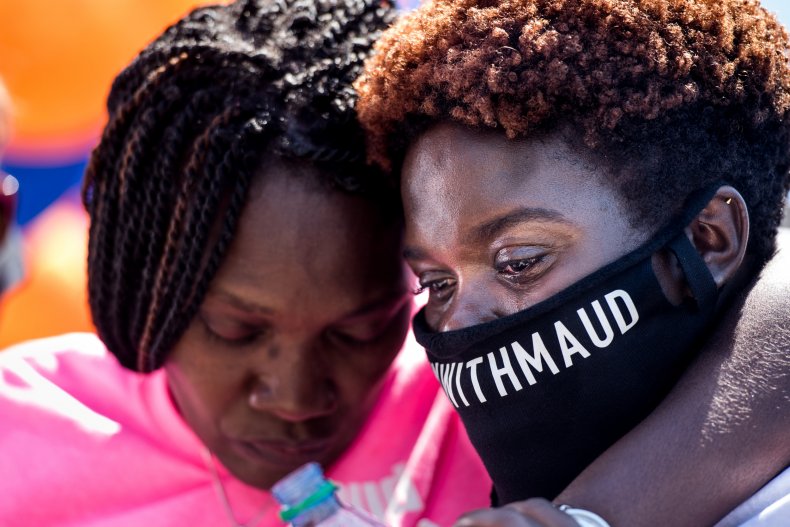 On Wednesday, May 6, Gregory McMichaels, a 64-year-old former law enforcement official, and his 34-year-old son, Travis McMichaels, were arrested in connection with the fatal shooting of Arbery on February 23.
The father and son suspected Arbery of being involved in a string of local burglaries.
The Georgia Bureau of Investigation charged both men with murder and aggravated assault before booking them into the Glynn County Jail.
Bryan's lawyer attests that Bryan didn't coordinate with the McMichaels to slay Arbery, but Gregory McMichael's statement to police said that Bryan tried to block Arbery with his car so he couldn't escape the father and son's vigilante pursuit of the jogger.
Waycross District Attorney George Barnhill initially found no probable cause to arrest the father and son, citing George McMichael's claim that Arbery tried to grab Travis McMichael's shotgun during their confrontation.
In an April memo, Barnhill wrote to Glynn police that it looked to him to be a "justifiable homicide," adding that, "At the point Arbery grabbed the shotgun, under Georgia Law, McMichael was allowed to use deadly force to protect himself."
However, video of the shooting hit the internet on May 5 after being posted by a local radio station. Within 36 hours, the Georgia Bureau of Investigation arrested the McMichaels.
Newsweek reached out to the Georgia Bureau of Investigation for comment. This story will be updated with any response.