Man Who Threatened to Kill Joe Manchin, Fox Hosts Faces Up to 20 Years
A New York man was convicted on Thursday and could face up to 20 years in prison for threatening to kill Democratic Senator Joe Manchin and Fox News hosts Greg Gutfeld and Laura Ingraham.
Rickey Johnson, 48, could face up to a total of 10 years for two counts of interstate threats and another potential 10 years for threatening a federal official, according to a statement by the Department of Justice.
Johnson has been convicted after a one-week jury trial for making threats through direct messages and publicly posted videos on Instagram, according to court documents.
On February 3, the 48-year-old sent a direct private message to Gutfeld reading: "you will be killed" and said that he was "going to take [Gutfeld's] life."
He also posted public videos on Instagram in which he threatened to kill Manchin and Ingraham. In one instance, he described Manchin as "dead" and that the senator would be "executed." He also took a hit at Ingraham saying that he would "kill" her with his "bare hands."
"Rather than express his political differences constructively, Rickey Johnson escalated his discord by instilling fear. Johnson's attempts to scare and stifle a U.S. Senator and two Fox News hosts were federal crimes for which he has now been convicted by a New York jury," said U.S. Attorney Damian Williams.
Johnson is set to be sentenced on May 25 over his actions, according to the Justice Department.
Senator Manchin has long been criticized for resisting President Joe Biden's Build Back Better bill. The votes by the West Virginia Democrat and Democratic Senator Kyrsten Sinema have been crucial to pass the legislation, which is vital for Biden's social and economic agenda. Both senators have blocked the passage of the bill in the Senate, but it was passed in the House.
Earlier this month, Manchin said that he hasn't had any discussions on the legislation since December.
"What Build Back Better bill? I don't know what you guys are talking about," Manchin told reporters at the time. "It's dead."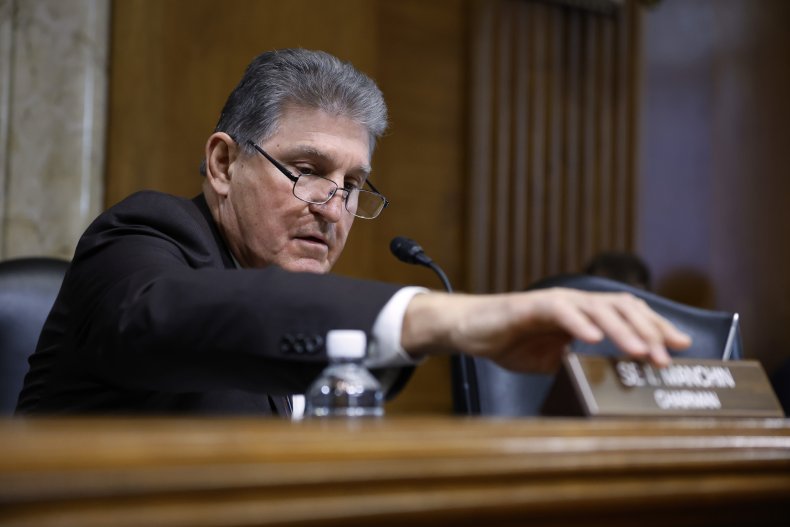 Similar death threats against officials have been reported across the country. A Texas man was charged last month for allegedly inciting violence on Craigslist against several Georgia election officials in 2020.
Chad Stark, 54, was arrested on one count of communicating interstate threats. He allegedly posted threats in a Craigslist message on January 5, 2021, with the title "Georgia Patriots it's time to kill [Official A] the Chinese agent - $10,000," the Justice Department said in a statement in January.
In his message, Stark accused Georgia officials of corruption and encouraged violence against them.
"The Justice Department has a responsibility not only to protect the right to vote, but also to protect those who administer our voting systems from violence and illegal threats of violence," Attorney General Merrick Garland said in the Justice Department statement at the time.
"The department's Election Threats Task Force, working with partners across the country, will hold accountable those who violate federal law by using violence or threatening violence to target election workers fulfilling their public duties," Garland added.