After Bombing Designed to Divide, Manchester Led Defiant Vigils Across the U.K.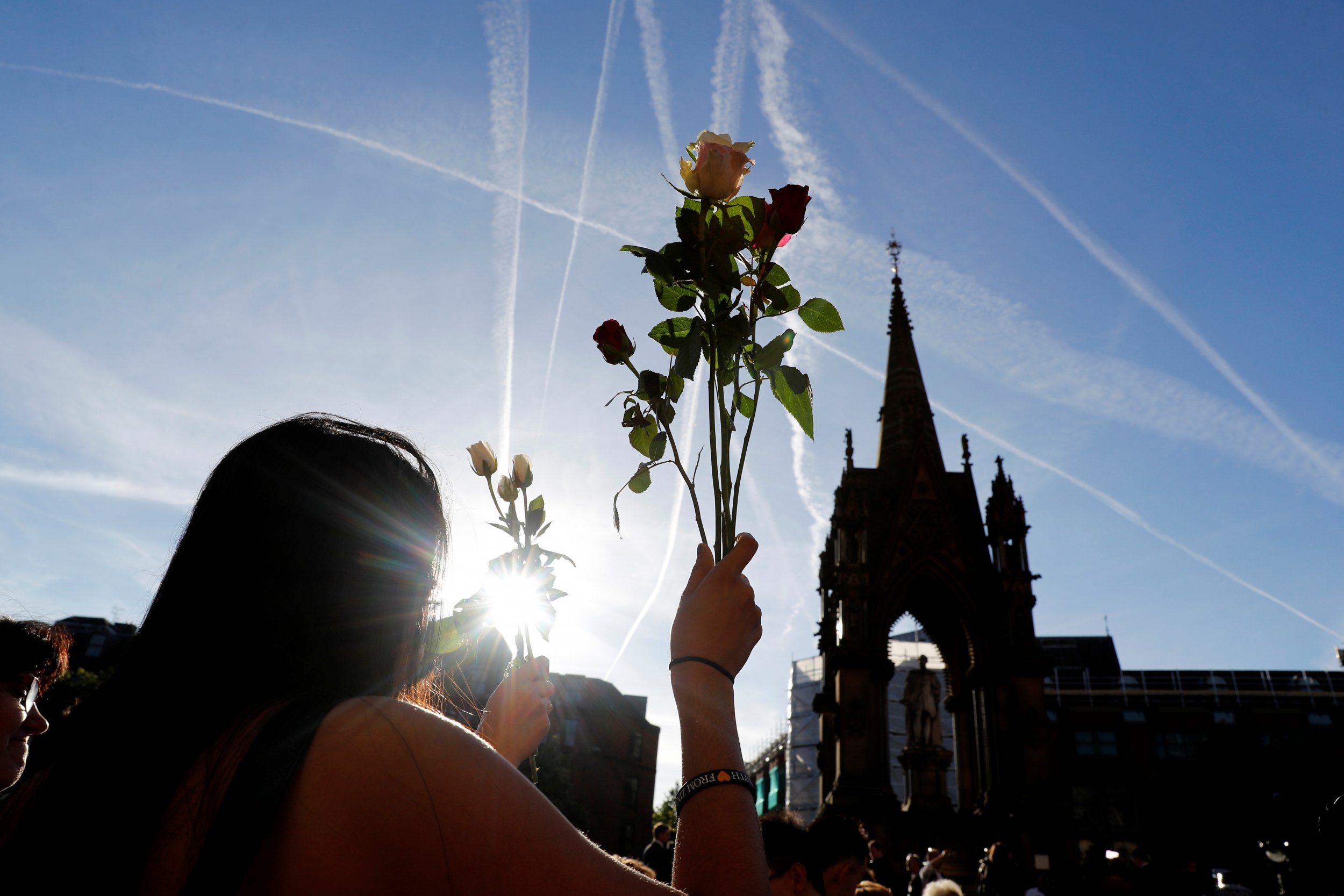 Manchester is not a city accustomed to good weather. But as residents of the often grey and overcast northern English city turned out Tuesday the dappled spring sunshine seemed to speak of hope and resilience after Monday night's harrowing terrorist attack.
Outside Manchester City Hall in the city's Albert Square, hundreds gathered less than 24 hours after a suicide bomber detonated an improvised explosive device at Manchester Arena, killing 22—including children—and injuring more than 50.
"It just doesn't feel real," Sean Anderson, an 18-year-old student who was at the concert, tells Newsweek . "It feels so surreal, I still don't think I've really accepted it [has happened] now, as a lot of [other] people won't have either."
The attack was the worst to hit the U.K. since the 7/7 bombings in London in July 2005, which killed 52 people and injured several hundred. Manchester has not seen an attack on this scale since a 1996 bombing by the Irish Republican Army (IRA), which injured more than 200 but caused no fatalities.
Read more: Everything we know so far about the Manchester bombing victims
"I was a student [in Manchester] when the last bomb happened, so there was a generation of people for whom an experience like this isn't totally new," says Adrian Smith, 49, a health worker from north Manchester. "[But] people talk a lot about the character and guts of Manchester, and I think it's a city that's really proud of its history and strength and solidarity."
The vigil included a minute's silence for the victims and a tribute to the emergency services who responded to Monday's attack. Police said earlier Tuesday that 59 victims were being treated at eight hospitals across Greater Manchester.
Chief Constable Ian Hopkins, who is leading the police investigation, said the crowd that the incident marked a day the city never hoped it would see.
"Young families, young children went out to enjoy themselves in this wonderful city, but tragically lost their lives," said Hopkins. "As your Chief Constable and a father I cannot begin to imagine how someone could carry out such an act."
Flowers were laid and candles were lit at a makeshift vigil to the side of the entrance to the town hall, while well-wishers held banners reading "No Fear Here" and "Solidarity is Our Strength."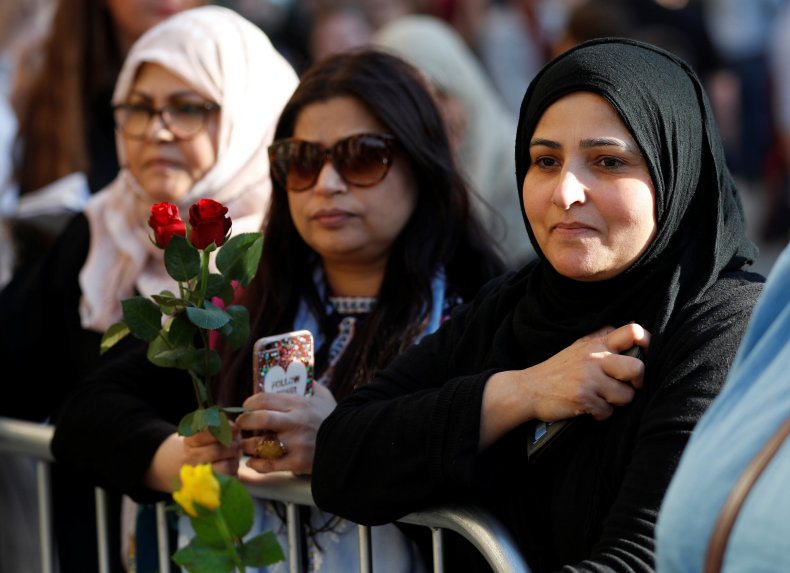 Police identified the bomber on Tuesday as Salman Abedi, a 22-year-old born in Manchester and of Libyan origin. The Islamic State militant group (ISIS) said that one of its "soldiers" had carried out the attack.
Armed officers also arrested a 23-year-old man in south Manchester on Tuesday and carried out searches at two addresses, one of which included a controlled explosion.
Muhammad Khurshid Ahmad, a local imam and leader of an Ahmadiyya Muslim community in Manchester, tells Newsweek that the attack has caused concern among the city's Muslim population about the potential for radicalization.
"We can only pray this person was alone in taking the matter into his own hands," says Ahmad. "It was important to come here and stand shoulder to shoulder and show our support to the families of those who have been affected and pray for those whose lives have been taken by this awful tragedy."
The vigil ended with a the crowd spontaneously chanting, "Manchester! Manchester! Manchester!" and many stayed around after it ended to grieve and share their disbelief at what had happened.
But amid the feelings of confusion and shock, there was an air of defiance that the city would not be bowed.
Deanna Mills, 49 and from Fallowfield in south Manchester, has tickets to a Lady Gaga concert at the arena in October. And she plans to be there.
"I will be there to see Lady Gaga. I've got a meet and greet ticket and there's just no way I'm not going," she says.