Watch: Manchester United Players Cower Under West Ham Bus Attack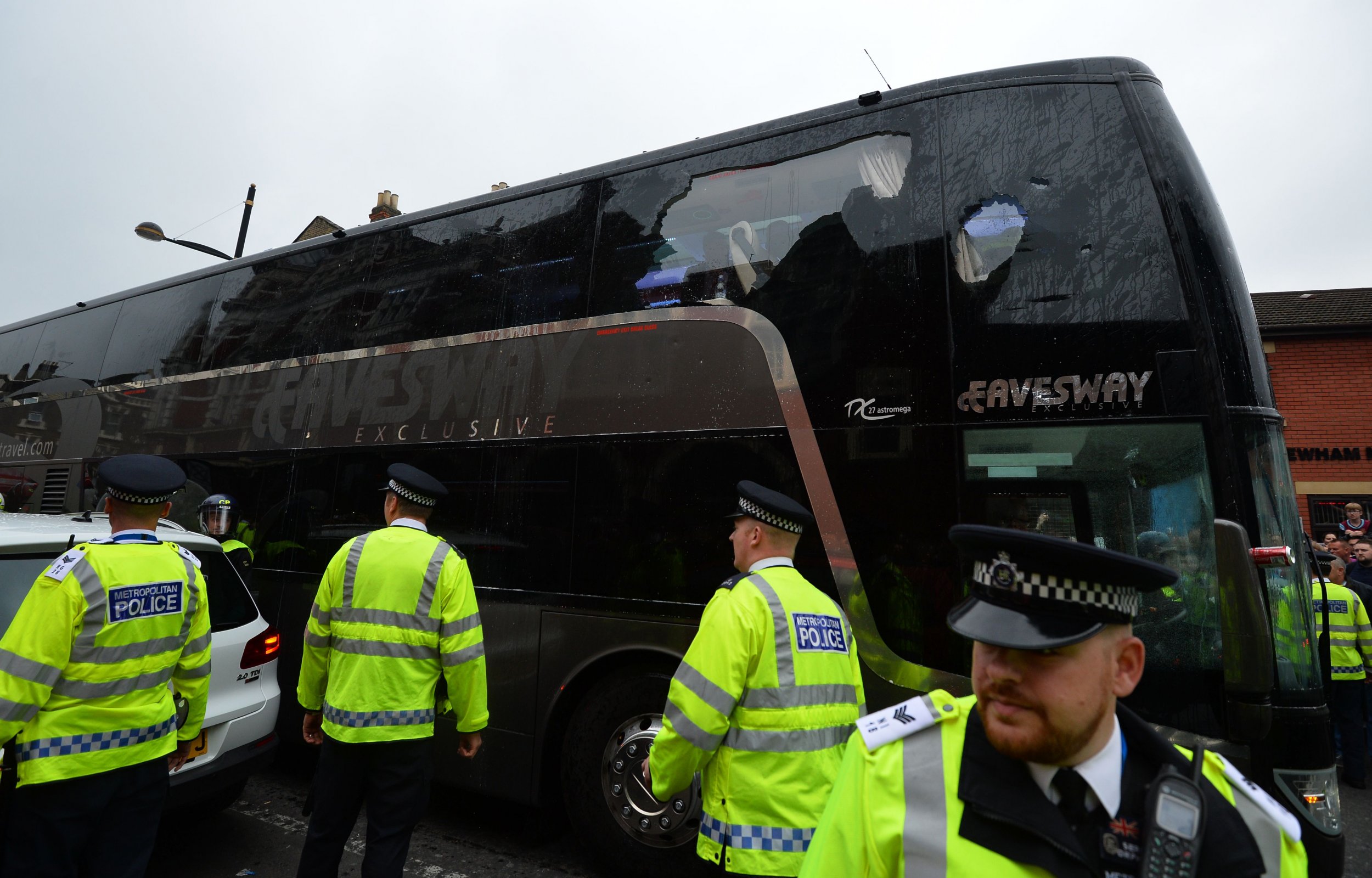 Manchester United's players cowered comedically in the team bus as West Ham United fans attacked it before the final game at the Boleyn Ground on Tuesday, a video released to Twitter shows.
Jesse Lingard, a United substitute during the 3-2 defeat, appeared to take the video as bottles were thrown at the vehicle as it entered the ground in east London, from where West Ham will move to the Olympic Stadium in nearby Stratford next season.
Phil Jones, the United defender, can be seen lying on the floor, while cries of "oh shit" ring out through the bus. Michael Carrick, the experienced United midfielder, can also be seen filming on his smartphone.
United needed to win against West Ham in the penultimate game of its season and came back from 1-0 down to lead 2-1, only to give the game away in the final quarter of the game with slack defending to hand rival Manchester City the advantage in the race to qualify for the UEFA Champions League, heading into the final day of the season.
That came after the kick-off was delayed by 45 minutes due to the trouble outside the ground, which David Sullivan, the West Ham owner, blamed on the United bus arriving late to its destination, as it had against Tottenham at White Hart Lane in April.
This time, though, the opposition fans responded angrily, and were captured on camera hurling objects at the United team.
Sullivan told Sky Sports: "Man United should have got here at four o'clock. They know it's our last game. They had the same problem at Tottenham a few weeks ago.
"I think the police and officials have been kind. I'd make them kick-off at 7.45pm if I was in charge. I'm gravely disappointed, more for our supporters.
"What people forget is they've got trains and buses to get home and we've got a wonderful, wonderful show after the game for them. Many just can't stay anymore."
Sullivan also claimed the United bus would show "no damage," although Wayne Rooney, the United captain, gave his own interview before the game to Sky Sports in which he said the bus had been "smashed up."