'The Mandalorian' Mark Hamill Cameo Has 'Star Wars' Fans in Raptures
The Mandalorian fans got the cameo to end all cameos in the Season 2 finale as Mark Hamill a.k.a. Luke Skywalker himself finally made an appearance.
Season two of the Star Wars spin-off has been full to the brim with cameos and iconic characters from Rosario Dawson's Ashoka to Temuera Morrison's Boba Fett.
A young CGI version of Hamill's legendary character turned up to offer to train Grogu (The Child/Baby Yoda) in the ways of the Jedi causing quite the reaction from die-hard fans of the beloved franchise.
Despite criticism of fan service from some, including Newsweek's review, many fans were overjoyed to see this familiar face, even if it was uncannily CGI'd to high heaven.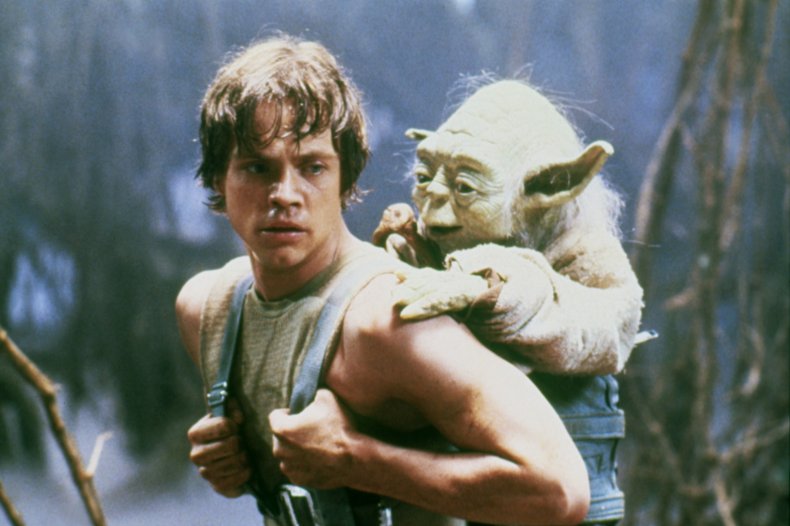 "What an amazing 'feels so good' moment. I just cried. #TheMandalorian," one fan tweeted.
While another added: "I was literally shaking at the reveal of #LukeSkywalker. And now I am crying with joy that you got @HamillHimself played him."
"Such a rollercoaster of emotions in this episode, I'm so sad and happy and excited, I can't even explain how much I love this show and how excited I am for Season 3," said another.
Another overjoyed Twitter user posted: "Luke Skywalker and Grogu. Some of the best Star Wars content ever. Thank you Favreau and Filoni."
Hamill's appearance sparked a long-standing discussion among fans about who should play the young Skywalker, with many calling for Winter Soldier actor Sebastian Stan to take the role due to his resemblance to a young Hamill.
However, seeing a young Hamill, alongside R2-D2, back in his Jedi cloak led to a wave of nostalgia for many.
As one very enthusiastic fan put it: "IF LUKE SKYWALKER WASN'T PLAYED BY MARK HAMILL IT WOULDN'T HAVE BEEN RIGHT. STFU ABOUT SEBASTIAN STAN #TheMandalorian."
The Mandalorian fans were similarly delighted by Dawson's appearance as Ahsoka Tano last month.
"Chapter 13 is some of the best Star Wars content ever created," one fan tweeted at the time. "Finally getting to see Ahsoka Tano (my favorite character) in live-action was everything I wanted and more. Rosario Dawson was just perfect, Ludwig nailed the score and this is Star Wars at its best. #TheMandalorian."
Disney subsequently announced an Ahsoka centered spin-off is in the works titled, Ahsoka and Rangers of the New Republic.
The final scene of the second season also showed the bounty hunter Boba Fett sitting on the throne in Jabba's palace, setting up a title card revealed something called The Book of Boba Fett.
The Mandalorian Season 2 airs Fridays on Disney+.