A suspected rapist is off the streets after authorities received an anonymous tip.
The Bell Gardens Police Department in California today announced that Robert Nunez, 41, had been taken into custody at about 8:15 a.m. after a citizen provided insight due to a recent press release and suspect photos.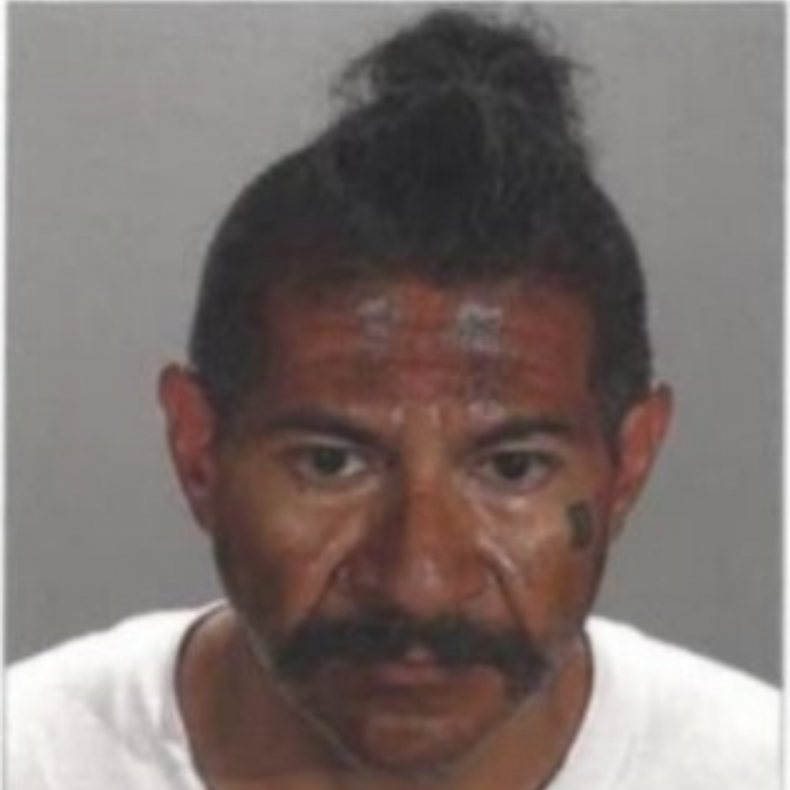 Nunez was one of two suspects alleged to have raped a 14-year-old on the night of March 24. The victim reportedly told police that they were coerced into a residential garage by a man later identified as Nunez – "a local Bell Gardens area transient." Nunez reportedly committed the rape while holding the victim at knifepoint.
Police said an anonymous citizen phoned in the tip, leading to a search of a homeless encampment near Long Beach Boulevard and the 710 Freeway.
Long Beach Police Officers aided Bell Gardens Police and immediately responded to the scene, where they reportedly located Nunez – who allegedly attempted to flee on foot. Officers quickly took him into custody.
Once captured, police reportedly saw Nunez's distinctive face tattoo that was evident in suspect photos previously posted on social media. The tattoo was covered by a bandage, likely to hide his identity.
Los Angeles County inmate records show that Nunez's bail was set at $200,000. His next court date is scheduled for March 30.
Another suspect described as Jaomir Perez, 41, allegedly took part in the act. Bell Gardens Police said they served a search warrant on Thursday to where Perez was positively identified and arrested.
Inmate records show that Perez's bail was set at $50,000.
Data from the National Sexual Violence Resource Center estimated that 734,630 people were raped – which includes threatened, attempted or completed rapes – in the United States in 2018. While 40 percent of rapes and sexual assaults were reported to police in 2017, only about 25 percent were reported the following year.
RAINN (Rape, Abuse & Incest National Network), the nation's largest anti-sexual violence organization, estimates that Americans are sexually assaulted every 68 seconds – including every nine minutes for a child victim.
Recently, the organization lauded President Joe Biden for signing the fiscal year 2022 omnibus package into law. It includes the Supporting Access to Nurse Exams Act and the reauthorization of the Violence Against Women Act.
"Both pieces of legislation will help expand critical access to medical and legal services for survivors of sexual assault, especially those in marginalized and underserved communities," said Samantha Cadet, director of federal affairs, appropriations and national coalitions for RAINN.
A spokesperson for the Bell Gardens Police Department told Newsweek that the relationship between Nunez and Perez is not quite known, adding that the 14-year-old rape victim was the one who initially reported the crime to authorities.
Both Nunez and Perez remain in custody, the officer added, as charges "in the sexual assault neighborhood" are being determined.