Everything Manti Te'o Has Said About Netflix's 'Untold' Documentary
It's been an interesting week for American football linebacker Manti Te'o.
Almost 10 years after his private life was thrown into the spotlight, Te'o has told his side of the story in the latest edition of Netflix's true crime series, Untold.
Titled Untold: The Girlfriend Who Didn't Exist, the two-part series delves deep into Manti Te'o's catfishing story, which played out in the public eye in 2013 and has affected him ever since.
Te'o was catfished by Naya Tuiasosopo in 2012, who now identifies as a transwoman.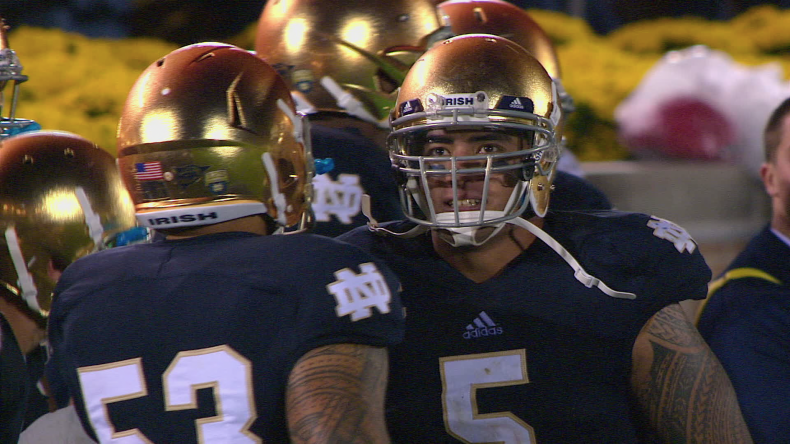 Tuiasosopo posed online as Lennay Kekua and she and Te'o became romantically involved over the internet.
In September 2012, Te'o told several media outlets that he had suffered an immeasurable loss. Both his girlfriend and his grandmother had died on the same day.
He told the press that his girlfriend Kekua had been injured in a car accident and, during her recovery, she was diagnosed with leukemia and sadly, did not survive.
Te'o was praised for his strength and resilience in the sporting world, continuing to excel on the sporting field after Kekua's passing. He was even named as one of the three finalists for the Heisman Trophy, an award given to the most outstanding player of college football.
Doubt about Kekua's death soon began to be cast by sports media outlets, with some suspecting Te'o was involved in a hoax.
Speaking in Untold, Te'o explains he was convinced Kekua was real until he received a phone call from her in December 2012, telling him she was still alive. It was then a family member shared their suspicions Te'o may have been catfished.
After receiving an anonymous tip in January 2013, Deadspin reporters Timothy Burke and Jack Dickey began to investigate Te'o's claims, publishing an article on January 16, 2013, alleging that his girlfriend, Kekua, did not exist.
In January 2012, Tuiasosopo confessed she was behind the hoax and stated Te'o was unaware of her true identity.
Since the documentary aired on Netflix on Wednesday, August 17, Te'o has been receiving a whole load of support from viewers, NFL fans, and more.
He recently took to Instagram to address the positive response he has received.
In the emotional video, Te'o said: "I just wanted to come out here real quick to give a heartfelt thank you to everybody who has come through and has shown so much love to me and my family, for your messages, for your comments.
"It's been amazing to me to hear the battles that we're all facing, the challenges that we're facing in our lives at this time, and how the documentary has given some of us hope, the extra push just to keep going if there's anything that I wanted from this thing was just to give some of us hope who needed it, to tell those who needed some love that they're loved, and to help them to forgive."
Ahead of the documentary's release, Te'o also shared a lengthy post on Instagram where he said the documentary was for "all the people that have supported me and have stood up for me."
He wrote: "You have no idea what that has meant to me the past 10 years. To my family, we've been through it all...the highest of highs and the lowest of lows but I'm forever grateful that I had you all with me, every step of the way."
In an interview with NPR, Te'o shared why he wanted to tell his story on Untold in the first place.
He said that after being approached by Tony Vainuku, one of the directors of Untold, he had a lot to think about, but in the end he wanted to share what happened with the world.
Te'o reflected: "I started to realize that there are a lot of people that still had questions and a lot of people that were confused. But more importantly, there were people that had supported me all those years, and they kind of just supported me because they loved me. And I—there was no backing to it. It was just loyalty.
"And I wanted to—I thought to myself, man, what a great opportunity that this could be, where I'm at a place now where I'm not ashamed of anything. I'm at peace with everything, so I can tell it. And also, there's—there are these two directors, Tony Vainuku and Ryan Duffy, that are willing to tell the story the right way. And so, you know, I thought that it was a great opportunity. And, you know, we jumped in."
In conversation with Entertainment Tonight, Te'o also said he was happy Tuiasosopo was able to share her side of the story.
He reflected: "I'm grateful that Naya was able to go on there, and I'm sure it wasn't comfortable for Naya as well, but I wanted it. I told [Untold directors] Tony Vainuku and Ryan Duffy I wanted it to be the story. That's what was so great. Everybody said it's my story. No, I wanted it to be the story.
"[Because] when this thing comes out I don't want it to just be one-sided. I didn't want it to just be me. I wanted it to be everybody. And again, it was the entire truth and I think that's what people really love about it. There was no stone left unturned, and definitely it was a powerful experience."
Speaking in Untold, Te'o shared he had forgiven Tuiasosopo. As seen in UNTOLD: The Girlfriend Who Didn't Exist, a note at the beginning of the episodes states "at the time of filming, subjects were not aware that [Tuiasosopo] identifies as a transgender woman."
Te'o told Untold filmmakers: "I hope and pray that him and his family's cool. Cause that's all that I can wish for him.''
Where Is Manti Te'o Today?
Today, Manti Te'o plays as a free agent and is a married man.
He wed Instagram fitness personality Jovi Nicole in August 2020.
Announcing the news on Instagram, Te'o wrote: "I couldn't give you the world but I think I did better...I gave you my last name and it looks good on you Mrs. Te'o," alongside an image of them on their happy day.
Together, they welcomed their daughter Hiro into the world on August 12, 2021. They are currently expecting their second child, Te'o revealed on CBS Mornings.
In the same interview, Te'o said he was inspired to come forward in the Netflix documentary after seeing Jay-Z perform in 2017.
He said: "Cam Jordan with the Saints took a bunch of us teammates to a Jay-Z concert. And at that concert, Jay-Z opens with saying these words, 'You cannot heal what you don't reveal.' And it may have been just some random words to everybody, but for me, at that time, it hit me like a ton of bricks."
Untold: The Girlfriend Who Didn't Exist is streaming on Netflix now.