Map Shows Where Putin's Forces Have Lost Ground Days Into Ukraine Offensive
Days into Ukraine's counteroffensive in the Russian-occupied Kherson region, maps from British defense intelligence demonstrate where Russian President Vladimir Putin's army appears to have lost ground in the southern province.
Ukraine announced on Monday that it had launched the Kherson counteroffensive to retake the region that fell under Russian control in the early days of the war. The U.K. Defense Ministry released a map on Friday with its assessment of what Ukrainian territory is currently Russian-held.
When compared with a ministry map from August 26, several days before the Kherson effort was announced, a stretch of "contested area" on the Kherson front has increased in size. Albeit a small change, that contested area has noticeably widened into Russian-controlled territory.
An arrow designating a "likely Ukrainian advance," the middle of the three arrows on the newer map, is pointing directly toward the expanded contested area. Two other points of contested area in or around the Kherson region are also shown on the map, though they don't appear to have grown since August 26.
While more signs of Ukrainian progress in Kherson push might not be fully evident on the U.K. Defense Ministry's map, Ukraine has reported several successes since the effort began. Ukraine's Operational Command South (OPS), for example, said Wednesday that more than 200 Russian soldiers, as well as six Russian ammunition depots, 12 T-72 tanks and a range of Russian equipment and weapons, had been eliminated since the counteroffensive began.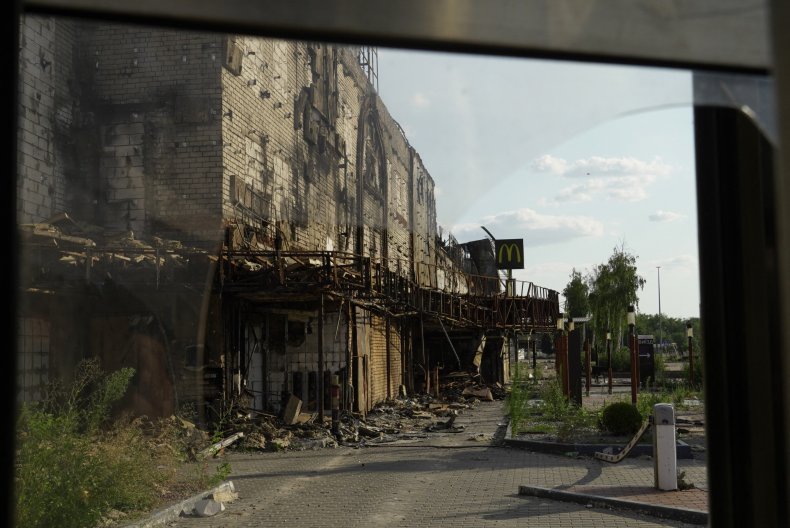 OPS also said Wednesday that the Ukrainian military had destroyed a pontoon bridge constructed by Russian troops in the occupied Darivka village in Kherson.
"Hits are effective, damage is significant. The pontoon crossing set up by the occupiers in the Daryevka area was destroyed," the command said in a Facebook post.
Meanwhile, a Russian military leader also said that Ukrainian saboteurs were "destroyed" in the Tavrichesky microdistrict of Kherson on Tuesday morning.
Newsweek was not able to independently verify the claims from either Ukraine or Russia.
In its Thursday update, the Institute for the Study of War (ISW) reiterated its earlier assessment that military operations on the scale of the Kherson counteroffensive "do not succeed or fail in a day or a week."
"Ukrainians and the West should not fall for Russian information operations portraying the Ukrainian counteroffensive in Kherson Oblast as having failed almost instantly or that depict Ukraine as a helpless puppet of Western masters for launching it at this time," the ISW wrote.
In a Monday address, Ukrainian President Volodymyr Zelensky said that Ukraine's forces will reclaim the Kherson and other regions Putin's army has overtaken.
"Ukraine is returning its own. And it will return the Kharkiv region, Luhansk region, Donetsk region, Zaporizhzhia region, Kherson region, Crimea, definitely our entire water area of the Black Sea and the Sea of Azov—from Zmiinyi Island to the Kerch Strait," Zelensky said. "This will happen. This is ours. And just as our society understands it, I want the occupiers to understand it, too. There will be no place for them on Ukrainian land."
Newsweek reached out to the defense ministries of Russia and Ukraine for comment.