Beto O'Rourke Only Candidate to Endorse March For Our Lives' Gun Control Plan
It's been 555 days since the Parkland school shooting. In that time there have been 574 mass shootings, killing 596 Americans and injuring 2,315 more.
So it was hardly surprising when, in the wake of the mass shootings in El Paso, Texas, and Dayton, Ohio, March Of Our Lives released a comprehensive gun control plan. What has been far more surprising is the relative silence from Democratic presidential candidates.
In the aftermath of the Parkland shooting, Marjory Stoneman Douglas students met with and even interviewed Senator Bernie Sanders. Former Vice President Joe Biden spoke at a March For Our Lives rally in Delaware, Senator Kamala Harris joined a march in California, Senator Elizabeth Warren popped up at several marches in Massachusetts and Senator Cory Booker invited New Jersey rally organizers to his events.
But of the 10 candidates qualified for the September debate—who almost all have their own gun control plans and criticized Trump for his recent flip-flopping on background checks—only one endorsed March For Our Lives' Peace Plan for a Safer America
Beto O'Rourke, the former Texas congressman who suspended his campaign travel to spend time in his home community of El Paso, tweeted on Wednesday his full support. "And I call on everyone else in this race to do the same," he said.
Yet no one else has. Andrew Yang's campaign told Newsweek that "Andrew would agree with much of this plan," but no other campaign for a candidate taking the stage in September had responded to Newsweek at the time of writing.
In recent weeks, most of these candidates have supported expanded background checks, gun licensing, banning assault weapons or buyback programs, but the March For Our Lives plan goes further. It calls for all these actions, plus the declaration of a national emergency, launching an investigation into the NRA and automatic voter registration.
"While Beto supports an individual's right to bear arms, we must reexamine its regulation," Lauren Hitt, a spokesperson for O'Rourke's campaign told Newsweek. "These students presented a bold change, but Beto believes now is the time for bold action—regardless of the political consequences. There have been more than 250 mass shootings just this year. We have a crisis and half measures aren't going to fix it. It's time not just to ban the sale of weapons of wars but to get them off our streets entirely—we need mandatory buy backs."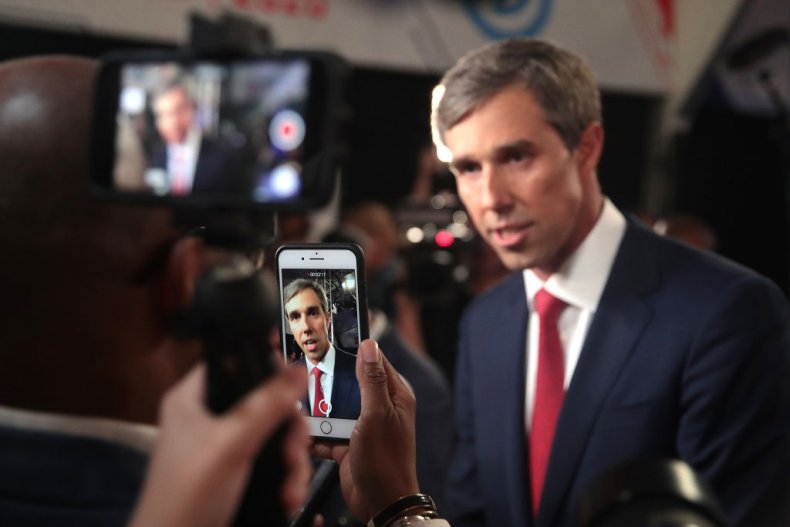 Ariel Hobbs, a March For Our Lives board member, told Newsweek that the organization was "thrilled to hear that Beto O'Rourke read the Peace Plan and decided to endorse it.
"We hope every candidate for elected office—across all parties—comes out in support of the Peace Plan or announce their own proposals to address all types of gun violence and its root causes," she said. "Those running for the presidency, for Congress, for state elected office should all support a holistic national plan to end gun violence in America."
Ahead of hosting a presidential forum on gun violence in October, March For Our Lives told Newsweek it has had conversations with "many" presidential candidates. But despite candidates regularly traipsing across Iowa (and awkwardly indulging in far too many corn dogs), none managed to actually attend a voter registration event run by the states' March For Our Lives chapter, reportedly frustrating the local co-founder.
It seems that, even for the party's most progressive candidates ever fielded—and who are all too happy to remake the country's entire healthcare system—this gun violence plan is one step too far.
Though for O'Rourke, who is polling with just three percent of the vote and is struggling to distinguish himself even in the wake of a mass shooting in his hometown, he has very little to lose.
Oh, and on Thursday night President Donald Trump tweeted that he held a meeting on preventing shootings, and talks are ongoing with "lawful gun owners, survivors, grieving family members, law enforcement, the NRA, mental health professionals, and school officials."
As the most visible and powerful survivors in recent years, March For Our Lives told Newsweek it has not been involved in talks with senior Republicans or the White House, which did not return a request for comment.
"But we are open and willing to meet with any elected official who wants to create peace," Hobbs said. "It's time to stop playing politics with people's lives and get to work to solve this crisis once and for all."