Marco Rubio Slammed for Comments on Uvalde Shooting and NBA's China Stance
GOP Senator Marco Rubio was slammed online Thursday after he accused the NBA of "politicizing" the Texas school shooting and pointed out that the league is silent about the treatment of Uyghurs in China, where the NBA has business partners.
Rubio criticized a call for new gun legislation after a moment of silence before Wednesday night's playoff game between the NBA's Boston Celtics and Miami Heat. The moment was a tribute to the 19 children and two teachers who were fatally shot on Tuesday at Robb Elementary School in Uvalde, Texas.
"The Heat urges you to contact your state senators by calling 202-224-3121 to leave a message demanding their support for common sense gun laws. You can also make change at the ballot box," a public address announcer said after the silent tribute, according to CNN.
Rubio also criticized the NBA over its stance on doing business in China, noting the condition of the Uyghurs, an ethnic group in the country's northwest that is being persecuted, according to U.S. officials and human rights groups. He tweeted on Wednesday: "The @NBA doesn't like to talk about the billions they make from a China that enslaves Uyghur Muslims and harvests their organs. But they have no problem politicizing a horrific tragedy in America."
Rubio's comments sparked outrage from some users on Twitter who criticized the Florida Republican for his remarks, with one noting that Rubio has received $3.3 million in donations from the National Rifle Association (NRA).
"What a whiny man-baby Florida has for a U.S. senator. Rubio is threatened by a tribute to 19 slaughtered babies and their teachers? I bet he'd really hate it if you listened to the Miami Heat's call to action and turned out to vote," California Representative Eric Swalwell tweeted Thursday.
Rubio said in another tweet that since the NBA and the Miami Heat are "so committed to social justice and has pledged to 'speak the truth' when can we expect you to condemn the genocide of Uyghur Muslims being committed by your business partners in China?"
Meanwhile, radio show host Dean Obeidallah criticized Rubio's comments and called his donations from the NRA "blood money."
"To the GOP's Marco Rubio saving lives of our children from gun violence is called 'politicizing.' In reality: Rubio has received $3.3 million in National Rifle Association donations over his career. That's called BLOOD MONEY," Obeidallah said.
Another Twitter user wrote: "You are a worthless coward who doesn't give a s*** about Uyghurs. You know how I know that? Because you don't give a s*** about our own children. Exploiting a horrific genocide as a shield against calls for you to do your f****** job and protect our kids."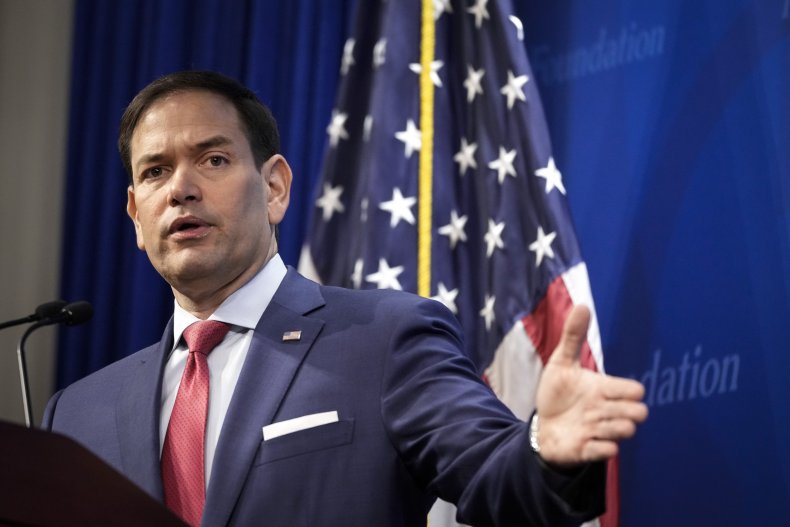 On Wednesday, CNN correspondent Manu Raju asked Rubio why there is no ban on AR-15 assault rifles. The senator responded, "The truth of the matter is these people are going to commit these horrifying crimes, whether they have to use another weapon to do it, they're going to figure out a way to do it."
Salvador Ramos, the accused shooter in the Uvalde shooting, purchased two AR-15 rifles legally a few days before the incident.
Rubio's comment on CNN drew criticism from Florida Representative Val Demings, who tweeted: "Marco Rubio is proving why his time in the Senate should be up. Over and over again, during the worst of times, he lacks the courage to stand up to the gun lobby. When he finally speaks up about the tragedy in Texas, he says this?"
Newsweek reached out to Rubio's media office for comment.
Update 5/26/22, 5:10 p.m. ET: This story has been updated to clarify that Senator Marco Rubio was criticizing a call for new gun laws during a game between the NBA's Miami Heat and Boston Celtics.