Marco Rubio: Trump Administration Border Policy of Separating Parents and Children Puts People Through 'Additional Trauma'
Florida Senator Marco Rubio pushed back on the Trump administration's new policy of separating parents and children at the border in a Sunday interview, saying the practice puts migrants through "additional trauma."
"We have a problem and it needs to be dealt with, Rubio told CBS's "Face the Nation" host Margaret Brennan. "The ideal scenario is that families be kept together and returned expeditiously back to their country of origin.
"We sympathize with people that are coming here," he continued. "America is the most generous country in the world and ideally you wouldn't put people through additional trauma once they came into the United States."
Rubio said he would be open to changing the policy, but continued to hammer home his belief that the United States needs to strengthen its borders and actively discourage people against trying to cross it. "It is actually inhumane not to secure our border because we are sending out a message that is encouraging people to come here we have to understand a lot of these people that are crossing children are being trafficked here," he reasoned.
Attorney General Jeff Sessions announced a change to the longtime policy of keeping parents and children together at the border earlier this month, arguing that U.S. law requires they be separated and that anyone accompanying an undocumented child into the country be prosecuted.
"If you don't like that, then don't smuggle children over our border," Sessions told the crowd at the Association of State Criminal Investigative Agencies' 2018 spring conference.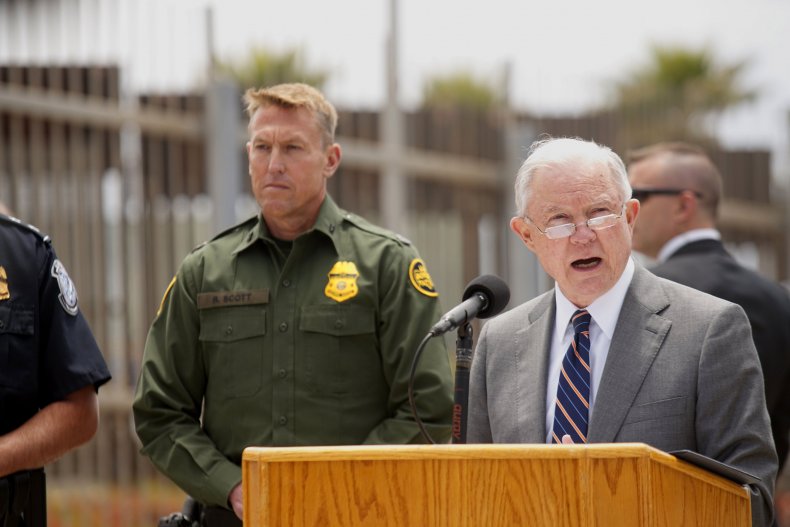 Up until then, it was typical for parents—and especially mothers—and their children to be taken into custody together, and remain that way as they navigated the lengthy process of seeking asylum in the U.S. Since the announcement, officials at the Department of Health and Human Services have begun to scout locations where they could feasibly house an unknown number of immigrant children, reportedly considering the possibility of military bases in Texas and Arkansas.
The policy has drawn substantial backlash from immigrant and human rights advocacy groups, as well as, puzzlingly, from Trump himself, who expressed opposition to his own administration on the issue. The president blamed Democrats—not his own attorney general—for the "horrible law."
"Put pressure on the Democrats to end the horrible law that separates children from there parents once they cross the Border into the U.S. Catch and Release, Lottery and Chain must also go with it and we MUST continue building the WALL!" Trump tweeted on Saturday. "DEMOCRATS ARE PROTECTING MS-13 THUGS."
Democrats have been vocal about wanting to end the policy handed down unilaterally by the Trump administration.
"There are many ways to describe the @realDonaldTrump policy of ripping children away from their parents at the border," California Representative Ted Lieu wrote in a tweet the day before. "It violates human rights laws. It is unAmerican. It would shock Jesus. But I think the most appropriate way to describe it is this: The policy is evil."